Helping the Forgotten Ones in Haiti
View from the car window not far from the school.
My friend giving a talk on the profession of teaching.
Inside the children's classrooms.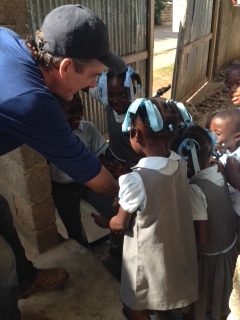 Too often I question where my money goes when I contribute to large organizations—organizations that typically have a lot of overhead and little transparency.  I end up contributing less than what I would like, simply because I don't know where my money will end up. Will it actually be put into the hands of those in need on the ground, or will it go to the salaries of corporate heads?
When it comes to something as important as humanitarian assistance, I don't like being kept in the dark. So here now is a grassroots opportunity to directly and clearly help school children in Haiti.  
Why is this considered a grassroots project?
Because I am an "ordinary" person living in the US who has contacts with other "ordinary" people who are doing extraordinary work in Haiti.  And these "ordinary-extraordinary" people are Haitians.  Why is it important that we are giving money directly to Haitians who are working within their own communities?  Well, just Google Red Cross Haiti scandal or the UN peacekeeping scandal.  This is not to criticize these international organizations. Clearly, they are integral to our international humanitarian aid network. Still, the question remains unanswered when it comes to knowing what good our donations are really doing. Without direct contacts on the ground, it's too easy for the donation process to become murky.
This is exactly what my friends found out during their work trip to Haiti in January 2015.  The people of Haiti are still in basic survival mode. Their needs are many and costs there are extremely high.  The learning curve for foreigners on where to buy material or raw goods is very high, too.
So when my friends put me in touch with several Haitian community organizers, who have been working for 20+ years in their communities with a sound track record, I got inspired to raise money for them.  There is no middle person here (other than the small cut that GoFundMe takes).  
All donations will be sent directly to Father Gregoire LeGoute and his wife who are the directors of a special needs school in Haiti.  Fr. and Mrs. LeGoute also do outreach work into other Haitian communities of need, such as in the district of Jacmel.  Fr. Gregoire has experience in working with a small US organization that sends modest support with complete transparency. I will emulate this process because it's straightforward and clear, and it works.  Each quarter Fr. Gregoire, acting as trustee, will send me bank statements and receipts so that we can see proof of the families who've been helped.  In an effort to be transparent on my end, I've set up a non-profit bank account with an oversight committee.
All funds raised here will go towards the needs of the schoolchildren and their families.
In Haiti the average annual income per family is $660. To put this in perspective with the cost of living there, a basic fast-food lunch, for example, costs more than $7.00. Food security is a major issue in Haiti. Many children lack basic nutrition, and have no surety as to when they'll get their next meal.
Please consider making any small donation and forwarding this to your family, friends, places of employment, and social networks.
So, what's my connection to Haiti?  
It's a simple story really.  In January 2015, some close friends of ours went on a work trip to Jacmel, Haiti. They came home with lots of stories and pictures.
My kids asked a lot of questions. "Where is Haiti? Do the children speak English? Can we have pen pals in Haiti?"
When they heard of how great the needs are, we started to study more about Haiti. Eventually, this led to a presentation at our Homeschool Geography Fair, where in one afternoon, we raised $100. 
How do they do it? I've asked that question many times and still haven't received a clear answer.
There appear to be some dichotomies in Haiti that are confusing to reconcile. For example, we were especially struck by just how little Haitians earn, yet how expensive the cost of living is on this small, gorgeous Caribbean island.  (The island, btw, is actually split into two nations. A third of the land belongs to Haiti, and the rest to the Dominican Republic.)  Another example is that their economy depends heavily on agriculture, but only 30% of the land is arable. And yes, there is corruption. A lot of it.
One thing is for sure—the Haitian people have an indomitable spirit and hope for the future. But they need help.
It's too easy to become apathetic or despondent; and so my hope is to show my children that we
can
make a difference.  Education is key, but basic needs need to be met first.  As we raise money and communicate with Fr. Gregoire and other community organizers, we'll continue to learn how we can more directly impact their communities.  Perhaps eventually we can link families for sponsorship.  Conversations to this end have already begun, and I've been chatting with an organizer via Facebook. 
For now, our money will like go to the purchase of laying hens for a family, or school uniforms, school supplies, or school lunches so that schools may feed children one meal a day.  
While working there, my friend observed, "What was most striking for me was seeing all the poverty and trash in such a beautiful place, and yet their faces showed none of this discontent."  This same friend had the opportunity to give a talk to Haitian teachers at an elementary school, and noted, "These teachers are so dedicated, and yet if they get paid at all, it's sporadic."
All photos were taken by my friends in Jacmel, Haiti, January 2015.  
I am a mother who lives in abundance here in the U.S. and I am that hoping with a little effort on my part, and a lot of help through the community, we can begin to wire money to this Haitian community soon.  Come back for updates on how our funds are helping the people of Jacmel! And thank you!
Alexandra Gonzalez 
Carol and Iouri Kolomiitchenko 

Dmitri and Tanya Nikshych 
Organizer
#1 fundraising platform

More people start fundraisers on GoFundMe than on any other platform. Learn more

GoFundMe Guarantee

In the rare case something isn't right, we will work with you to determine if misuse occurred. Learn more

Expert advice, 24/7

Contact us with your questions and we'll answer, day or night. Learn more