In Honor of Fallon Jade Rilling
Our mission: To make significant donations to ACD research in loving memory of our beautiful daughter, Fallon Jade Rilling. 
Fallon was born on October 10th, 2013, at 4:44 am, and passed away on October 21st, 2013. She was whisked away, minutes after being born, and the decision was made to send her to another hospital with an experienced NICU.  Less than 24 hours after she arrived there, she was moved yet again (police escort and all) to Morgan Stanley Children's Hospital in New York City because it had an ECMO machine (a very risky yet potentially life-saving heart and lung bypass machine for infants).  She had minutes to live before being put on this ECMO machine.  She fought extremely hard in her 11 days, battling everything thrown her way. We watched her strength and determination at every step. She showed us so much love and she taught us so much about love. She made us very proud. We watched her improve, and then decline again, much to the bafflement of the intelligent, knowledgeable, and professional team working on her.  On the day she passed away, we knew the fight was over and we asked to hold her to say goodbye.  She was unhooked from all of the tubes and wires that were on her every moment of her life, and we held her while she took her final breath; a moment we will never, ever forget. We did not know what happened to our beautiful daughter - or why. It wasn't until we got her final autopsy results that we (along with the MSCH team) finally found out what caused her to be taken away from us.
Fallon had an extremely rare condition called Alveolar Capillary Dysplasia with Misalignment of Pulmonary Veins (ACD/MPV). Briefly, it affects the development of the lungs and their blood vessels. The capillaries are improperly positioned within the walls of the alveoli and the number is drastically reduced, which impedes the exchange of O2 and CO2. Without a lung transplant, this condition is 100% fatal. It would be extremely unlikely for a baby to survive long enough, waiting for a donor (another infant) - and even if they did, it is even more unlikely that the baby would survive the transplant, during or after surgery.
ACD/MPV is a very rare condition - and impossible to diagnose without a biopsy of the lung. Since its discovery in 1947, there are approximately 200 (known/reported) incidences, world-wide. It is so rare that very little is known about it, especially its cause. There is an Association (ACDA) - which consists of a group of parents throughout the world who had the unfortunate luck we did - losing a child to ACD. Their motto is "Searching for answers...hoping for a cure." What we are trying to do, here, is raise money to help their cause. In the spring of 2002, the ACDA established an ACD Research Account at NORD (National Organization for Rare Disorders), which means that any donation to NORD can be earmarked specifically for ACD research. NORD requires that a research account reach $33,500 before it will initiate the grant process to award research money to the medical community. With our first donation of $16,444.44 made on February 10th, 2014,the balance in the ACD research account went over the magic number...thanks to Fallon and her supporters.
We really want to continue to make donations to this fund balance, in Fallon's name. We decided to see if any of you would help us, in whatever amount you wish. Every dollar counts. If research grants are awarded - and even one baby can be saved based on that research - we would be so happy. We cannot express the pain and sadness we went through and continue to go through, every day, after losing Fallon. If we can somehow help other families down the road, that's what we want to do. At some point, we'd like to organize a run or a walk or a competition - or anything - as an annual fundraiser - to be held every October.
We made our first donation on February 10th of this year for a reason. February 10, 2013: We found out we were pregnant with our third child. One of the happiest days of our lives. We've loved her, unconditionally and without end, since that day. I carried her for 39 weeks and loved her every single minute. Going forward, we plan on making donations on the 10th of every month. We will make our personal donation and anything raised here, each month.
Thank you all for following our journey - and for loving our daughter, Fallon Jade. She continues to be our hero and we will do whatever we can to honor her, every day of our lives. Her Mommy & Daddy miss her. Her brother & sister miss her. Thank you for helping us keep her in the forefront and for helping us honor her 11 days here. She fought so hard - now we want to fight FOR her. Thank you, everyone. ~ Kristen, Bob, Avery, Harper, & Fallon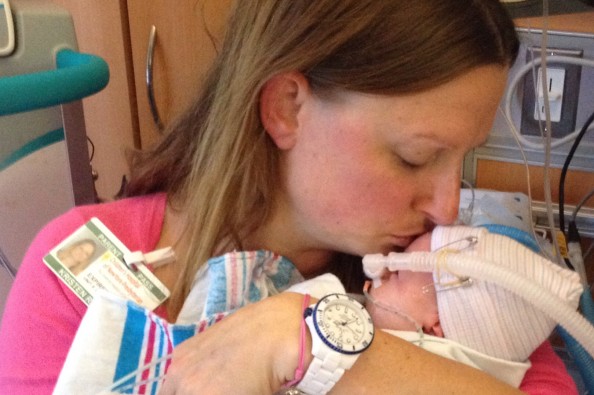 Donations

Organizer
#1 fundraising platform

People have raised more money on GoFundMe than anywhere else. Learn more

GoFundMe Guarantee

In the rare case that something isn't right, we will refund your donation. Learn more

Expert advice, 24/7

Contact us with your questions and we'll answer, day or night. Learn more