Brad Durham's Funeral expenses
On Saturday, May 27th, Brad and my mother, Tammy Miller, went out on the boat to spend some quality time together with two other friends for the Memorial day weekend.
Brad didn't make it home.
They had spent most of the day, swimming off of Sand beach, in the Sacramento/ San Joaquin River delta. No one could imagine the tragedy that was soon to come.
As they were  pulling up, to anchor, off the bridge, the wind knocked Brad's hat into the water.
They had been swimming in the water all day, and this seemed like a trivial inconvenience, not a deadly decision.
They lowered the anchor and chatted for a few minutes, while readying the fishing gear. All the while, his hat remained floating beside the boat. Considering his hat did not float away, Brad thought it was safe to retrieve it, not aware of the swift current raging below the surface. Against the pleas of my mother, he jumped in, having the expectation that he would grab his hat and turn-around and the boat would be there. He got his hat, but the current was too strong. They tried desperately, to find the life vests and to free their anchor from the rocks. By the time they freed the anchor he only had the energy for one last reach as he reached his hand out of the water and slipped away. It happened so fast, and before they knew it, Brad was gone. She still suffers with the events of that day. 
Brad and my mom had been together for 14 years.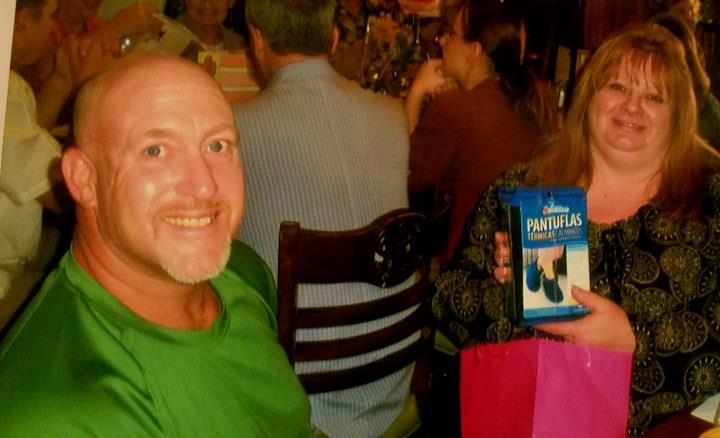 My name is Samantha, and I am Tammy's oldest daughter of three. Brad was not my father, but the most amazing father to my six year old sister, Amber. 
The day after the drowning, Amber woke up, looking for her daddy, that would never be there for her again. Amber was the definition of a daddy's girl. He made sure that whatever she wanted, she would get. She had him wrapped around her little finger. Their favorite things to do together were, going to the park, riding bikes together, taking walks, swimming, and fishing. Amber followed her dad around like a devoted friend, hanging out with him, while he worked on his car, or took over as handyman for the neighbors. She loved him
so much.
Brad's presences was a welcome one, on their street. Neighbors were comforted knowing brad was only a few houses away to help them with anything they needed, from plumbing, to fixing, cars, boats, anything mechanical. Brad was a master of all trades. He was the type to give you the shirt off his back. His selflessness was known by everyone that knew him. 

He was a helper and a giver. He supported his family and friends, financally, physically, and emotionally. 
But his most favorite role was being a father.

My mom and sister will miss him dearly, and his absence will be forever felt. He was the rock for my mother, and provider for his family. He made sure that his family had whatever they needed, whether it was money, helping with amber, chores around the house, or emotional support.
He was adored by his parents and his sisters. They are missing him, badly.
Brad's body has still not been found. 
She is asking for help with funeral expenses, and help with basic living costs for herself and Amber, until my mom can get back on her feet. Amber starts first grade in August, and will need clothes and supplies.  She attends Belshaw elementary in Antioch.
My mom, has many debiliating medical conditions that keep her from being able to currently work. Ehlers-Danlos Syndrome is a rare connective tissue disorder that is genetic and runs in our family. I (Samantha) have a confirmed diagnoses, and it is suspected that Amber and my mom also have the condition. EDS very basically causes debilitating pain from overly hypermobile joints, that slip and dislocate, as well as wide-spread systematic problems that have the potential to affect every system in the body. This has kept my mom from helping provide for her family the way she would like, and now that brad is gone, she has lost her support. 
Quote from Amber the day after she was told the news: "Daddy is everywhere, mommy, Daddy is in me, he's in you, he's in the walls, the sky, and the flowers. Daddy is in everything white, just like the angels."

Please help donate what you can, anything is so very appreciated in this terrible time of need. All donations are for my mother Tammy Miller, and her Daughter.
Thank you. 
Sincerely, Samantha.
I have also set up a Mealtrain Page for my mom and amber, if you like to donate a meal or food. 
https://mealtrain.com/e7ge0o

More information in the updates.
Organizer and beneficiary