The George & Nabby Baffour-Awuah Memorial Fund
Thanks For Clicking, Some Background...
Depending on when or how you became a part of my life, you may not know that I lost my dad and one of my brothers.
It's been ten years since my brother's passing.  Thirteen since my dad's. The grief has been too heavy to carry in words...it's still hard to talk about. But the years have allowed us to wade forward to some place of peace and fond remembrance.
Losing Daddy and Nabby left a vacuum in many lives. However, we believe that their stories should not have to end with what we will miss in their absence.
What We're Asking
The Baffour-Awuah Memorial Fund
, an annual Gift, is a continuation of my father and brother's legacy. In honor of their lives, I, my siblings and my mom wish to continue to spark some small good in the world. 
Each year, starting with this one, we will kick off this initiative by pooling together our own funds, and then leaning on you - our family, friends and community - to grow this Gift. We ask that you consider giving any amount you can. Nothing is too small - lives can literally change on a dime, and all proceeds will go to making this change happen. 
This year, everything we raise will be split into two donations - one in Nabby's name, and the other in our father's.
For further details on the impact of your gift, please see the next section.
The Impact of Your Gift
Half of the Gift will go to Luther College, Nabby's alma mater. It will sponsor international students who wish to travel back home during the holidays or for family emergencies. This year more than ever, we have felt the value of family and seen the need for support. Nabby, myself and my siblings were all international students on work-study scholarships - and even from a middle-class home, the cost of a ticket back home was hefty. Your gift could help change a student's life...or save it.
The other half will go to the University of Ghana Medical School, through the University's College of Health Sciences Postgraduate Endowment Fund. It will support the sponsorship of scholarships for gifted students in need of financial aid. Daddy was passionate about his patients' wellbeing, and he valued the role of education in being able to ensure this. Now, more than ever, it is clear the need to support and invest in our healthcare professionals - your gift could help meet this need.
Their Lives & Legacies
Whether you knew him as Daddy, Doc, Uncle, or George - if you knew my father, you knew about his intelligence and diligence. You knew about his work ethic and dedication. And you knew about his kindness and generosity. Daddy didn't grow up with very much, so he understood the importance of hard work, the empathy of giving and the wisdom of treating everyone with respect. By the time Daddy passed away, I had only just started to truly understand these lessons. But I saw his passion for his purpose: healing. His gift was healing, and he gave of it generously. My dad's clinic was built in front of our childhood home, so we got a front row seat to Daddy's interactions with patients. My mom would often tell of how he would treat patients for free and even after hours. For him, it was a moral responsibility. It's ironic that Daddy's health failed him in the end. He couldn't speak much the last time I hugged him, but I will always remember the meaning of that hug. 
Our sweet brother. Bizzai. I've recently been able to read through some beautiful tributes to him. Some talking about his humor and work ethic, others talking about his academic achievements and the lost promise of a stunning career.  To me, he was my lifelong best friend. He taught me more about life than I could ever put into words. Nabby was filled with a life bigger than his lifespan could hold. He lived with such verve and passion...an easy urgency, as if he secretly knew that life was meant to be enjoyed, that you got to pick what you invested in, because the rest is all vanity. Nabby moved through life with an enviable buoyancy, a mischievous laugh and giant smile that were easy to return. He had this divine gift of walking into a room and elevating the energy simply by being there. And he loved. He loved his friends and family with his whole heart and spirit. In fact, one of the last things he said to me about a month before we lost him was, "I love you, no matter what." I hope he knew how much I loved him too. My biggest baws. Forever.
Maya Angelou said: "Your legacy is every life you impact, every soul you touch." Our hope is that you will invest in my father and brother's legacy, that you will make someone's life better, in the ways that they did.
Thank You
This past year has been a difficult one. We hope that despite its trials, you made it through with at least a few things to be grateful for. Now, as we go into a new one, our hope is that you will start this next chapter with the precious gift of giving. And through giving to the 
Baffour-Awuah Memorial Fund
, may the good you put into the world come back and find you - in great health and much wealth.
With gratitude and well wishes,
- Nana, Papa, Candy & Janette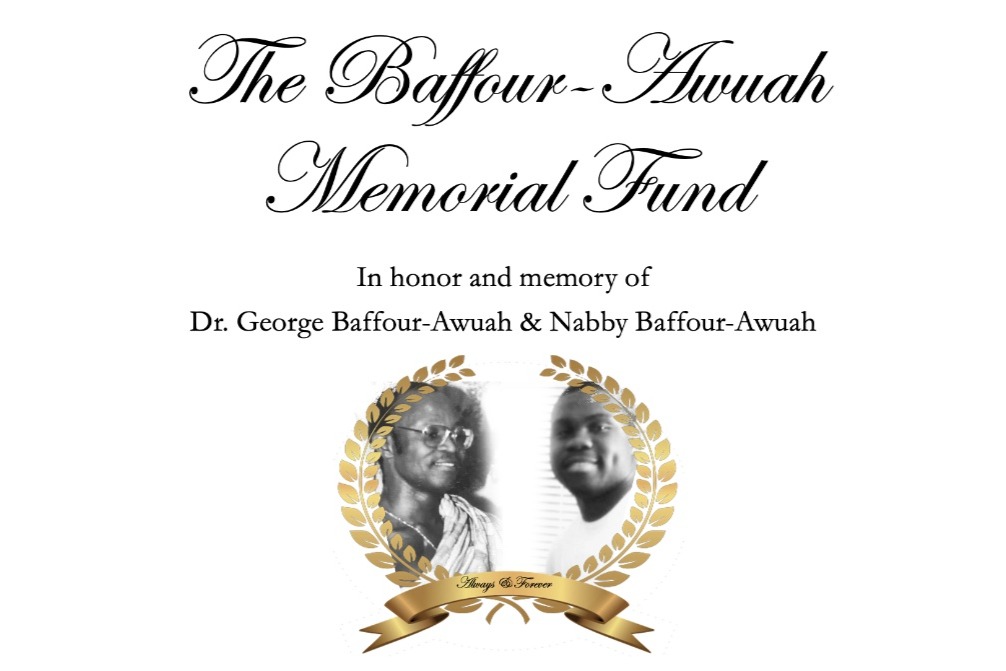 Fundraising team (4)
Candy Baffour-Awuah Danquah 
#1 fundraising platform

More people start fundraisers on GoFundMe than on any other platform. Learn more

GoFundMe Guarantee

In the rare case something isn't right, we will work with you to determine if misuse occurred. Learn more

Expert advice, 24/7

Contact us with your questions and we'll answer, day or night. Learn more