After the transformation to a healthier lifestyle through cycling, Brian has decided to take it to the next level. To challenge himself, physically and mentally, by traveling from Arizona, across the US, to Virginia and then down to the end of the Natchez Trace. Clocking over 3,800 miles on his two-wheeled friend.
Our family lost a very special person to Cancer and since so many have been affected in some way by Cancer, he decided to use this opportunity to raise money towards the
Cancer Research Institute
. After discussing options, we came to the conclusion that CRI is a good cause to back.
86%
of their donations go directly to programs that research Cancer; "CRI has invested $311 million to fund more than 3,000 scientists all over the world".
Charity Navigator - CRI
Cancer Research Institute


We would like everyone to know that this is a non-profit fundraiser. The money will be going to the organization at the completion of the journey. The only time money from the fundraiser will be used, is in cases of emergency or medical needs.
Furthermore, this is not a call for large, uncomfortable donations. Brian is a caring and loving individual and would be just as excited to see $1 donations from people, just showing support.
Having said that, any donation over $50 will be rewarded with a special care package up to the $1000 goal amount. Which will include socks (YES! You all know Brian's sock fetish. Haha), stickers and other items.
*Update*
Since we have reached our $1000 goal amount, the care packages from here on will be rewarded to donations over $100. Thank you everyone for your support. The next goal is $5000. Lets keep working for it!
You can follow Brian's progress on his instagram account:
Brian's Instagram

Or on Strava:
Brian's Strava
With help from:
Updates:
Sept. 12 2017
The journey begins!
Sept. 13 2017
Brian stopped into a Verizon store to get a cable for his phone. When the manager heard about his journey and the goal to raise money for Cancer research, he gave him the cable for
free
! Thank you
Verizon
!
Sept. 14 2017
Over 100 miles completed so far. Todays goal is to make it to Heber-Overgaard, AZ.
Brian overshot his goal for the day and rode 86.9 miles, which makes a total of 196 miles. Now time for a rest day before moving on.
Sept 16 2017
Brian arrived at Eagar, AZ. 67 more miles in the books. Camp is set up and looking comfy:
Sept 17 2017
First stateline crossed. Brian is officially in New Mexico. Todays ride was 71.4 miles from Springerville AZ to Pie Town NM. Lets hope Brian is indulging in some Pie ;)
Sept 18 2017
Pie Town to Socorro today. 86.6 miles in the books. Channeling Jodie Foster in the movie Contact. Haha
Sept 19 2017
Arrived at Belen, NM. Another 43.3 miles down.
Sept 20 2017
Day 8 stats. Almost time for a rest day.
Since it has been a week since Brian has started his expedition across the U.S., I've decided to create a graphic to illustrate the gear that he needs to carry along his way. Enjoy!
Sept 21 2017
So, instead of going easy today, Brian knocked out of the park with 98 miles from Rio Rancho to Santa Fe. Instead of going the easy route of about 66 miles, he decided to stick to his original plan of taking route 14. I hope it was worth it. You deserve a day off, bro!
Sept 24 2017
After two rest days, 46.9 more miles down.
Sept 25 2017
Brian made it to Taos, NM after no word for a little over a day, thanks to bad cell service:
Sept 26 2017
Day 12 was Brian's longest yet. 103.9 miles and an elevation gain of 4,565 ft. Keep it up, bro.
Sept 29th 2017
Day 13 and crossed another state line into Colorado. It's also the new longest ride yet.
Sept 30 2017
Brian broke the 1,000 mark today and his current total for the 14 days of riding sits at 1,031. I wonder if that makes him a Millennial?
Oct 01 2017
Brian crossed another state line today and finished in Scott City, KS, with 109 more miles in the belt.
Oct 02 2017
Day 16 equates to the longest ride yet. 121.9 miles. Brian's currently in Great Bend, KS. Lodging with some friendly folks! Thanks everyone, for the support and for following his journey.
Oct 03 2017
Day #17 complete and 68.9 miles closer to his goal.
Oct 04 2017
110.6 miles today and a warm welcome from Eure(e)ka.
Oct 05 2017
After 92.9 miles, I've arrived at the beautiful Lyons Twin Mansion for a pampered night, thanks to Warm Showers!
Oct 06 2017
Friday's ride update. 64 miles and 2,615 feet of climbing.
Oct 08 2017
Day 21 complete and a lot of climbing!
Oct 09 2017
Brian tells me he's really enjoying the hills in Missouri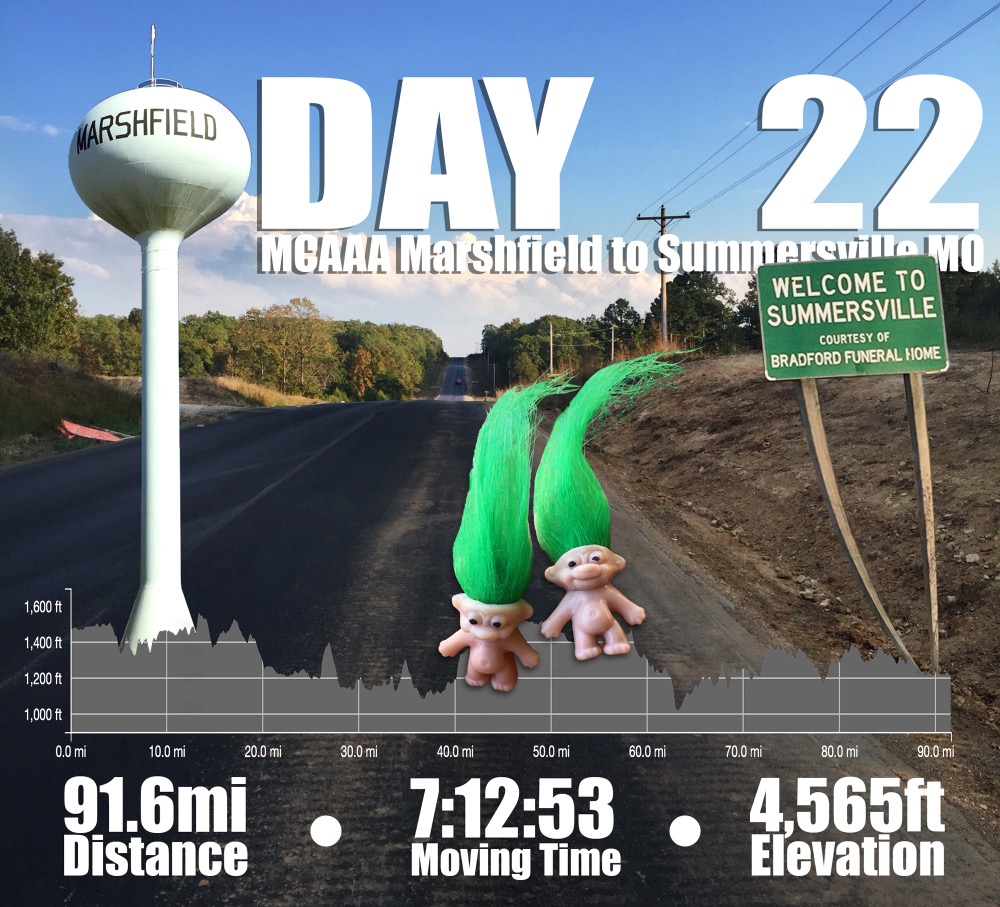 Oct 10 2017
Day 23 update. Brian has informed me he is relaxing with a cup of coffee. The elevation gains in Missouri is no joke.
Oct 11 2017
Day 24 update. Brian has completed 1,890 miles so far and crossed 4 state lines. Tomorrow will be another, crossing into Illinois.
Oct 13 2017
Day 25 update. Brian rolled into Carbondale, Illinois after 99 more miles of riding. Met some amazing people that are adding to this amazing adventure of his.
Oct 14 2017
Day 26. Another state line crossed, and getting a little kooky.
Oct 15 2017
Day 27. Brian made it to Owensboro, KY. Legends (www.thenextlegend.com) embraced him with some Rapid Reboot recovery legs and a cold beer! Meeting the best people on this adventure.
Oct 16 2017
Day 28 and over 2,000 miles behind Brian. It's beautiful sunsets like this, and the people you meet along the way, that really make the trip worth it.
Oct 17 2017
Day 29 and in Sonora, KY. Brian is lucky to be relaxing with a glass of wine. Haha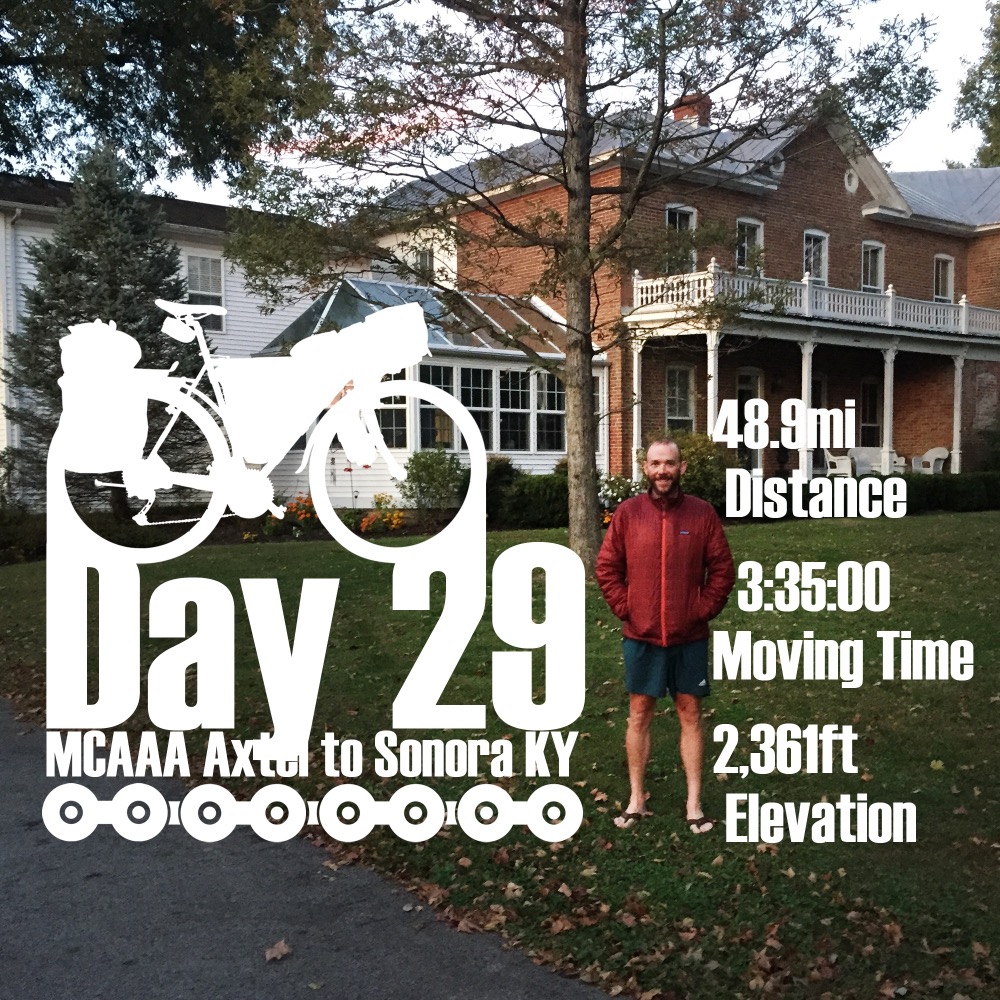 Oct 18 2017
Just cruising through Kentucky! Day 30 done and dusted.
Oct 19 2017
Yesterday was day 31. Camped at the local fire station last night.
Oct 21 2017
Day 32 and lots of climbing.
Oct 22 2017
Day 33 update. Brian is killing the hills in Kentucky. Next stop Virginia.
Oct 23 2017
Day 34 and Brian finally made it to Virginia. One more state line crossed!
Oct 24 2017
A quick recap from Brian of yesterday's events: I unfortunately got three flats today and one yesterday. There was a piece of glass on the inside of my tire that I didn't come across until my second flat today. Thankfully @bella_transam had an extra spare tube so I was able to continue on. And then after the climb today on the descent I got my third flat today and I didn't have a spare tube and it was down pouring and I couldn't sort out doing a patch where I was at. So I had to make the decision to stop and hitch. It took a bit of time but finally this guy Gerald Dye stopped and picked me up. He was so kind to take me to get some tubes at Walmart and I'm now at the Methodist Church dry, warm, fed, and relatively happy.
Oct 25 2017
Day 36 update.
Oct 26 2017
Day 37 update.
Oct 27 2017
Day 38 update. Relaxing with a beer in Roanoke, VA at Parkway brew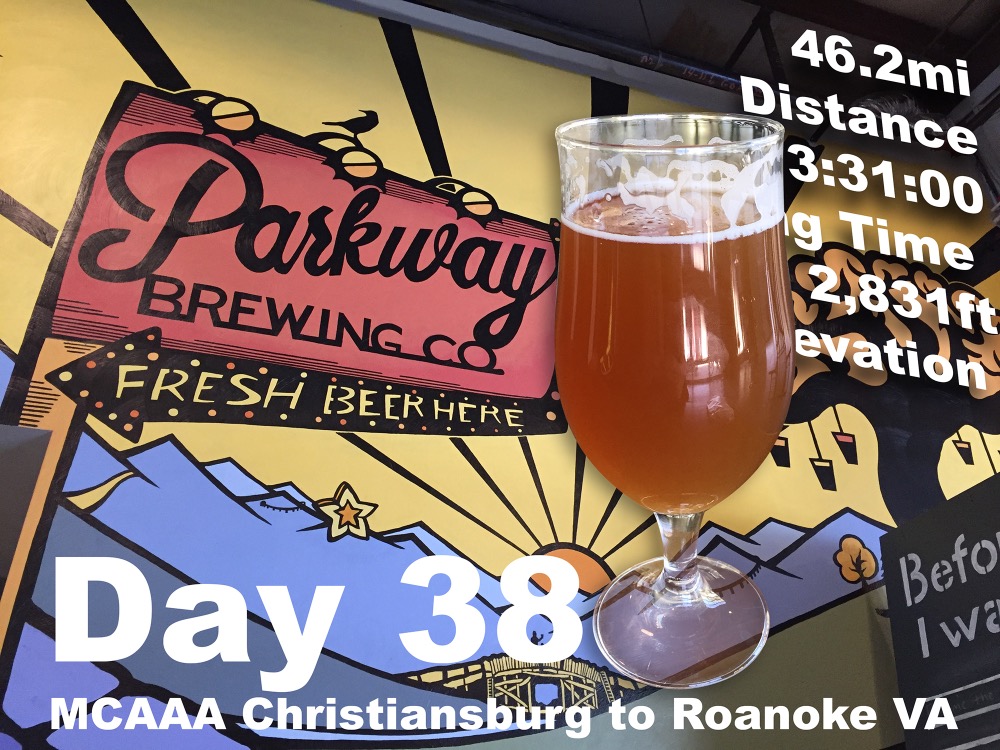 Oct 28 2017
Day 39 update. I managed to drive down to Virginia and ride a day with Brian. Was a great 2 days of chatting and riding. And dying on the hills, Haha
Oct 29 2017
Day 40 update. Brian crossed another state line yesterday. Blue ridge Parkways hills are a challenge.
Oct 30 2017
Day 41 update. Day 41 update. 60.8 more miles and 5,103 more feet of climbing.
Oct 31 2017
Day 42. Halloween ride.
Nov 1 2017
Day 43 Short and sweet ride today
Nov 2 2017
Day 44 brought Brian to the highest point on the Blue Ridge Parkway.
Nov 3 2017
Day 45 and Brian completed the Blue Ridge Parkway!
Nov 4 2017
Day 46 update. Brian found a new friend and started a mushroom farm...
Nov 5 2017
Day 47 update. Brian made it to Knoxville, TN.
Nov 8 2017
Day 48, Leaving Knoxville, TN.
Nov 9 2017
Day 49 update, Oak Ridge to Crossville TN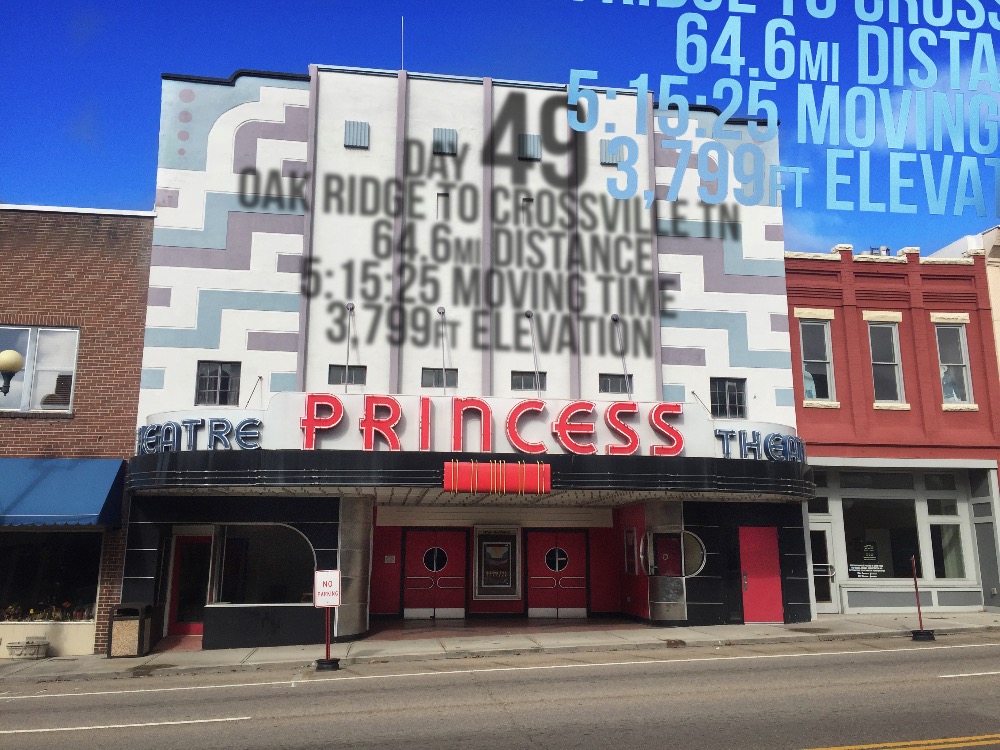 Nov 10 2017
Brian is on his 50th day cycling for cancer research and has covered 3,486 miles and raised over $3k for the Cancer Research Institute. All with his two legs, pushing the crank and turning the wheels. Here is a photo of him celebrating at a local pub in Sparta, TN. Not sure about the guys in the background, but as long as Brian's happy. Cheers, bro!
Nov 11 2017
Day 51, and safely in Nashville, TN.
Nov 14 2017
Day 52, Nashville to Hohenwald, TN
Nov 15 2017
Day 53, Another state line crossed!!!
Nov 16 2017
Day 54, The last state line Brian will be crossing for this journey.
Nov 17 2017
Day 55. Another century day, followed by a carriage house stay.
Nov 18 2017
Day 56. The important stuff... directions.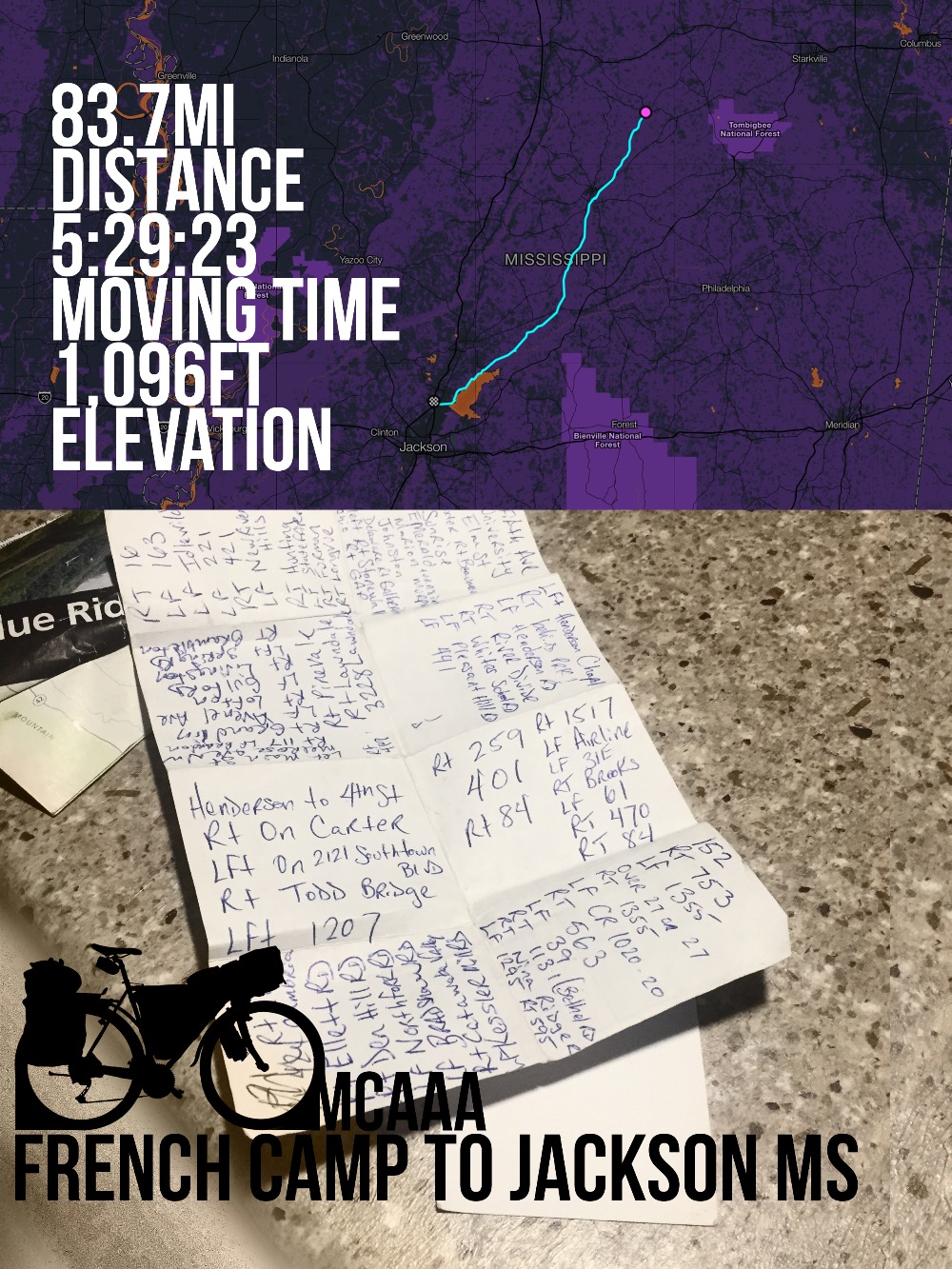 Nov 19 2017
Day 57. Is it the end for the trusty Suunto? Tomorrow is Brian's last day on this ride and it looks like his watch is trying to finish early
Nov 20 2017
Finally completed his journey. 58 days of riding, through 12 states. Over 4K miles and over 200k feet of climbing. Full stats coming soon. I hope everyone enjoyed watching Brian's adventure and thank you all for the love and support.
Organizer