JOIN US TO HELP A SINGLE MOM EDUCATE HER THREE GIRLS AND FULFILL HER HOPE!
Being a single mom in the US is hard; being a single mom in Senegal, West Africa is nearly impossible.  My dear friend, Angelique Ndione, is a single mother who is trying to make sure her three daughters receive a good education.  For 6 years no Angelique's Hope has been working to provide what funds are needed Mary Madelaine (20), Germaine (18) and Alima (12) to go to school. Thus far with your generosity we have provided the following:
        High School and Technical School for Mary Madelaine (she is in her final year)
        Middle School and High School for Germaine (she is in her final year and will take the BAC or final exam soon)
        Elementary and Middle School for Alima (She is in her final year of middle school this year)
This has been achieved with the $7000 dollars that have raised to date.  Thank you all!

Now we have a need to replenish our fund and provide for the remainder of education for all three girls this year and Germaine and Alima going forward.  Our revised goal is $2500 for the current school year, $2000 the next four years as Germaine completes high school and goes on to a trade school and Alima goes to high school.
Therefore the overall goal is $10,500.
       $550 pays for the girls inscription costs at the beginning of the year and their first trimester costs
       $275 pays for their second and third trimester costs respectively
       $50 a month pays for a tutor for Alima who has learning develop issues 
       $50 a month pays for a tutor for Germaine to prepare for her final exams
       $15 a month in transfer fees  
(Note:  Starting in the Fall of 2020 these costs will be adjusted as Mary Madelaine will no longer be going to school)
Angelique's Story
Angelique Ndione's husband abandoned her and her three girls over ten years ago, and she has never received any child support.  The law in Senegal does not require him to pay it.   If she lived in the US, Angelique could get assistance through governmental programs or private organizations that exist to assist single moms.  These don't exist in Senegal.  Therefore Angelique is left doing all she can to provide for and raise her three daughters on her own.
Education has always been of the upmost importance to Angelique.  Girls are not seen as a priority when it comes to education so like many girls in Senegal Angelique was pulled from school to assist at home when she was in primary school.  However she used the basic French she learned in school (as she spoke Wolof and not French at home) to teach herself how to be fluent (speaking, reading, writing) in French on her own.  As a mother of three girls Angelique promised herself that they would not have the same fate, but would be well educated and able to get good jobs.
Angelique and I became friends when she was my housekeeper during two years of my time in Senegal and we have stayed in touch and been great friends for about 17 years now.  Since I left Senegal 15 years ago housekeeping jobs have become hard to find, so Angelique now makes her living by making small sweets/cakes that she bags and sells in the local bus station.  She works about 14 hours a day, 7 days a week standing on her feet selling her goods in 120 degree weather, with no shelter. By working hard Angelique is able to provide a home, food and clothes for her girls; however she is not able to afford to pay for their education.  The money I have provided for the past 8 years covered student fees, tuition, books and other school expenses.
Senegalese Schools
In Senegal public school is not free, nor is it the law that all children get educated. (For example in my village family there were 5 children, one of which was selected by the father to go to school.)  Another issue is Senegalese public schools are overcrowded.  On average class sizes are at least 60 with only one teacher in charge.  Many students fall through the cracks in this system which is why Angelique chose to have her children go to the local Catholic school that averages about 30 children per class and has programs to assist children that are struggling.  Both Angelique and I are very proud of her daughters who have worked hard to get good grades and pass the tests all students have to take to go from primary school to middle school and then middle school to high school.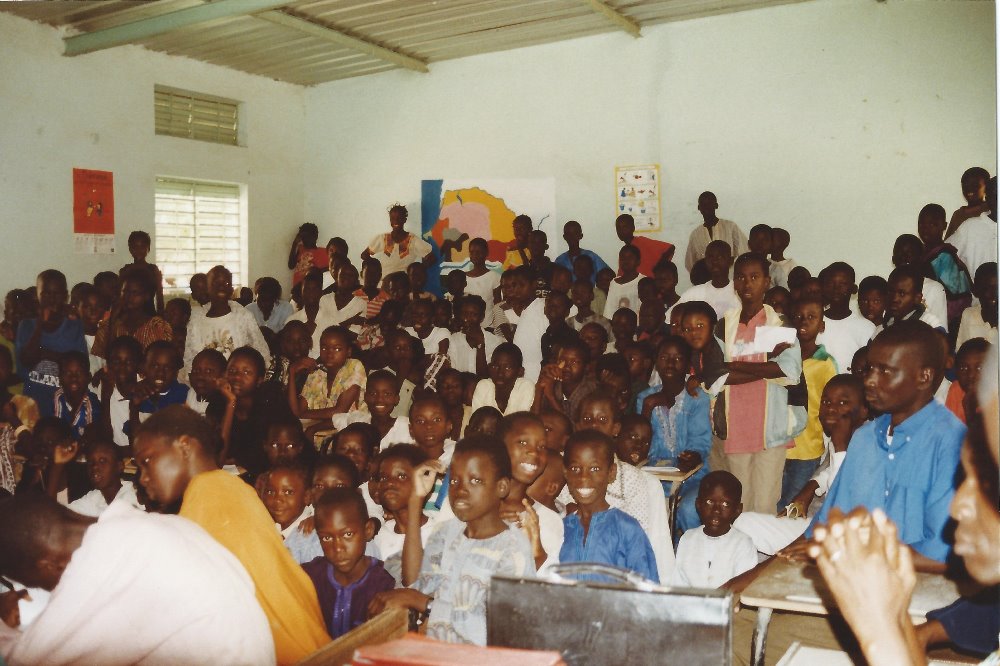 Thank you for considering helping these girls that I love dearly.  If you are not in a place where you can give please consider praying for the girls and Angelique as they depend on God's blessings to make ends meet and provide for their futures. 
Deborah Hemmer

Organizer
#1 fundraising platform

More people start fundraisers on GoFundMe than on any other platform. Learn more

GoFundMe Guarantee

In the rare case something isn't right, we will work with you to determine if misuse occurred. Learn more

Expert advice, 24/7

Contact us with your questions and we'll answer, day or night. Learn more