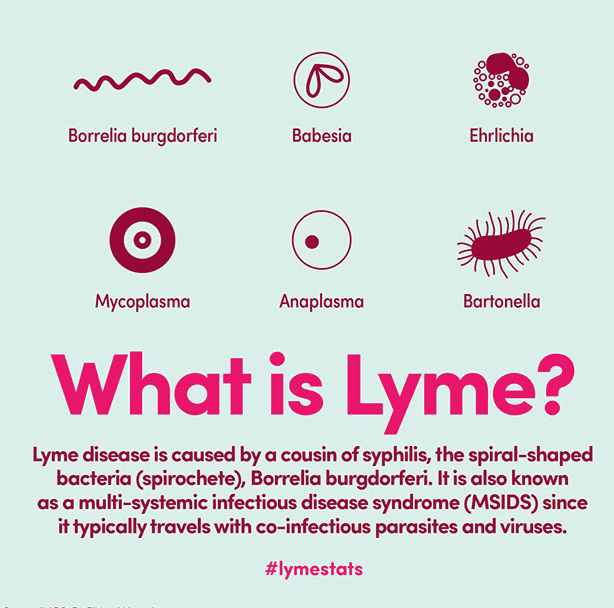 A few years ago after returning from a mission trip to the Dominican Republic I became very ill. During the trip I had a very strange & severe reaction to an anti malarial drug I was taking. I brushed it off & continued on until arrival back in the US.
I was visiting my family in Michigan when I became severly ill with flu like symptoms, confusion, extreme mood swings, and panic attacks. I saw my family's doctor who put me on a round of doxycycline to ward off any "infection" I may have picked up in the D.R. Within two days on the Doxy I began to again have a severe neuological response to the medication. Heart palpataions, extreme fear, severe sweating, vomiting, and just knowing something was wrong.
I stopped all medication & began a parasite cleanse while changing up my diet. Within about a month I began to feel back to "myself". Following this I spent 8 months seeing specialists to try and get a diagnoisis of WHAT was wrong with me. Why did my body ache so bad, why would I feel feverish so often, a lack of energy that was beyond "sleeping it off". I was finally "diagnosed" with fibromyalgia and even then something about this catch all diagnosis did not sit right with me. But with a lot of prayer & the right diet I was feeling quite a bit better.
Fast forward to 2017.  During the summer I found out I was pregnant - SURPIRISE - and I actually felt better then I had in years during this time! In October I recieved the sad news that they couldnt find my baby's heartbeat, within a few days of my hospital visit I labored and miscarried my baby in the safety of my home. It was a very hard and sad time, I was slipping into depression. Around this time I began to get sick on and off again. It started with flu like symptoms, signs of infection (but no doctor could pinpoint where my infection was!) and I was eventually put on a round of Cephlexan (anti-biotic) to treat "unknown" infection in December. During this same time I was dealing with grieving my grandfathers death and trying to get out of my lease becuase I had discovered I was living in a home filled with mold. 
It wasn't long before my symptoms became so severe that I was unable to get out of bed some days. Vertigo so severe that I couldnt walk but needed to crawl to the bathroom. The night sweats, fevers, headaches, and deep body pain was taking over my body. The brain fog was so severe I could not even focus on my face in the mirror. Even stepping outside into the sun was to over stimulating for me, leading me to hide inside for weeks. 
In January 2018 I met with an alternative doctor who was willing to do deeper testing then my MD had done. My fears were confirmed when the results came back that not only did I have Lyme Disease but I had 4 strains of Borellia Burgdorferi. Deer Tick Lyme, Lone Star Lyme, etc. etc. The list continued as she named things I had heard of but never fathomed I would have to face. Babesia, Bartonella, EBV, a host of parasites, and black mold exposure. 
At this point my main goal was to learn as much as I could about Lyme, Co-infections, and what was going on in my body. Becuase the CDC testing for Lyme disease is highly inaccuarte (over 50% of people tested recieve a false negative, allowing for the bacteria to continue to invade different organs and systems of your body) I was left to do much of the work and treatment plans on my own. Can you imagine telling someone with cancer they will have to figure out how to get better on their own? Inconcievable, right? Lyme disease attacks the body in the same way that AIDS does, yet testing and treatment is decades behind. 
I spent many hours in prayer, coming before the Lord on what kind of treatment I was meant to seek, what doctors I should contact, etc. After 6 months of research and MUCH trial and error I have been led to a "team" of 5 different practioners. Each has a specific role in helping me fight the many different viruses, bacteria, and parasites. Becuase of CDC regulations on the testing and treatment (they only suggest 2 weeks of antibiotics for a NEW infection and there is NO acurate treatment protocols for "chronic" or "late stage" infections) I have spent close to $12,000 since January on doctor visits, medications, supplements, and treatments. Everything beside 2 lab blood draws has been "out of pocket". 
I can no longer do this alone. On top of the hours each day I need to spend resting because the joint and muscle pain and severe fatigue is so severe, one of the treatments I chose (RIFE) can take anywhere from 30min-8 hours per day. I am not yet in a place where I can work outside of my home or even sometimes "from home" I have been blessed to have support financially from a family member but this is also becoming to difficult to maintain. On top of my medical costs, I still have resposibilities such as rent, insurance, providing for Everest to manage. 
My monthly medical regimin of supplements and meds right now runs 400-600 depending on the month. 
My monthly doctor visits run [phone redacted] depending on the month. 
Plus regular bills. 
I will be applying for disability in the coming months after I was recently diagnosed with POTS (Postural Orthostatic Tachycardia Syndrome) which causes drops in blood pressure, severe fatugue and brain fog, fast heart rate, and fainting. The process may be long but I am confident the Lord will provide for my needs through it all. 
It is honestly not easy for me to admit I need the support of others but there comes times in our lives where we must humble ourselves and submit to the rest God is calling us to in order to recieve what He has for us. I firmly believe for me it is healing. 
There has been many ups and downs throughout the past 6 months and I will share one story every two weeks in order to help those who are willing to come alongside us financially and in prayer understand what treatments are like, more about Lyme Disease, and show you a peek into the emotional and spiritual work happening within me during this season. 
Blessings and Shalom to everyone who has taken the time to read through my story and pray for us. 
-Alli
Organizer and beneficiary