AKONGUASUA DAN - Institution


***WE HAVE MOVED THIS CAMPAIGN TO THE FUNDRAZR PLATFORM***

Please make your donations there. Note that fundrazr also allows you to make donations via Paypal.

Yeda ase (we thank you) for your support. Please share the new link:AKONGUASUA DAN - Institutionhttps://fundrazr.com/campaigns/e15cx7 Odwirafo 
---
Mikyia mo (Greetings),
AKONGUASUA
is the central institution of learning within Aakhuamuman Amaruka Atifi Mu, the Akwamu Nation in North America.
AKONGUASUA
is a combination of the Twi-Akan terms
Akongua
and
sua
. The term
Akongua
is a descriptive form of the term
gua
(
adwa
), both meaning 'seat, chair, throne'.
Sua
means 'to learn, to study'. Together,
AKONGUASUA
describes the nature of our institution being that of learning from the Ancestral seat.
All of our 17 books, publications, weekly broadcasting, workshops, trainings and entrepreneurship program are a product of our institution
AKONGUASUA
. We began this work in Chicago in 13001 (2001) and relocated to Washington, DC in 13009 (2009).
We have initiated a fund-raising drive for the opening of
AKONGUASUA DAN
to serve as the new headquarters for
AKONGUASUA
. The Akan term
dan
means a 'building' or 'sanctuary'.
AKONGUASUA DAN
will be the physical edifice housing our institution addressing the following three areas:
Nkom
- Ritual Observances, Cultural Observances, Healing
Adesua
- Classes, Trainings, Workshops, Broadcasting, Lectures, Afurakani/Afuraitkaitnit (African) Homeschool Network Activities
Nhoma ne Adwuma
- Publishing, Distribution, Employment, Entrepreneurship

This institution will be located in the Washington, DC area, however we will live-stream classes so that Afurakanu/Afuraitkaitnut (Africans~Black People) around the world can participate in our institution.
We have published 17 books, over 70 articles, 196 blogtalkradio broadcasts and over 100 videos examining Afurakani/Afuraitkaitnit (African) Ancestral Religion, Culture, Trustory (history), Natural Health and Nationbuilding.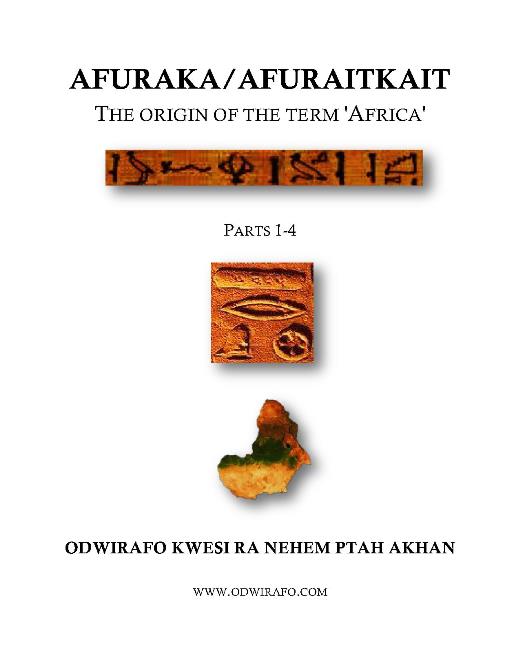 We have made all of the e-book versions of our publications free downloads from our website. We also conduct trainings for Afurakani/Afuraitkaitnit (African~Black) Behavioral Health Professionals, Human Services Profressionals, workshops on our Educational Curriculums, give presentations in different cities all free of charge to the Afurakani/Afuraitkaitnit (African~Black) community. We also have effective methods for overcoming drug and alcohol addiction, domestic abuse, intergenerational trauma and more rooted in our Ancestral Religious practices - Ancestral Religion which all Afurakani/Afuraitkaitnit (African~Black) people have inherited through our blood-circles wherever we exist in the world.
Additionally, we created an opportunity for Afurakanu/Afuraitkaitnut (Africans) to become self-employed by becoming independent distributors of our soft-cover books - irrespective of past employment history or level of formal education. 
Thousands of our people have realized tangible benefits from studying our free books and publications on Afurakani/Afuraitkaitnit (African) Ancestral Religion, Trustory, Culture, Philosophy, Natural Health and Nationbuilding, by accessing our free services (AKUMA SAA - Substance Abuse Abstinence, ADESUA - Training Workshops for Behavioral Health Professionals, OBARIMA - Afurakani Manhood, PTAH Sasetem, ADEBISA - Divination, NOKWAREFO - Entrepreneurship, etc.) and incorporating these lessons into their lives. You can therefore recognize the value in the establishment in the AKONGUSUA DAN.
See our AKONGUASUA page for more detailed information on how your support of our soft-cover books as well as akyede (donations) via this campaign will assist us in achieving the goal of this initiative - an institution that will continue to serve the Afurakani/Afuraitkaitnit (African~Black) oman (nation/community) in a greater capacity than before.
All who make a donation via this gofundme campaign have the option of receiving one or more copies of our soft-cover books. Just let us know which book(s) you would like. You can also donate via paypal on the AKONGUASUA page on our website:AKONGUASUA
www.odwirafo.com/akonguasuapage.html
Yeda ase (we thank you) for your support of our work..
Odwirafo Kwesi Ra Nehem Akhan
Aakhuamuman Amaruka Atifi Mu
Akwamu Nation in North America
Odwiraman
www.odwirafo.com
See the videos of our blogtalkradio broadcast about our initiative to establish
AKONGUASUA DAN
and
NANASOM UNIVERSITY
which will also be housed in AKONGUASUA DAN:

Organizer
Odwirafo Kwesi Ra Nehem Ptah Akhan
Organizer
Washington D.C., DC