Cajun Gourmet Food Truck - Bakersfield
"Laissez le Bon Temps Rouler!!"
Let The Good Times Roll!
That single phrase, perhaps more than any other, sums up both the joie de vive of the Cajun people, and their attitudes about food, cooking, and community.
And, though the phrase may sound foreign at first, make no mistake; Cajun cooking is a uniquely American cuisine. Forged from the ideas and passions of many cultures, and distilled into something unique and thriving, Cajun and Creole cooking is analogous to America, herself. It is a true original, known throughout the world, but truly only available here.
And, out of this passion and joy about food and community, an idea was born...
Introducing "
Acadienne: Crescent City Cuisine
"! A new, fresh idea for the ever expanding world of Mobile Dining! Drawing upon the rich, deep flavors of Cajun and Creole cooking,
Acadienne
promises to offer a new, flavorful experience to the ever-expanding throng of devoted Gourmet Food Truck fans! Whether it be a steaming cup of Seafood Gumbo on a chilly day, or a hearty Fried Shrimp Po'Boy with Buttermilk Hushpuppies, a Rich Chicken and Andouille Sausge Jambalaya, or a Fresh Baked Crawfish Pie, the flavors will transport you right to the Crescent City, the Rue de Bourbon, and the middle of Mardi Gras!!
( A picture of one of several Food Trucks we are in the market to purchase, paint in a festive Mardi Gras theme, and Let The Good Times Roll!)
More and more, people around the world are flocking, in droves, to the "moveable feast"...a restaurant unfettered by the geographical bonds of a brick-and-mortar facade...a restaurant able to freely move to meet the needs and desires of its loyal guests.
With a 30% greater success rate than "traditional" restaurants, mobile Food Trucks are never forced to remain in a less-than-ideal location. Like a living thing, Food Trucks are able to follow the seasons, follow the expanding borders, and thrive! Or, lead the way to new culinary frontiers!
"Who is behind Acadienne", you may ask, "and why should I help you achieve your dreams?"
Well, my name is Chris, and my business partners are Heath, and Cynthia, and between us we have over 50 years of combined experience as professional Chefs, Foodservice managers, and professional Supervisors, and share a passion for cooking, food, and life bordering on the absurd. It's what we talk about, think about, and, more importantly, live every day of our lives. When Heath and I get together to talk about food and cooking, our friends and family say it's like watching "food porn". And, when the food we create arrives at the table, I'm inclined to agree with them.
I am a classically trained Chef, but I am always pushing the borders of tradition...trying to pierce the veil to see what lies beyond, and what is possible. I have worked in numerous restaurants, and most recently returned from several years as an assistant Banquet Chef at the world's largest Mobil 4-Star, Triple-A 5-Diamond resort, the Venetian/Palazzo Hotel complex in Las Vegas.
Heath doesn't believe culinary borders exist, at all, and is never afraid to experiment with "non-traditional" flavors and techniques, constantly exploding expectations, and creating new experiences. Heath has many years of experience working in such places as Third-West Bistro in Utah, and Bennigan's in Denver, Colorado, among others.
Cynthia has the Management and Organizational skills to keep Heath and I focused on the food, while she manages the business end of the operation, and ensure that we are meeting the needs of every one of our valued guests (and ensures the bills get paid!). She is the leash that keeps the hounds from tearing up the place!!
Together, we feed off of each other's strengths, and introduce our guests to a world of food which is at once familiar and comforting, and totally new and exciting. It is, quite literally, the best of both worlds.
Several years ago, Heath and I had the opportunity to take a floundering local Cajun restaurant, Bakersfield's own Gumbeaux's, and turn it into one of the best, and most talked about, Cajun restaurants in the state of California. We know Cajun, and we weren't afraid to show it!!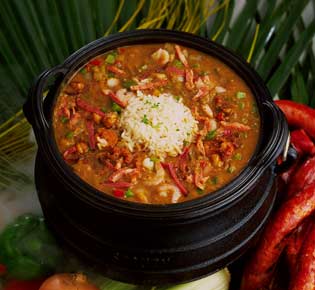 (Not our Gumbo, but it looks just as good as ours!!)
"But, why a Food Truck, then? With all of this experience, wouldn't it be better to establish a traditional restaurant, and let our guests come to us?" Believe me, we've asked ourselves that very same question, and we always came up with the same answer time and again:
Primarily, the old adage "Location, Location, Location" no longer applies when you have the ability to choose, almost at will, any location you desire, at any time. That's what being a "moveable feast" is all about.
Secondly, we don't necessarily want our customers to have to come to us; we'd much rather be able to come to them! A mobile Food Truck gives us the freedom to cater, quite literally, to the needs of our guests, without worrying about moving hot, delicate, or prepared foods from a restaurant to their location. We can move our restaurant to them! Catering is currently considered a "side job", or secondary revenue stream, for most Food Truck operators, but that attitude is changing, and changing rapidly.
Finally, there is the sense of excitement and camaraderie surrounding the Food Truck and Mobile Dining experience! Food Truck operators aren't like Brick-and-Mortar restaurant operators, who view other restaurants as direct competition for guests. On the contrary; The majority of Food Truck operators I have had the pleasure of speaking with actually encourage more Food Trucks in their areas! They know, as we do, that variety and fun are what bring the guests in, and the more variety you have available, the more guests will come and enjoy themselves. Many major Metropolitan cities, such as Los Angeles, San Francisco, New York, Miami, and Boston, have thriving communities of Food Trucks (and throngs of loyal guests) who gather regularly for "Food Truck Rallies"; 5 or more Food Trucks set up in the same area, offering fun, food, and entertainment for the public. These rallies attract vast numbers of people, and are happening more and more often as more and more food trucks roll out to join them.
Additionally, these rallies are usually associated with some form of Non-Profit or Fundraising campaign, and the Food Trucks are there to bring in more visitors or potential donors....and they are very successful! Our own Food Truck, should we get funded, will be engaging in this kind of activity locally, and we plan to donate a portion of our profits to worthwhile causes, such as the American Cancer Society, Food Banks, and activities and organizations which benefit Education and Childhood Development.
But, whether we are feeding crowds of revelers at a Museum or Library opening, or roaming the streets of a major metropolitan city, you can be assured of one thing: This Food Truck will provide a unique, fresh, and lively new dining adventure. THIS truck will Let The Good Times Roll!
OUR PROMISE TO YOU:
In exchange for your support, we promise each of you the following:
1) We will operate with integrity, honor, and honesty at all times.
2) We will never sacrifice quality for cost savings. Our goal is to provide, to you, the very best food we can possibly make.
3) We will provide excellent food, prepared in a wholesome, clean environment, at all times.
4) We will listen to your advice and criticisms, and make every effort to make your dining experience with us the best it can possibly be.
So, won't you take a moment to help us create, together, a more exciting, diverse, and DELICIOUS world?
We humbly thank you for your time and consideration
Chris Stanifer
Heath Bates
Cynthia Clark
To learn more, or to discuss this campaign, please visit :
http://crowdfundingforum.com/showthread.php/7845-
(GoFundMe)-Cajun-Gourmet-Food-Truck-Bakersfield
Follow us on Twitter: @AcadienneTruck
Donations

Organizer
#1 fundraising platform

People have raised more money on GoFundMe than anywhere else. Learn more

GoFundMe Guarantee

In the rare case that something isn't right, we will refund your donation. Learn more

Expert advice, 24/7

Contact us with your questions and we'll answer, day or night. Learn more