Carol is a 37-year-old wife and mother of 3 in desperate need of medical help.  Around 12 years ago she thought she had an ordinary urinary tract infection. She saw a doctor and took the normal treatments.  It turned into continual discomfort and pain! Months went by without relief. She was referred to many different specialists with little to no relief of symptoms. Traditional medicine was doing more harm than good.
She was eventually diagnosed with Interstitial Cystitis. An easy, yet marginalized, way of explaining this disease:  There are hundreds of ulcers and lacerations in the bladder.  When all but the blandest of food or drink digests, acidic urine fills up the bladder and the ulcers are submerged.  The nerves send out signals screaming in pain, the bladder spasms and contracts, sending the brain the message to empty. This sensation is felt as soon as urine enters the bladder. As you may or may not know, the bladder never truly empties.  In this disease, because of this, there is a constant feeling of urgency, pressure, bladder pain and having to use the restroom constantly. The ulcers are always under assault and cannot heal. Just imagine a constant flow of lemon juice on an open cut!
Carol and her husband began delving into this monster of a disease to learn all they could about it.  This incurable disease was little known and even after being highlighted on "The Doctors" TV show, it is still not well known or studied.  She adjusted her diet with minimal results. After a long time, they discovered that standard methods of treatment were ineffectual because her ulcers were in the mouth of the bladder; not reachable by standard methods.  She and the doctors persevered in trying to find something that would provide relief.  In retrospect, some of the tests and treatments were detrimental to the organ.
In the meantime, Carol had two more beautiful babies; something they were not sure could happen with this disease and other complications related to her autoimmunity.  Both boys have Autism, a double challenge even for a healthy mother, let alone someone dealing with her own debilitating disease.
Along the way she attempted to live a "normal" life. She was forced to quit her job, leaving her husband to be the sole breadwinner.  He works 10 - 12-hour days to keep up with normal family expenses and rising medical costs. This in turn left her home alone for longer hours while being medicated with prescription drugs that often left her unable to care for their children or perform any ordinary household duties.  That was a further drain on her husband and daughter.
Over the course of five years, Carol, once a vivacious woman and active mother, became practically bed ridden while trying every procedure, medication, and standard (and unconventional) methods to control the unrelenting pain.  It was finally determined that her bladder officially died, having shriveled up to the size of a walnut and lost all capacity to hold fluid. It required removal, along with half of her colon and other surrounding organs, hoping this would ease some of the pain. The situation kept deteriorating, causing more problems: such as painful scar tissue/adhesions, phantom/ghost pain, deep nerve damage and chronic infections from a weakened immune system; just to name a few.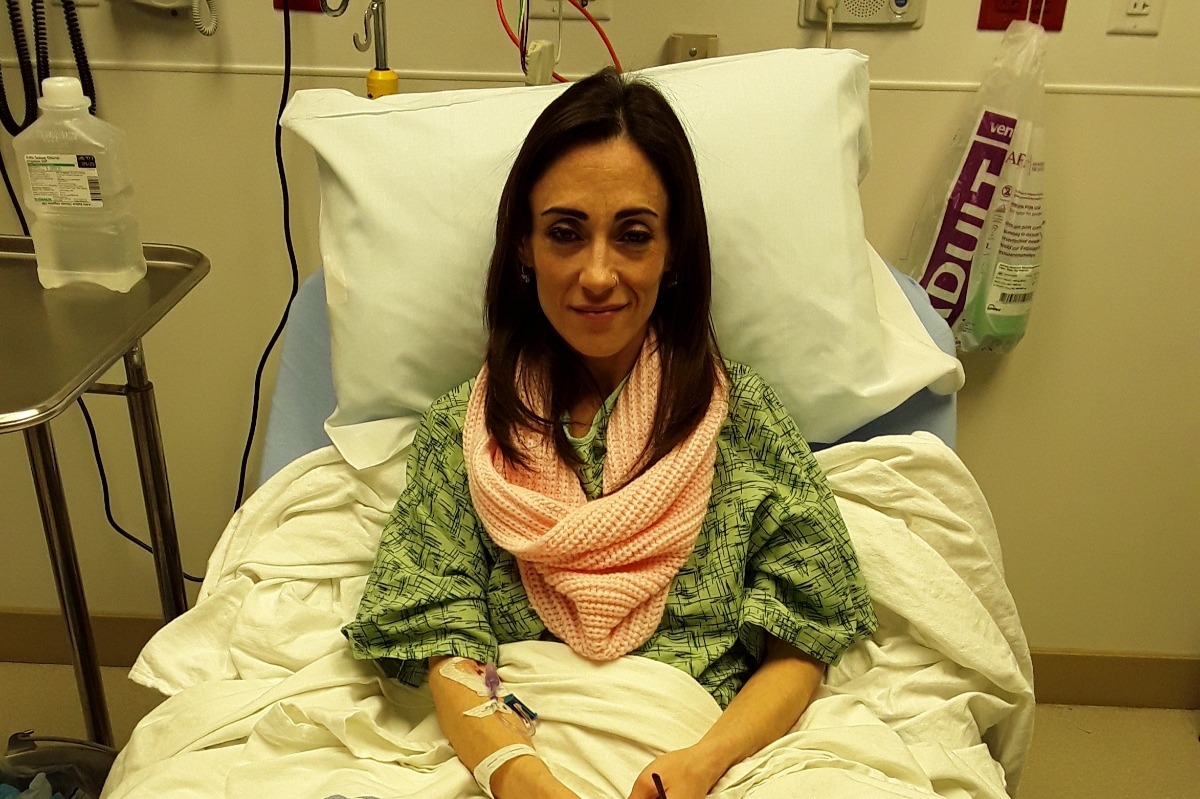 She lives with several autoimmune diseases and disorders, ranging from Irritable Bowel Syndrome, Chronic Fatigue Syndrome, Aquagenic Pruritus (the inability to tolerate water or sweat on her skin-causing horrible itching, much like poison ivy), an inability to produce normal hormones, allergic reactions (not only to outward causes, but also to foods), a constant battle with infections and viruses, and Leaky Gut Syndrome.   She is unable to eat much of anything as it is either thrown back up or causes intense abdominal pain.  Her significant weight loss casts a mere shadow of her former self. She must stick with only a few foods such as organic, grass fed bone broth and a few other organic only vegetables and her system cannot tolerate raw foods at all.
She is disabled, with a 17 year-old daughter, 2 boys (9 and 8 years) with Autism.  The youngest has very low-functioning Autism and the older is higher up on the spectrum. As a singular income family attempting to live with huge, mounting medical bills for both her and their boys,  it is difficult for them to maintain a household and old, failing vehicles (that are needed to get her husband and daughter to work and school daily, as well as various doctor and therapy visits for her and the children).  
After twelve years of pain and severe depression, Carol remains optimistic that one day all of this will be over. She keeps her faith strong, always looking for ways to move past all these setbacks to begin a new, healthier and happier future for her and her family.  She tries to keep hope alive for the sake of her family.
Recently, a suggestion has been that she go to a residential pain rehabilitation facility where a team of doctors can try to resolve the core issues and maybe find some relief.  This was never a consideration as these facilities are well outside their family's financial capabilities and most, if not all, expenses would not be covered by insurance or Medicare. Friends and family have made calls to several locations on her behalf and feel they would be able to help her.  Any of these facilities would be terribly expensive but might be her only hope of living to see her children grow up.
Though nothing is guaranteed, she is willing to try anything to be an active mother and wife again.  This beautiful, loving woman deserves a miracle!
Any contributions are greatly appreciated!
God bless you all.