Help me get to THE DROWNED MAN in London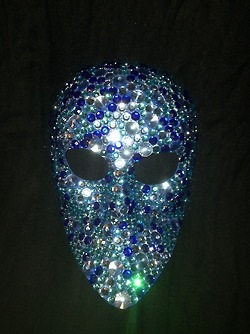 If successful, this campaign will cover travel costs, hotel, and tickets to The Drowned Man.
I set this up as an ALL OR NOTHING campaign, which means if I don't hit goal, nobody gets charged.
(See below for the details on my PAY IT FORWARD or PAY IT BACK pledge.  PLUS, if I make it to goal, anyone who donates at any level gets one of my signature sparklemasks.)
If you know me, you know that theatre has been a life-long passion for me.  Whether on stage or in the audience, a significant number of my life's greatest memories are inextricably linked to the theatre.
Two and a half years ago, I discovered
Punchdrunk
for the first time when my brother Matthew and I went to
Sleep No More
for the first time.  I have written much about it on
my blog
that is dedicated to the show, but suffice to say here that it was a transformative experience for me in many ways.  I never thought anything could match it.
Then, during what was one of the most challenging years of my life (unemployed after 12 years at my job, and struggling to overcome the shock of that) I escaped with my brother to London to see Punchdrunk's new creation
The Drowned Man
. Once again, I was awed at the creative brilliance, and the sheer scope of the show. It was enormous, and amazing.  So much so that I splurged, some would say irresponsibly, to go back.  I do not regret it. Even as I left London after that second trip, I knew I would be going back yet again, assuming the show extended through 2014, as was rumored, and assuming I had found a good enough job.
The good news is that I have landed that job!  I started a month ago, and it is going very well, but it will take a while to get caught up on everything that piled up during that year.
The BAD news is that Punchdrunk has announced that The Drowned Man will be closing July 6th!  That is, simply put, too soon for me to be able to get back on my feet enough to swing the summer airfare and travel expenses.
I have joked about finding a rich benefector who is in a position to make this happen, taking mock pity on my first world problems.  Someone who understands the transformative power of the art.  Someone who wants to help an otherwise self-supporting (barely) lover of this particular piece of art one last chance to see some of the exciting changes that have been incorporated since I was there in November.
I write all this well realizing how utterly self-serving, and silly it sounds when there are real problems in the world that this sort of disposable income could actually benefit.
This page was a friend's suggestion: in response to a tongue-in-cheek plea on Facebook for a financial miracle to help me get to London to again, he posted a link to the GoFindMe site and suggested I create a page.
And besides, fortune favors the bold!
PAY IT FORWARD or PAY IT BACK
This page also includes a PAY IT FORWARD or PAY IT BACK clause.
For every donation I receive, I pledge to PAY IT FORWARD by making a donation for that amount, in the donor's name, to an artist or arts organization.
Or, if you prefer, you I would be happy to consider your support a loan, and will PAY IT BACK in a few months as I get back on my feet.
(If I can double it,  will take my brother with me!)
Organizer