The Gorry family needs your help
This past year for my family has been nothing short of a nightmare. It all started last January when my father, Michael Gorry, became very sick and was taken to the hospital. He would spend days at a time sleeping at home which was accomponied with high fevers. On top of this he was complaining of severe back pain.
My father is a cancer survivor. He was diagnosed with hairy cell leukemia about 15 years ago and has had 4 recurrences of this disease. One of the lingering symptons of this chronic leukemia is severe joint pain. The doctor's attributed his back pain to this condition. Weeks would pass and he was not getting any better, still with severe fevers and not given a clear diagnosis. Throughout the process he would complain about the back pain which was not being attended to. He was in and out of the hospital for a few weeks at a time all the way up to May when things went downhill severely. 
My father went in to the hospital for a minor procedure on his foot.  He was on bed rest while the foot healed and after a few days he told my mom that he could not feel his legs. That's when he was brought in for emergency surgery. An MRI, in May mind you, revealed that my father had an infection on his spine the whole 5 month period in which he was in and out of the hospital. It was not attended to once. Since the surgery he has not been able to walk. He spent several months in rehab where he made a lot of progress from around the time of the surgery. At the time of his surgery he could not move anything. After therapy, he was able to kick his leg while sitting off the edge of a table and even able to stand in parallel bars with leg braces and assistance. His therapy ended after our insurance said he was not making enough progress and they did not feel he would make anymore progress.
In October he came back home for the first time in months. My mom took a medical leave from work in order to care for him. Since then she gets him in and out of bed every single day with a manual handle hoyer lift. Our front porch had to be transformed into his bedroom. 
January of this year marked the one year of him being sick and things have yet to get any better. My mom returned to work after her medical leave and was welcomed back by being fired. She filed for unemployment which has since been contested by her former job and now they are demanding that she pay back what she was given. 
Since last January my father has spent upwards of 200 days in the hospital. Before all of this happened I was able to count the amount of times I've seen him cry, but now it happens almost daily. My parents are not the type to ask for help, but I can't let them suffer like this. I am still in college and do not have a full time job to help pitch in. I asked if they wanted me to help with money but they value my education.
Recently I had a conversation with my friend which really touched me. He told me how my father was the nicest man he ever met and it's heartbreaking that something like this could happen to such a great person. Last fall a friend of my dad's threw a fundraiser at a local bar and we raised $15,000 in one night which has since gone to medical bills. Among the dozens of of friends and family members that came, people my father had not seen in 30 years came to donate because he had made such an impact on them.
My father used to be active. He had a job which he loved, he took guitar lessons, and played golf (he even got a hole in one certified by the PGA!) amongst other things.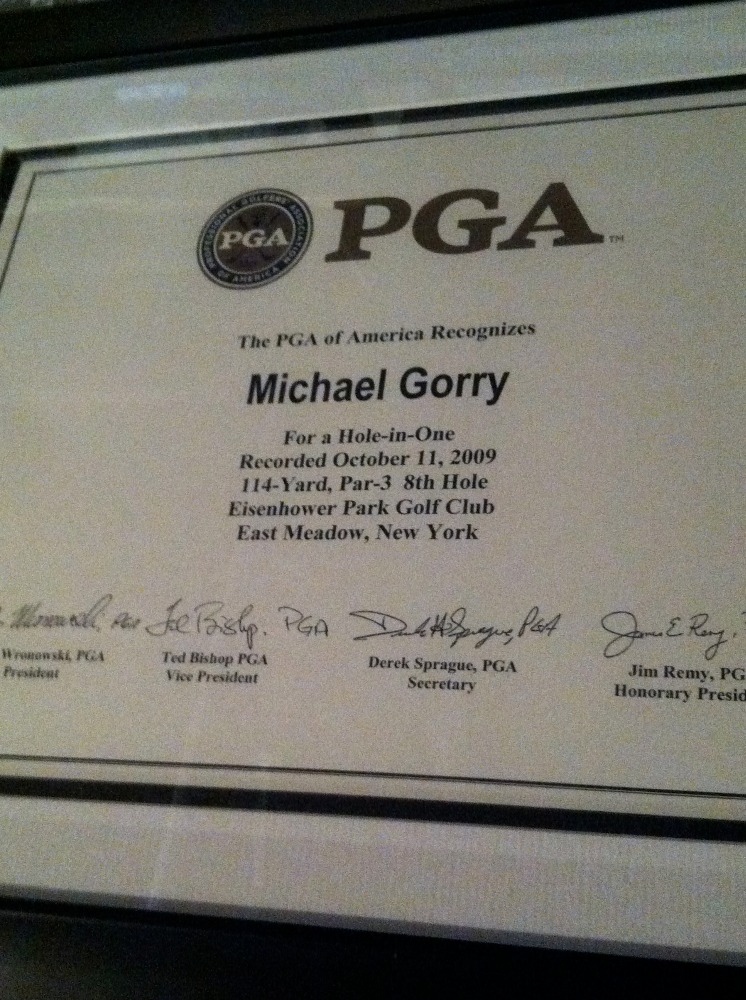 His quality of life is noneexistent now. I'm just going to say it, right now we need help. My family needs money for a wheelchair accessible van, a motorized hoyer lift, continued out patient therapy, and general living expenses. My father has many medical bills piling up that we simply do not have the money to pay for. If you could help us out, that would honestly mean so much to all of us. If you can't donate, at least spreading the word would be amazing. I've seen the internet do some amazing things for people, and I'm ready to see it do some amazing things for the people that mean the most to me. Thank you so much.
Organizer