Wiener Internationales Streich Ensemble
The inaugural concert of the Wiener Internationales Streich Ensemble (WISE) is set to take place on Friday June 20th, 2014 in St. Peterskirche of Vienna, Austria. 
The aim of WISE is to empower an international community of talented young musicians as they launch into the world of professional performance. WISE is comprised of musicians that are not only dedicated to creating music at the highest standard, but in creating a self-sustaining organization rooted in hard work and good musicianship to facilitate an ever-growing list of future performances. 
This first concert is vital in establishing the Wiener Internationales Streich Ensemble's reputation and garnering the respect of other chamber groups in the city. Earning the trust of the audience, collaborating with our hosting venues, and instilling camaraderie within the musicians are just a few of the goals that WISE aims to achieve. 
As young professionals, we strongly believe in paying our players and venue before the concert in the same manner as any professional musical ensemble would do. By financially appreciating our players and conducting our business in the greatest manner of regard, we hope for WISE to become a respected, musical fixture that encourages cultural collaboration. Our goals can only be realized through the support of musical lovers who, like our players, come from all over the world. 
Even if your donations come from over-seas, we have made the exciting decision to have this concert professionally recorded; a valuable resource and tool both for the ensemble and every individual musician involved as they put together their individual websites and resumes. Every donator will receive a digital copy of the performance, to put a face (and sound) to their financial contributions. Any donations that exceed our goal, or that are collected at the door of the concert, will be put towards our future concerts. This first concert will open the door for the ensemble to become self-sustaining, collaborate with donors and give active, professional musicians a chance to make a living wage. 
We ask you to support the music of WISE by donating to this website. We are unique in our dedication to paying young performers and in helping international musicians to perform in the heart of Vienna's music scene.The hardwork and dedication of our young musicians will never go unnoticed as long as there are people to appreciate what they create. In return for your support, we offer the exclusive opportunity to be listed in the program as a Founding Supporter of the Wiener Internationales Streich Ensemble, and the chance to receive the professional recording of our Inaugural Concert.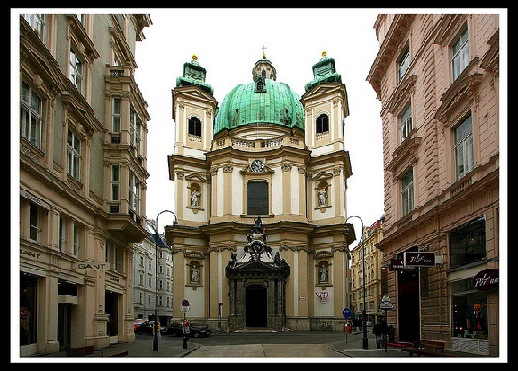 [Peterskirche located at Petersplatz, 1010 in Vienna, Austria]
The funds we require are exactly as listed:
100 euros to each of our 27 musicians
6 first violin
6 second violin
5 viola
5 cello
2 kontrabass
2 soloists
1 conductor
Total---------------2700 euros
100 euro donation to St. Peter's Church
100 euro donation to the supervising curator
200 euros for professional recording
100 euro rehearsal space fee
Total----------------500 euros
Total: 3,200 Euros/4,500 USD                         
Program
      Pergolesi: Stabat Mater,1736 (40')
             Soloists: Akine Matsumoto, Soprano
             Catrina Poor, Mezzosoprano
                           -Pause-
      Mendelssohn: String Symphony No. 7 in D minor, 1822 (30')  
                   Conductor: Chelsea D. Gallo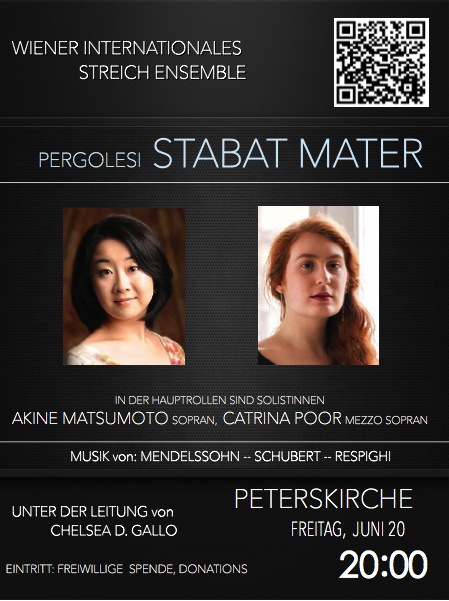 Organizer