A dear friend's sweet pup got on the wrong side of Animal Control. Now a solid fence must be built in record time, or the pound will take Luna away and put her down.
Please help.A Happy Family
Dave adopted Luna, an abandoned pit mix left on his street a year ago, as well as four of the 10 puppies she had soon after arriving. (He found homes for the rest.) With his two previous dogs, they've been one big, happy, furry family.
Until Last Month:
The puppies got out of the yard through a breach in the fence, and mom Luna followed. They crowded around a neighbor returning home with groceries, and she fell, hurting her wrist. (She is now fine.) Animal Control was called, and the situation escalated as two officers wielding catch poles rounded up the puppies. Luna barked and growled at the officers, then redirected her fear and aggression at a passing kid, and nipped his pants leg.
What Happened Next
They took Luna in and held her in an overcrowded facility for 9 days. It took that long for Animal Control to deem Luna "dangerous" based on her growling when threatened by the officers and a couple of neighbors who said she barked at passersby from her yard.
No other evaluation was conducted!How You Can HelpLuna is not dangerous!
And an animal behaviorist who spent time with her recently agreed. But Dave has to build a 6-foot-high fence and he has to build it now! And get extra liability insurance to boot after exhausting his resources on getting Luna out of lock-up.
It all has to happen by April 18 or Luna gets euthanized!
Please help Dave and donate what you can to save this sweet dog a second time. Thank you so much for your support!
Important Postscript
We are outraged by Animal Control's callous dismissal of Luna's friendly nature and worried about other dogs who may have met with a more tragic fate. If we exceed our goal, we will use the funds to fight this decision and work toward changing the unenlightened manner in which this "dangerous dog" process is conducted.
Read more about Luna and the whole alarming situation below.
Luna's Story""More Details
Like so many strays, Luna was not a runaway""she was dumped on the street and left to scrounge and fend for herself. She roamed a South Tucson neighborhood for two weeks, and no one claimed her.
Fortunately, her instinct for sniffing out good people saved her. She started showing up everyday at Dave's house, sometimes pacing the empty lot next door, sometimes curled up at his front gate. She would greet him meekly and lick his hand. Dave was not planning to take in another dog""he already had Shyanne and Gomez""but Luna's affectionate disposition and persistent lobbying got to him. One day, he just opened the gate""and his heart""to this lovable animal.
And that's how a homeless, nameless mixed pit found her place and person, and became Luna.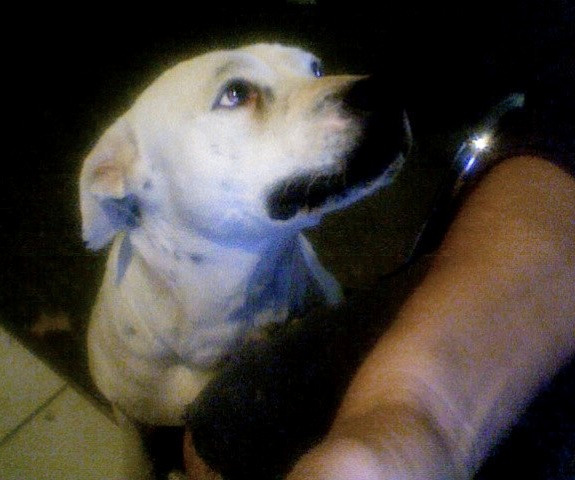 Luna, gazing up at Dave.
And then there were:How many?
No one""not even the long-time dog people""could detect that Luna was pregnant""until one night a few weeks after her arrival, when she gave birth to 10 puppies! Dave""fresh from a root canal but with Facebook friends advising (280 posts in eight hours!)""midwifed the tiny, squirming little ones into the world and helped Luna care for them. Within a few months, he'd found homes for most of the puppies among family and friends, and kept the rest""Edgar, Starla, Dulce and D-Day""to save them from the uncertain futures they might face if turned over to an animal welfare organization.
In case you've lost count, Dave's family now included""now includes""7 very lucky dogs. That's a lot of love.
Luna, doing the mom thing.
Perfect Storms Happen
Almost a year to the day of Luna's arrival""and with what we thought was a sturdy fence in place and no previous escapes""Luna's pups broke through a weak corner of the fence, camouflaged by thick bougainvillea, and started exploring. We surmise Luna jumped the 3-foot-high enclosure to follow them and round them up. She was in heat, scheduled to be spayed that very weekend but in high-hormone, protective mode. When a neighbor returned from grocery shopping, the pups and Luna bounded toward her. In their overeager encounter with the neighbor, she fell and hurt her wrist. Then she called Animal Control, and the entire situation escalated out of control.
The reports indicate that Luna growled and barked at the officer who arrived on the scene, defending her puppies from a stranger. The officer felt threatened (as did Luna!), and another officer was called in. As they chased her down, she redirected her fear and aggression toward a kid walking home from school and nipped at his pants leg. (Ask any animal behaviorist""or consult Animal Control's own handout about aggression""and you will learn this is "textbook," a classic, even predictable, reaction when a dog is deflected from the source of threat).
The episode was noted as "attempted biting" and, long story short, Luna was taken in, spent 9 days at the pound in a small kennel (only a phone call from a friend at the Humane Society got us visiting privileges), and was deemed a "dangerous dog." The puppies were allowed to stay with Dave.
What Now?
That perfect storm is over and won't happen again""all dogs, including Luna, are spayed or neutered, licensed, and up to date on shots; the breach in the fence is repaired""giving Animal Control no reason to slam down on Dave about anything else. But the fallout continues. Dave must meet all the requirements for keeping a "dangerous dog"""getting Luna an identifying tattoo, muzzling her when she's outside the yard, paying exorbitant annual registration fees ($100 instead of the standard $15), buying extra liability insurance (at a cost of almost $900/year), and building a fence that meets Animal Control's specifications. If he fails to do this by April 18,
Animal Control will take Luna away and euthanize her
""within the hour according to a friend who works in animal welfare.
And let's be clear""
Luna has never bitten anyone
and only acted aggressively when defending her puppies while in heat. She is the same friendly pet she's always been, though perhaps a little more subdued in her demands for affection now that she's spayed. And a local trainer/behaviorist confirmed what we already know""
Luna is definitely not dangerous
. But she is now saddled with that onerous (and erroneous) label, and Dave is saddled with all the immediate and ongoing expenses that come with keeping her.
How You Can Help
The one-time costs of getting Luna out of the pound and meeting all other city requirements for his dogs have cleaned Dave out, even with the help of some generous friends and family. But a fence still has to be built and first installments on liability insurance must be submitted. The costs will come to $2,900. That covers recycled and new materials to build a 6-foot-high, 320-foot-long fence""we'll add the elbow grease""and the first year of insurance.
So many of you have offered such incredible support""in person and online""as Dave has navigated this challenging and fulfilling year. Thank you for all the love and advice and good juju. Now we need your help to help Dave build a fence""one that is strong, pleasing to look at (i.e., not a jail), and up by April 18.
Please contribute what you can
and let's get this project off the ground and completed. And for anyone in the area who would like to donate their time and muscle for a good down-home fence-raising, Tucson-style (that means burritos all around), please let us know. We'll get in touch with details.
If you've ever loved an animal, if you've ever counted our four-legged friends as members of the family, you know how scary and emotionally distressing it can be to worry about their welfare or security. Luna was saved once""let's save her again.
Our deepest, heartfelt thanks to you for your donation and for playing a part in not only saving Luna, but giving her a happy and safe life.
Muchisimas gracias!
Luna, sunning in the yard.

Organizer
#1 fundraising platform

More people start fundraisers on GoFundMe than on any other platform. Learn more

GoFundMe Guarantee

In the rare case something isn't right, we will work with you to determine if misuse occurred. Learn more

Expert advice, 24/7

Contact us with your questions and we'll answer, day or night. Learn more