Matthew's Road to Recovery
On May 29, 2020 it was a rainy morning and was really a normal day. Matthew was excited to finally pick up his 1987 Dodge Ram truck that was completely rebuilt. On the way to the inspection station traveling in heavy rain Matthew lost control of his truck and slid off of the road and crashed into a tree. When paramedics came on the scene he was unresponsive in the passenger seat. He was rushed to the hospital and taken into emergency surgery because he had ruptured his stomach, shattered the right half of his face including the temporal bone causing him to lose hearing in his right ear, suffered several massive brain bleeds, and fractured several ribs. we was placed on a ventilator and was kept in a medically induced coma. The doctors initially stated that he was severely brain damaged with no hope of waking up, walking, talking, or having any cognitive abilities and to take him off the ventilator after only 1 day. This was one of the biggest blows that a family could hear.
His wife was adamant about giving him some more time for the swelling to go down and see if he emerges. she always said that Matthew was a fighter and will always try to prove someone wrong.
After 6 days of being in a medically induced coma his brain pressures came to acceptable levels and they took him off of sedation to see if he would wake up on his own. Almost immediately he was responding to touch intermittently. After a few days he opened his eyes for the first time since the accident, but due to his injury was not consciously aware of anything and could not track anything with his eyes. As the days progressed he was able to focus more on his surroundings although he was not able to talk or communicate he was able to follow people with his eyes. He was able to breathe on his own after 2 weeks and was able to come off of the ventilator. He began to move his arms and legs. The doctors were so shocked at how fast he was progressing he was able to transfer into a rehab center only 3 1/2 weeks after being in the accident. Doctors had never seen such fast progress in such a severe brain injury patient.
Although they still gave us grim expectations we were still hopeful that he would emerge into full consciousness. Once he entered the rehab very soon after he was able to get his trache taken out and was able to whisper his first few words. He progressed to be able to begin writing, reading, doing simple math, remembering family and friends, becoming fully emerged and aware, keeping in mind the doctors said that he would never get to this place, he was able to take his first few steps with assistance, and now able to walk with no assistance but just have standby incase he falls. He can hold up his body weight and can now sit on a couch outside of a wheelchair without any support. Matthew has come a long way physically, but his cognitive abilities mentally and emotionally will take the longest recovery times. The type of brain injury that he has is called Diffuse Axonal Brain Injury. Although he is making amazing progress physically, he has a very hard time communicating with words and finding the right words to say due to his aphasia. He also has a hard time remembering recent events in his life. Some days are better than others. Some days he will talk a lot as in deep thought and ramble on and sometimes not make any sense, and other times he will not want to talk because it will frustrate him not to be able to express himself the way he wants to. The doctors say that it is too soon to try medications to help with this because they want to see if he can eventually do it on his own when the blood is reabsorbed into his brain. His anticipated recovery has the best chance in the first 2 years. It will take time for all of the blood that was in his brain to be reabsorbed and improve his cognitive functioning.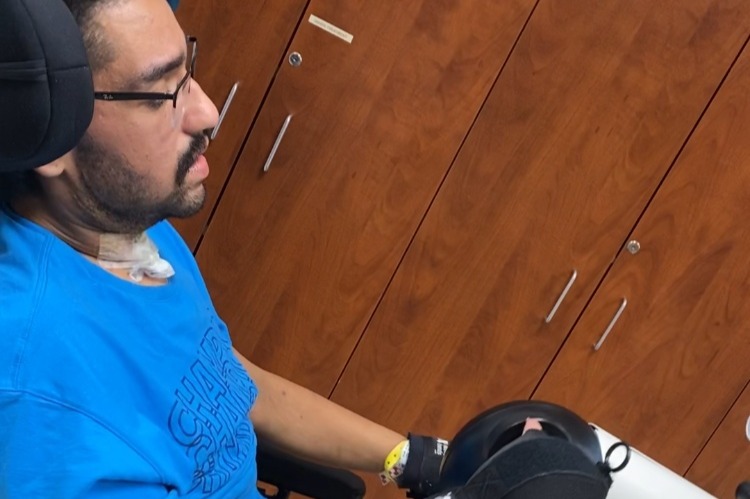 Matthew achieved his dream job and is a College instructor and department head at Stanly Community College for HVAC. He received his associates degree from South Piedmont Community College and is a part of the Phi Theta Kappa honors society. He had recently achieved a milestone of losing more than 100 lbs and being in the best shape of his life, which the doctors believe inevitably saved his life. He became a clean eating connoisseur and was very into health and wellness. He worked out and took 3-mile runs multiple times a week. He was very inspired to post all of his positive motivations on his social media pages to encourage others to reach their full potentials and abilities.
Matthew will need 'round the clock supervised care. The home will need to have medical supplies ordered for his care and equipment to make the home safe that is not covered by insurance. Some of the things he will need immediately upon returning home will be a shower chair so that he will be able to have support while bathing, a gate that will separate the living room from the kitchen. Since Matthew loved to cook, this may be a temptation for him that he is not ready for and could be very dangerous if he work to operate any kitchen appliances or handles knives. His wife is not able to work as a result and will have to be his full time caregiver so their income has been dramatically decreased since they are both not working and he will soon only be receiving a percentage of his pay though his disability. The fund will also go towards the medication costs not covered by the insurance. Also making sure that there is safe transportation for him when he needs to go to important appointments and procedures. As of right now Matthew is mainly mobile by wheelchair and the family is in need of obtaining a vehicle that has handicap capabilities or can be modified to be able to transport Matthew in a wheelchair. Matthew will also need stimulating activities, workbooks, and games to keep his mind progressing towards healing. Essential oils and natural washing and cleaning products are good for patients with traumatic brain injuries so we will be transitioning to using detergents with essential oils and natural cleaning supplies.
Matthew will be graduating the rehab program and returning home on July 31, 2020. The Bonilla family would like to thank everyone for all of the love, support, and prayers they have received thus far and are very hopeful that Matthew will eventually be able to do many of the things that he once loved to do.

Organizer and beneficiary
#1 fundraising platform

People have raised more money on GoFundMe than anywhere else. Learn more

GoFundMe Guarantee

In the rare case that something isn't right, we will refund your donation. Learn more

Expert advice, 24/7

Contact us with your questions and we'll answer, day or night. Learn more