Dear Community:
This is an urgent call to action for a community member whose passion and commitment to radical queer movements has been an inspiration to all of us.
Inspired by the Miss Major Giving Circle and how community came together to support an elder, a group of activists, artists and community members have decided to organize a monthly fund on behalf of Jay Toole to ensure that Jay's basic needs are taken care of.
Help us meet our MONTHLY GOAL OF $2,700  by DONATING HERE to the We Love Jay Campaign!
Click the "donate each month" box to make this a recurring donation.
Due to severe financial hardship, Jay is having a hard time making ends meet.  Jay has to survive on less than $50 per week.  $2,700 will cover rent as well as necessary living and medical expenses per month.
"Jay is here for people who have disabilities, who have HIV or AIDS. Jay is here for homeless people, people living on the street or in homeless shelters. Jay is here for queer people of color, trans and gender non-conforming people navigating the prison industrial complex, for elders and LGBTQ youth of color. Jay is here for the smokers in front of the building. For people in recovery or sobriety; for any of us who had questions about what it was like for a13 year old butch to be living and running the streets of the village in the 60s with the mafia; or living in Washington Square Park during the Stonewall Riots; or what it was like to be incarcerated in the Women's House of Detention with Angela Davis and have Sylvia Rivera march outside chanting "˜Free Our Sisters! Free Ourselves!'"
"" Reina Gossett
WHO IS JAY TOOLE?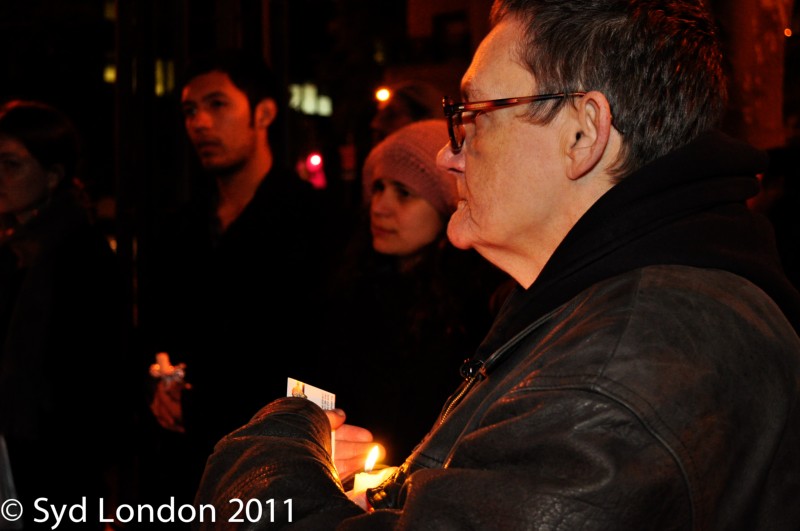 Born in 1948, Jay Toole grew up in an Irish Catholic home in the South Bronx during the 1950's. At the age of 13, Jay returned home with the classic butch haircut of the day, a flat top. Her father threw her out immediately, with no one and nowhere to turn. For the next 8 years she lived on a park bench in Washington Square Park, a unique viewing perspective for the evolution of the 1960's in the West Village. Ultimately she did not get off the streets or have an apartment to call her own until November 2000. She spent the five years prior navigating the NYC homeless shelter system. During her time on the streets she was arrested for crimes such as sleeping on a subway bench, sexual deviancy resulting from not wearing 3 articles of women's clothing and much more. Jay was also beaten and abused by the NYPD regularly; she has visible scars on her leg to this day. She became addicted to drugs and alcohol as the only coping method available. Jay identifies the one reason she made her way out of the shelter system being the assistance of a few supportive queer individuals from the outside.
It's precisely this kind of hands-on support that led Jay in 2002 to become a Co-Founder and the Shelter Director at Queers for Economic Justice (QEJ), a progressive non-profit organization. committed to promoting economic justice in a context of sexual and gender liberation. From 2002-2012 Jay spearheaded movements at QEJ, which resulted in 2 written policy changes at the Dept. of Homeless Services (DHS) and the City of New York. In January of 2006 transgender folks were ensured the right to self determine which side (male/female) of the shelter system to enter. In 2007 a policy was created for homeless queer families to be housed and sheltered together. These policies continue to be honored today. Because of Jay's work QEJ became the first and only LGBTQ organization to facilitate support groups for queer individuals inside the shelter system. Doors are open in these support groups regardless of gender identity, legal or immigration issues, mental or physical health needs, or substance abuse.
Jay began a new chapter in 2012, moving forward with her long time dream of Jay's House. Currently she is working alongside her team to create the very first LGBTQ adult shelter in the country. Jay's House will bring together a resource center, support and services, housing, follow up care, skill shares, mentorships and hold hands as people move through difficult systems, such as health care.
"Even though I lost my job and find myself on the edge myself, I will never stop working for my Queer Adult Homeless Family" "" Jay "Superbutch" Toole
HOW YOU CAN SUPPORTDonate Here to the We Love Jay Campaign!
You can help us meet our fundraising goal of $2,700 by making a one time donation or monthly gift. No amount is too small.
*Please click the "donate each month" box to make this a recurring donation.$30
could cover Jay's transportation for a week.
$80
could cover electricity for one month.
$
200
could cover Jay's monthly food costs.
$1200
could ensure that Jay's housing is secure for a month.
Spread the Word
Words
: Post this URL
(www.gofundme.com/6sfa14)
and give a shout out to Jay on your Facebook wall or on Twitter. Give us your favorite Jay quote for the
gofundme
page.
Visuals
: Create a short video clip on your phone, computers, etc., about Jay and we'll post it to the
gofundme
page. Post pictures of Jay with words of support to your FB pages, on twitter, blogs, tumblr, etc.
INCENTIVE -
Jay's work towards a queer gender self-determining NYC!
"Jay has been a movement leader and an incredible resource for hundreds of homeless and low income LGBTSTGNC people in New York City for years. Jay's leadership, compassion, and generosity have had a deep impact on organizing in our communities, and I feel honored to call Jay a comrade, mentor and friend." "" Elliott Fukui
"We believe it is our responsibility as a movement and community to support those who's legacy of organizing, resistance and resilience create space for us to exist and to build movements together for justice and liberation." "" Kris Hayashi
In solidarity,
Kamaria Carrington, Collette Carter, Avi Cummings, Elliott Fukui, Lucia Leandro Gimeno, Reina Gossett, Kris Hayashi, Cris Izaguirre, Khane Kutzwell of Camera Ready Kutz, Sebastian Margaret, Ola Osaze, Cara Page, Susan Raffo, Ignacio Rivera, Rocky, Dean Spade and Alisha Williams.