Michelet's adoption story began in 2011 with a mission trip to Haiti by Shylah. After months of preparation for her trip to Haiti, at the last minute, she did not end up at the destination originally planned, but instead, at a small orphanage.
She spent a month at the orphanage helping with the daily needs of the children and teaching them to speak English. During her time at the orphanage, she fell in love with a precious 2 and a half year old, Michelet, who had been diagnosed with Hydrocephalus (fluid on his brain). 
When Michelet arrived at the orphanage he could not hold his head up, roll over, sit up or feed himself unsupported. His legs were severely atrophied due to the poor conditions and care he received prior to arriving at the orphanage six months before her visit. 
The orphanage was able to supply Michelet with a wheelchair. As a result, he spent less time laying on his back and slowly began to develop more strength.
Shylah & Michelet 2011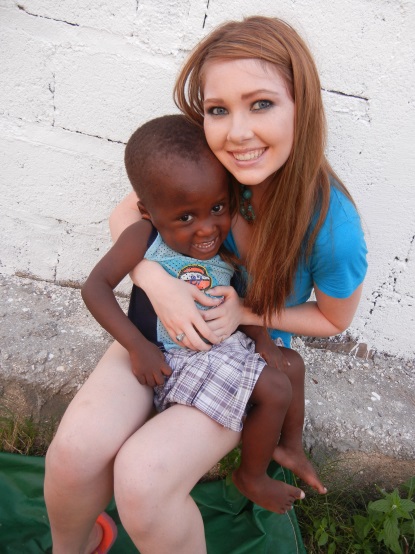 Shylah learned that Michelet was to see a visiting neurosurgeon for evaluation and that a shunt (continuous fluid drainage tube) would be put into place, if needed. Although the neurosurgeon determined that a shunt was not needed at the time, he still needed the fluid removed from his brain.The procedure was scheduled for late October 2011.  
Shylah's mom, Gayla, made the trip to Haiti to meet Michelet and care for him while he recovered from the procedure. She was there about 3 weeks, falling in love with him more every day.
"Just 3 months after Shylah came back from Haiti, at her prompting, I ventured to Haiti to meet Michelet and take care of him after surgery to remove excess fluid from his brain. At the beginning of that trip when he had a setback, became ill and ended up back in the hospital, I felt completely inadequate to the call to be his "mommy" during his recovery. I cried (quite literally) to God to give me the strength to do it. Within days, Michelet and I found a love that transcended language barriers, cultural differences, and my perceived inadequacy. I learned in a very real way "I can do all things through Christ who gives me strength". I didn't know when I left Haiti in November 2011 that we would be on this adoption journey, but I did know that he had stolen my heart and I would never be the same." - Gayla Slaughter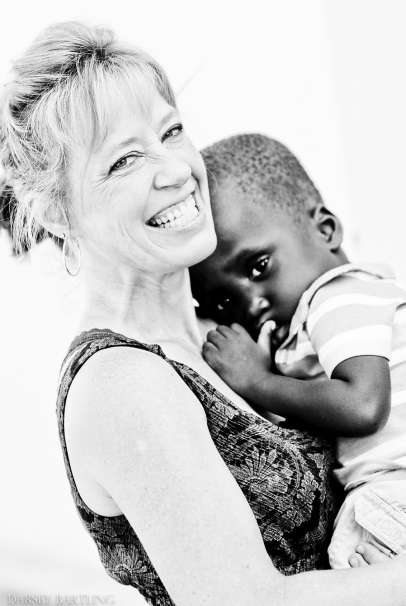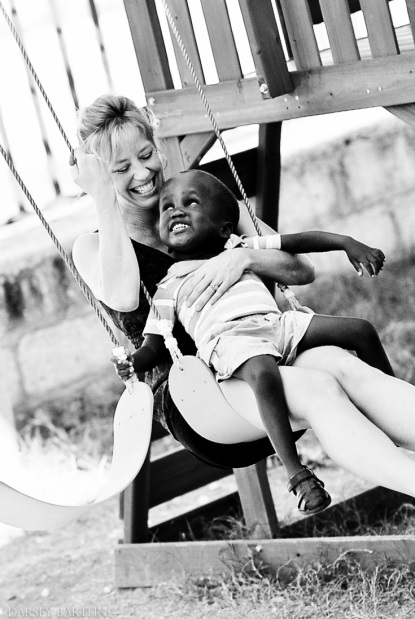 Gayla returned home and it was decided that their family would move forward in attempting to adopt Michelet. With that decision made, there was much work to be done.
Michelet's recovery continued while his "family" was away. He began to roll over and belly crawl (major hurdles in his progress).
Gayla made a second trip to Haiti in August 2012. The intent on this second trip was to determine if Michelet had any relatives who had an interest in caring for him or who would help her obtain the documents necessary for him to be adoptable. No mountain was too high to climb for this, her baby boy.
Gayla traveled, with a guide, into the mountains where Michelet's mother, Micheline, had lived prior to her passing and where his grandfather, Raymond, still lived. She was able to meet Raymond who relayed that he had significant difficulties caring for Michelet, which is why he turned over care, of his own free will, to the orphanage during February 2011. He was willing to help Gayla adopt Michelet and provided some documents to help move the adoption forward.
Michelet's Grandfather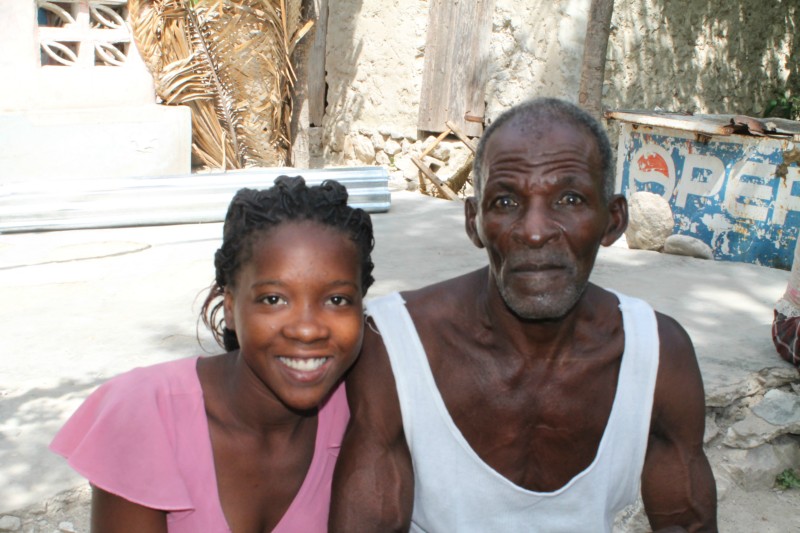 Michelet and Gayla August 2012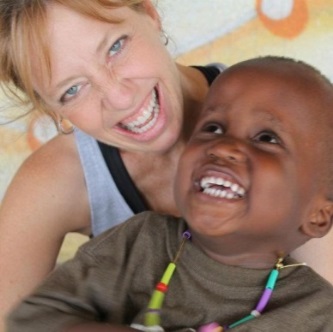 The papers were filed and all fees paid in full. Even though the adoption angency had excellent referrals and reputation, the Haitian government closed the agency and the funds paid for Michelet's adoption were lost. The costs of a Haitian adoption can be quite daunting, but the monetary costs were not going to slow them down.The family was heartbroken but determined to move forward although they were now facing a huge financial challenge.
The Slaughter's have been invested in Michelet's adoption from the very beginning. Over the last year and a half, since the adoption process began, they have invested a large amount of funds in pursuit of the dream to bring Michelet home. Gayla even took on a second job to help defray the costs.
The with support of their new adoption agency, on May 21, 2013, the family was officially accepted by the Haitian government to be Michelet's adoptive parents. This is when the excitement of Michelet's adoption really kicked in.
During August 2013, Dwain and Gayla made another trip to Haiti. This was Dwain's first trip, but just like Gayla and Shylah, he fell in love immediately.
Daddy & Michelet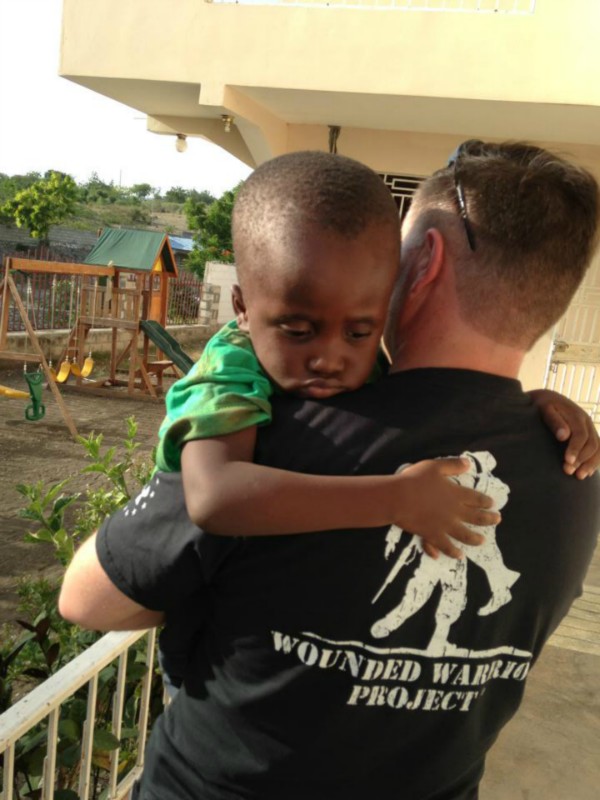 Michelet's health has continued to improve. He is now able to sit unsupported on the floor, self-propels in his wheelchair and can sit in a chair at the table with the other kids. 
He is quite intelligent, despite his difficult start. He speaks creole and is learning Engligh relatively easily. He knows many of his letters and sounds and can count comparable to other school children. Michelet is now 6 will be in Kindergarten this fall.
Michelet's legs still suffer extreme atrophy and his feet turn in rather severely causing his wheelchair to be a continuing need. His family has provided him one wheelchair, but the roads are not paved in Haiti, children climb and play on it when Michelet is not using it. Luckily, a new wheelchair was donated and was able to be delivered by Gayla a week ago (August 2014). 
He LOVES his new chair and is able to manuver it with very little help, saying "let me do it" when help is offered.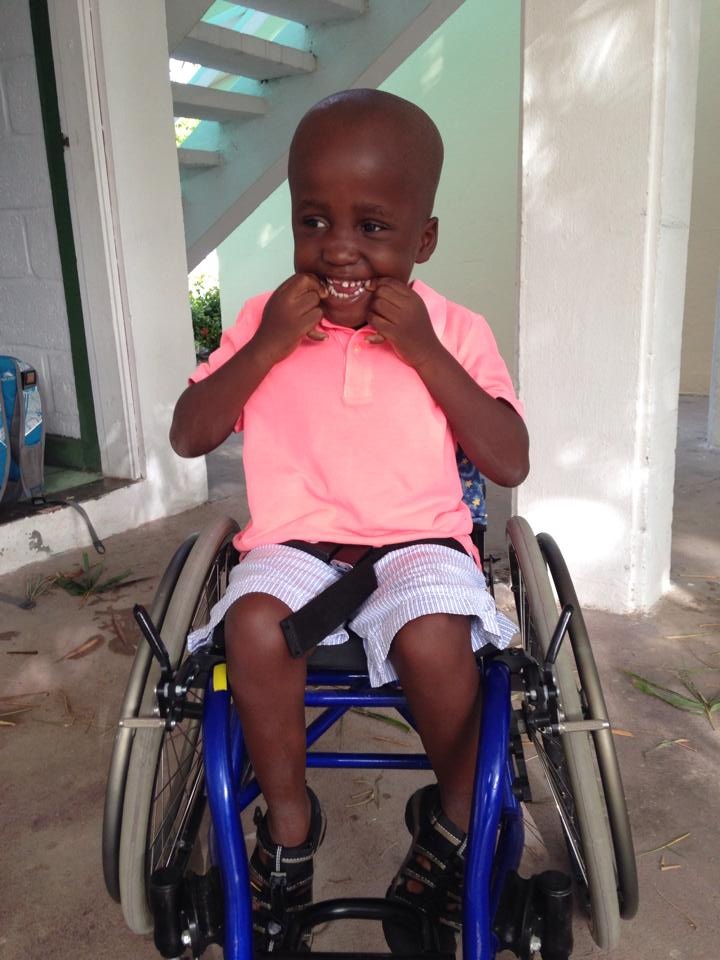 He will likely need another surgery  and extensive physical therapy when he reaches the US to lengthen his Achilles tendon, allowing his legs to stretch properly giving him the tools to encourage walking. Hopes remain high that he will be able to walk with proper prosthetic support someday. 
Gayla made this adaptive swing for Michelet as an attempt to get him to use his legs. It is very difficult to get him to put his feet down straight.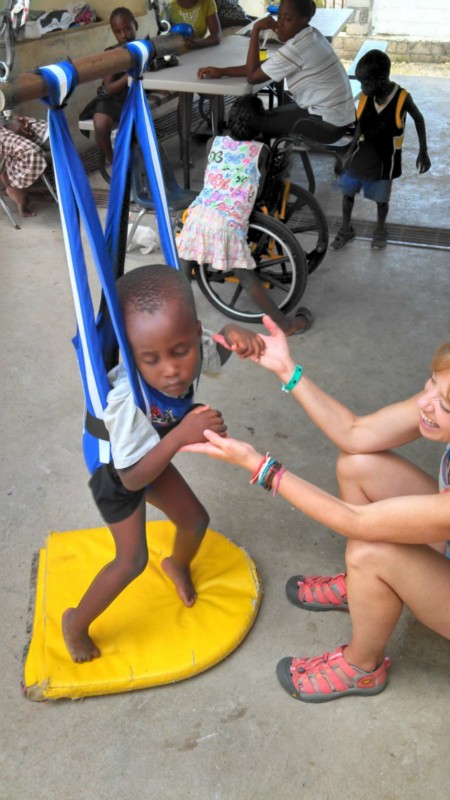 Challenges and setbacks, that could not have been foreseen or avoided, have been encountered causing Michelet's adoption to cost thousands more than was originally planned.
Despite the additional costs, the Slaughter's continue to move forward with the adoption, asking for prayers and God's strength for Michelet. This is a family I have known most of my life. They give selflessly and are, loving, caring, patient and full of faith.
With your help, Michelet can come home to the US. He needs therapy and medical care that is just simply not available in Haiti. His family wishes they could be with him every minute, but are relunctanly settling for one visit a year and many Skype calls and Facebooks photos.
Thank you for your time in reading this most amazing story. The Slaughter's do not believe in accidents. Shylah was meant to mission at Michelet's orphanage and they are meant to be Michelet's parents. They have stretched themselves to be able to provide a the family and help that sweet Michelet needs. They would welcome some help if you feel called to do so. 
Giving up is NOT AN OPTION!
With love, 
Lynn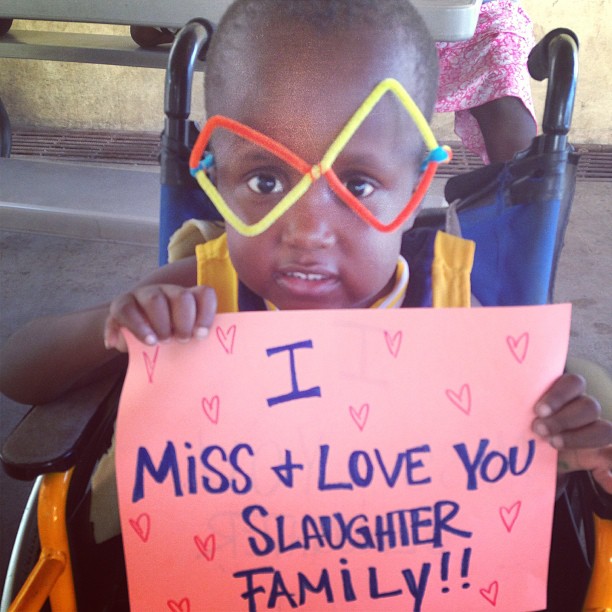 Organizer
Lynn Barickman Montgomery-Haga