Please help Kaylee get to the 2014 UWG
Please help Kaylee get to the 2014 United World Games - Austria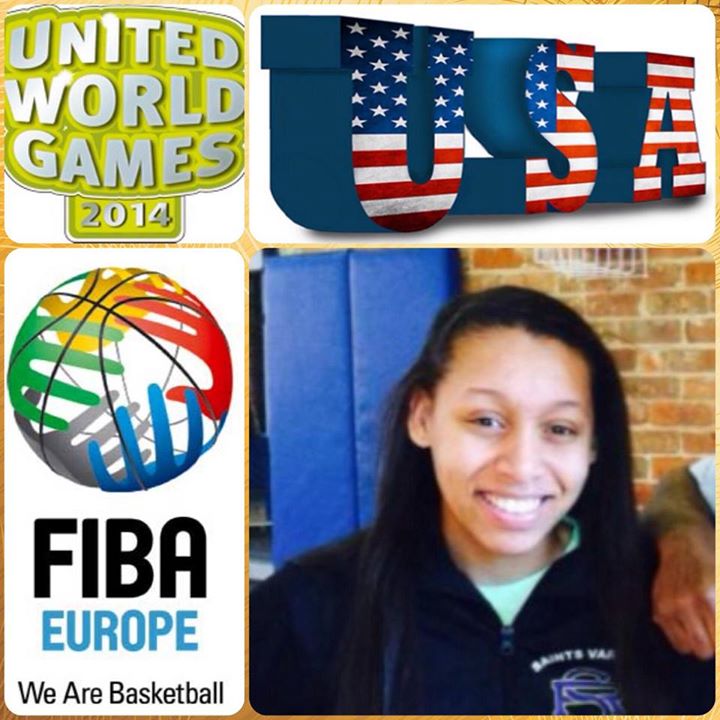 As long as I can remember, my daughter, Kaylee had a basketball in her hand. At our home, we have a hoop in the backyard and she would be outside for hours and hours dribbling, shooting and practicing. Over the years she was blessed with the honor of having some really great coaches, trainers and family members who worked with her to get her to the skill level she is at today. Kaylee is currently a junior at Saint Raphael Academy in Pawtucket, RI. She is an honor student, assists with community service activities involving inner city youth of New Bedford, MA (under the supervision of Marcus Wills, Basketball Money CEO) and plays basketball all year round (involved with various AAU teams, personal training and numerous camps/showcases). Mid-January our family was presented with some really exciting news. Our Kaylee was chosen to participate in the United World Games 2014 on the USA 19U Elite AIST girls' basketball team June 16-25, 2014. This is truly an honor for her not only to represent her family, community, and school, but her country.


Sample Itinerary
Day 1
· Depart USA for Munich with other team members and coaches
Day 2
· Arrive Munich
· Personal Chaperon will meet you at Munich International Airport
· After breakfast transfer to the former concentration camp Dachau and learn more about the dark history of this former Nazi prison
· On the way back to the hotel, stop at the Olympic stadium
· Enjoy the first German dinner
Day 3
· Breakfast
· Mike's Bike Tour and visit some of the great sights of Munich
· Spend some free time shopping and exploring
· Overnight in Munich
Day 4
· Breakfast
· Depart for Klagenfurt "" lunch on the way
· Exhibition Game and practice
· Overnight in Klagenfurt
Day 5
· Opening day of the United World Games Tournament
· Opening Ceremonies
· Dinner with other Teams
· Overnight in Klagenfurt
Day 6
· Tournament continues
· Lunch and Dinner with other players of the UWG facilities
· Players Party
· Overnight in Klagenfurt
Day 7
· Tournament continues
· Overnight in Klagenfurt
Day 8
· Finals of the Tournament and Closing Ceremonies
· Awards Presentation
· Grill out at the lake
· Overnight in Klagenfurt
Day 9
· Depart to Venice, Italy
· Visit the famous Murano Glass Factory
· Gondola Ride
· Free time to explore the city
· Dinner and overnight in Venice
Day 10
· Depart Venice for USA

Our family is full of talented individuals whom have excelled in Arts, sports and music but no one has ever made to this level! As much as this is an amazing opportunity for Kaylee, it does come at a substantial financial expense. The cost of the trip is $6000.00 which includes the extra needed fees. We are in need to raise this amount which will encompass everything necessary for this venture.

What is included in required fees:
· Entrance fee for the United World Games
· Round trip airfare from New York area "" most likely JFK or Newark
· 3 star superior and 4 star hotel accommodations
· Breakfast everyday and 5 dinners included
· Uniforms
· Tour package as listed on Itinerary
· All Airport transfers and transportation to scheduled activities
· Experienced Coaching Staff
· American International Sports Teams staff member to be with team throughout tour
· Amazing sightseeing excursions
· Authentic Cultural Experience
· Educational guided tours
· Free time to explore on your own
· Outstanding AIST service and commitment to your trip of a lifetime
· Teammates and friendships that you will remember forever

What is not included (extra money):
· Some meals
· Connecting airline to meet group
· Drinks with dinner
· Tips for drivers and guides "" Customarily $35=40 on a 11 day tour
· Tours listed as optional
· Everything that is not listed in inclusions
· Laundry
· Spending money

Links to United World Games & AIST:
http://www.unitedworldgames.com/en/
http://www.aist.us/


As a single parent, this requirement is not something that I can do on my own. Any donation amount will help us reach the financial goal vital to get Kaylee to the games!

Thank you! Much appreciated! God Bless!
Organizer