Timothy's Diabetic Service Dog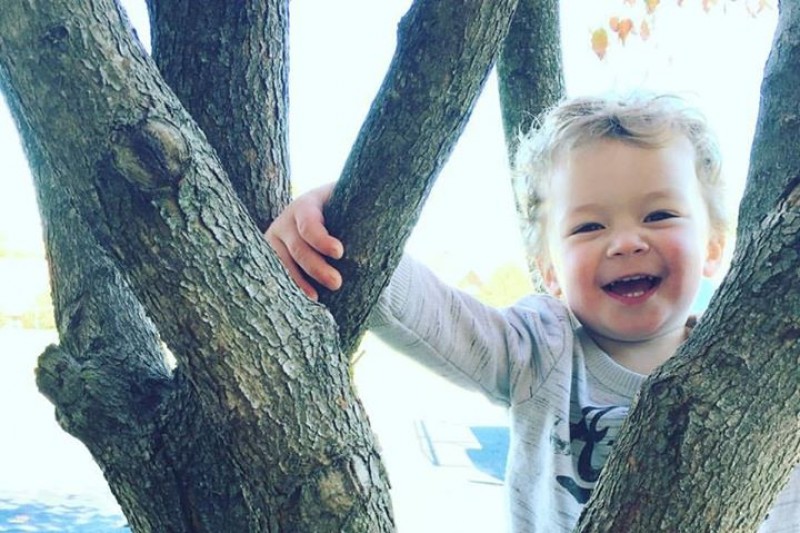 On October 14th, 2015, our two-year-old Timothy was diagnosed with Type 1 Diabetes. Much different than the Type 2 most people are familiar with, Type 1, or T1D is a life threatening autoimmune disorder caused by a genetic malfunction of the immune system—causing Timothy's immune system to attack islet cells in his Pancreas. These islet cells release insulin into the blood stream to allow the body to absorb glucose, and with T1D, his pancreas no longer functions as it should. 
Thankfully, Insulin is available for us to administer to him through multiple shots a day, or through his insulin pump (which attaches similarly to an IV into his skin). Insulin is not like a medicine which, once a proper dose is calculated, can control his diabetes. Not at all. His insulin dose is calculated by his current blood glucose level (by pricking his finger and bleeding onto a test strip), how many carbs he will eat, and what time of day (with our best guess at the amount of any impending physical activity). From there, we hope we gave him the right dose. Growth spurts, naps, physical activity, hormone levels—they all affect blood sugar levels one way or another, making the right insulin level a moving target 100% of the time. 
A blood sugar too high has long lasting effects on the human body, leading to kidney damage, neuropathy, blindness, amputations, and more. A blood sugar too low (Hypoglycemia) could kill him (studies show that 1 out of 20 kids with T1D will die in their sleep due to Hypoglycemia). We've had several of these episodes and, while Timothy has yet to lose consciousness, he has been incoherent and on the verge of needing an ambulance. 
After a few of these episodes, we were directed to a program that we were skeptical of at first. Diabetic Alert Dogs (service dogs for diabetics) are dogs that are trained to smell changing levels of glucose in a diabetic's blood (crazy, right?) and help in cases where the diabetic is typically unaware of higher or lower levels. This dog would be able to alert us to his lowering or rising levels before they become dangerous (down to letting us know when he's getting close to being out of range). This would be extremely beneficial to us at night, as he's dealt with Hypoglycemia at night too often than not. Out of precaution, we check timothy's blood sugar in the middle of every night, but on occasions we're up every 45 minutes pricking his toes or fingers to find out how his blood sugar levels are trending if he's running too low. 
A service dog for Timothy and our family would prove to be extremely beneficial as it would provide a security blanket for our Timothy at all times. Keeping Timothy in healthy ranges with his blood sugar will not only help him to grow up with fewer health issues, but it will also help him long term as he deals with diabetes for the remainder of his life. 
With your help, we could provide a service dog for our sweet boy and have a comfort of a companion to help Timothy with this ailment. The cost of purchasing the dog and the training involved with this program is expensive. A total cost of $15,000 is what's required to get a dog of this caliper, and we hope to be able to raise 2/3 of that amount, which is why our campaign for Timothy's Service Dog is set to a sum of $10,000. Anything that exceeds this amount we pledge to donate fully to T1D research to keep fighting for a cure for this disorder.

Organizer
#1 fundraising platform

More people start fundraisers on GoFundMe than on any other platform. Learn more

GoFundMe Guarantee

In the rare case something isn't right, we will work with you to determine if misuse occurred. Learn more

Expert advice

Contact us with your questions and we'll answer, day or night. Learn more