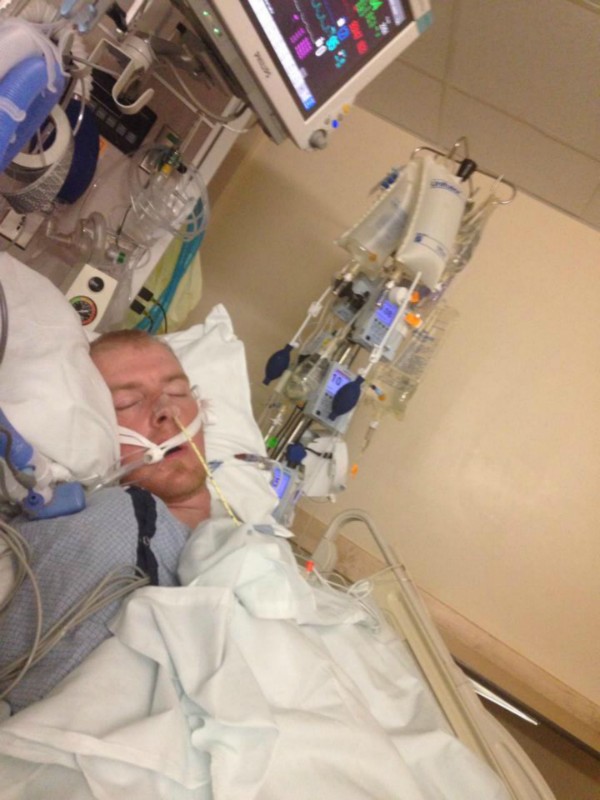 Scott and Britany Stallard are the proud parent of three young men, ages 6, 27 months, and 16 months. Scott is a taxidermist and composite technician at ACT Aerospace, and Britany is a homemaker. Scott has always been very active and spends most of his time in the outdoors.
On January 8th, 2014, Scott was admitted to the ER after being sick for over a week. He was immediately diagnosed with pneumonia and pleurisy. He was in excruciating pain and severely dehydrated. As the day progressed his symptoms worsened. His blood pressure was dangerously low and his oxygen levels were not where they needed to be. He was admitted into the hospital around 6 and by 10 he was loaded into an ambulance and taken 120 miles north to a larger and more equipped hospital. Upon arrival at the larger hospital, Scott had an iv inserted into his neck to deliver powerful antibiotics more directly. The more time that passed, the more oxygen that was needed. Thursday evening the doctors drained 650+cc's of infection from around his left lung. By the time his wife, Britany, found a sitter for their three young boys, and was able to make it to him, he was weak and defeated. By Friday afternoon Scott's body was riddled with infection. His lungs were not able to oxygenate his body adequately and his pain was unbearable. Scott made the decision to me sedated and intubated, knowing he would be asleep and not in control for at least 3 days. Before being intubated, Scott made Britany promise not to leave his side while he was under. Once intubated, a drain was placed in Scott's left lung to continually drain the infection gathering around his lung. By early Saturday morning a second drain was put into his right lung to drain the fluid around that lung as well. As Scott's body is unable to regulate his blood pressure, he is on dangerous medications to maintain his blood pressure for him. Because of this, he had an ART line placed in his left wrist that is causing discomfort. Also, because he has tried to remove his ventilation tubes, his hands have to me tied down at all times. At this point his doctors have diagnosed him with pnemonia, sepsis, multiple forms of staph, and, worst of all, h1n1. The doctors have told his wife that h1n1 hits Scott's age group the hardest and is not only very dangerous, but can be fatal. As of Saturday morning, Scott's condition has stopped declining. The doctors are giving him antibiotics specific to his infections. They are talking about surgery to remove the infected sacs of his lungs if his lungs do not completely drain on their own.
On top of the stresses of this incredibly scary illness, the Stallard's had to move on Saturday January 11th. Their friends and community went above and beyond and did an amazing job moving all of their belongings. They have been blessed with a community who has stepped in and helped with finding loving places for the children to stay while their mom stays with daddy. And to add insult to injury, the fuel pump in their only family vehicle is giving out. Britany must get it fixed very soon in order to be able to make the long drive between her children and her husband.
At this point, the doctors have estimated Scott will remain in ICU for 7-14 days, he will remain in the hospital recovering for 3-5 weeks and will be out of work for 6-12 weeks. The state of Utah does not offer short term disability. Britany is looking into state and federal options for families in their situation but as we all know, everything with the government moves agonizingly slow. We are asking for donations to help the family with food, medical expenses, household bills, travel back and forth to the hospital, and even child care when there is no family to step in and watch the boys. The support of the Stallards local community has already been tremendous but they will continue to need more help. Even the smallest donation makes a world of difference to a family in need. Please help this family anyway you can, thank you.

Organizer
#1 fundraising platform

More people start fundraisers on GoFundMe than on any other platform. Learn more

GoFundMe Guarantee

In the rare case something isn't right, we will work with you to determine if misuse occurred. Learn more

Expert advice

Contact us with your questions and we'll answer, day or night. Learn more