24
38
Together We Can For Terrence Fight For His Life
$1,985
of $25,000 goal
Raised by
29
people in 5 months
A lot of Love for our wonderful, brave friend, Terrence "Terry" Martin, 41, former owner and head technician at
Montgomery Motorcycle
 in San Clemente, California has gone into the creation of this fundraiser. For the past year and a half, Terrence has been simultaneously battling two chronic diseases,
C
omplex Regional Pain Syndrome (CRPS)
 and Type 1 Diabetes.  After several doctors visits for extreme left foot swelling, bruising and pain, Terrence received the devastating diagnosis of Complex Regional Pain Syndrome or CRPS in 2017. Terrence has been desperately trying to manage his rare and deadly, combination of
Type 1 Diabetes
  and CRPS while continuing to work at his beloved motorcycle shop.
He was hospitalized twice with Diabetic Ketoacidosis (DKA) in December 2018, and at the urging of his loved ones and health care professionals, Terrence decided that it was time to close the doors to the shop, permanently. He has gone into DKA 7 times since his CRPS flare began. He was admitted to the ICU for Diabetic Ketoacidosis and Pancreatitis seven times in 2018 and most recently in January 2019. Terrence has lost over 40 pounds in the past year while trying his best to manage his high blood sugar levels on a daily basis.
Terrence has been hospitalized several times over the past 2 years for
Diabetic Ketoacidosis  (DKA)
. DKA is a very serious complication of diabetes. The scariest part of DKA is that it can with come on very quickly, and within 24 hours, it can lead to diabetic coma or for some, deathCRPS is a chronic neuropathy illness that has Terrence in intense pain  24 hours a day, 7 days a week, 365 days a year. The
RSDSA
  defines it as "Complex Regional Pain Syndrome occurs when the nervous systems and immune system misfire as they respond to tissue damage from trauma. The nerves misfire, sending constant pain signals to the brain." Within a month of his CRPS diagnosis, his CRPS had spread to his right thigh and right arm. Terrence has since been living with the
burning, stabbing pain and swelling of CRPS
  every single day since. In some cases if CRPS is not diagnosed quickly, changes to the bone and muscle may get worse and may not be reversible.  In some people, even with treatment the pain continues and the condition causes crippling, irreversible changes. Terrence is fighting every day to feel normal. He has faith in God that his CRPS Flare will eventually fade. He attends church regularly.  He his very grateful for the prayers and messages of support that he has received since closing his shop in last month.
Terrence hasn't been able to go on a motorcycle ride in almost a year but he remains passionate about motorcycles and is very hopeful that one day he'll be able to get back to his love of riding and building and repairing motorcycles again.
After his latest hospital stay his doctors explained that his body is screaming for a proper break so that it can try to recover and heal. His Doctor calls it "Fight or Flight Mode." He applied for State Disability Insurance in January 2019, however his claim was declined because he was self-employed and wasn't required to pay into SDI.  He currently has no income and any savings he had is depleted. The news has been devastating for Terrence and his friends and family. His shop was his sole source of income. Closing down was the last thing he ever wanted to do, but, it was a matter of life or death for him.  He'd work late into the night to complete the repairs that would leave him in crippling pain and saw his blood sugar levels rise to well above normal levels. 
When Terrence worked through his painful days, he always did it all with a smile on his face and making jokes to keep us laughing. It would be a surprise to his friends and customers that he'd be back in the Emergency Room after working a few days straight. We've personally witnessed Terrence literally pour his blood, sweat and tears into each motorcycle that he worked on during his current CRPS Flare up.  
On a daily basis, Terrence's blood sugar is between 400 - 600 mg/dL. For most people without diabetes, blood sugar levels before meals are around 70 to 80 mg/dL. Typically, 80 - 140 mg/dL are normal for non-diabeticsTerrence has spent a total of 108 days in 2018 the hospital battling these diseases, that's not counting his emergency room visits. Through all of this, Terrence remains hopeful that he will have full recovery from his CRPS.
Terrence's pain levels are the worst he's ever suffered and they've been the same for nearly six months. Terrence's CRPS pan levels are the worst he's suffered and they've haven't let up in the past six months. He's an Insulin Dependent Diabetic.  His insulin and other medications for both of his diseases cost him over $1,000 a month. He has several doctors appointments each week.The combination of the two chronic diseases has been physically, mentally and financially debilitating for Terrence. He has not been able to work a full week at his shop for several months. 
His doctors are closely monitoring his heart and other major organs because his vitals have been running on the very high end after back to back hospitalizations for DKA. They're trying to save him from suffering from a heart attack or a stroke. Terrence has a wrist blood pressure monitor with him at all times so that he can check every few hours.
CRPS patients can go into remission from CRPS however in severe cases, CRPS can persist for years. Terrence has been in this current CRPS Flare up for almost 2 years and in Terrence's severe case he may not recover and may have long-term disability.
Terrence has a long road to recovery to and he won't be able to work while is trying to heal his aching body. He has immediate needs to cover his medications, doctor appointments and living expenses. He was hoping to have had Social Security Disability payments start but he doesn't qualify for the benefits because he was self employed and never paid into SSDI.
All monies collected here are going straight to Terrence. Terrence is a part of this fundraiser and he see's all messages and will reply to everyone who leaves him a message. Terrence feels so alone in his sickness. His quality of life has been flipped upside down. He rests in bed for days and weeks at a time. He hasn't been able to enjoy normal every day interaction with friends. Through the past couple of years he's had to miss family birthday parties, get togethers and the wedding of his best friend because he was too weak and sick to attend.
His closest friends have come together to help Terrence through this difficult time to show him that we'll stand by his side and always be there to sit with him through his hospital stays. We're very worried about him and we want him to do nothing but to Feel Better and Rest his way back to better health.
We ask you to please share this gofundme and please keep Terrence's loving caregivers, friends and his parents, Terry Martin and Joann Hagn in your thoughts and prayers. Together We Can For Terrence, help him fight for his Life!
We love you, Terrence Martin!
Any contribution you can make will help cover medical expenses, lost wages and medical costs associated with Terrence's Fight For Life against CRPS and Type 1 Diabetes.  Each and every prayer and any amount of support is greatly appreciated. 
Terrence is  in a Fight For his Life, Please Help Our Friend, Terrence Martin!
**We will post updates here on Terrence's progress
Thank you for support.  We're all praying for a full recovery of CRPS for Terrence and a cure to end Diabetes and CRPS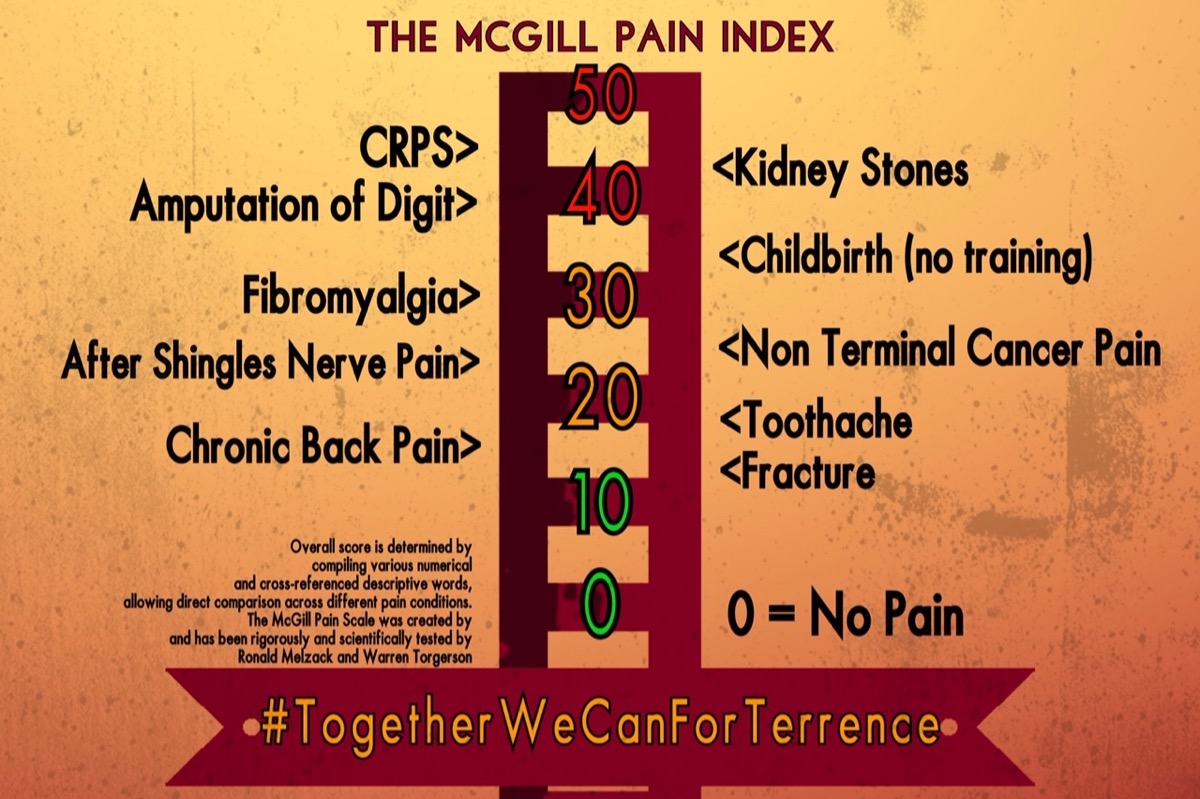 Terrence has a blood pressure/pulse cuff at home and checks his vitals hourly and his sugar levels.What is DKA?
Nursemendoza2. 2014, July 31. "Diabetic Ketoacidosis  (DKA) Simplified" Retrieved from  https://www.youtube.com/watch?v=A_vg1AT1A-Y
+ Read More