Matthew Ihme Medical Bills
Meet Matthew Ihme. Matthew is 22 years old, has an amazing way about him, and has his whole life ahead of him. He graduated college in May of 2013 with honors, got married to his high school sweetheart in June and they moved into their first apartment that same month. Matthew also coached his high school baseball team in the summer while preparing for his wedding, moving, and interviewing for teaching jobs. Matthew got his dream job as a first grade school teacher and was set to start his career in August with his new first grade students.
A week before school started, Matthew started having stomach pains. After four days in pain and not feeling any better, he finally went to the doctor. With important meetings at school coming up as well as meet and greet with his new students and parents, it was important to him to get into the Dr. before school started. Matthew was tended to by the doctor and sent home as his white blood cells were elevated but not out of range. However, there were more tests that were to follow.The next evening, Matthew was taken to the emergency room as the pain intensified. Within hours, the doctors removed his appendix that was so inflamed they had to take it out in pieces (in effect it burst!) Matthew attempted to go back to work after a few days but had to leave due to nausea, vomiting and severe pain. After a few weeks, Matthew had no choice but to take a leave of absence because he could not teach his students without being sick and in pain in front of them.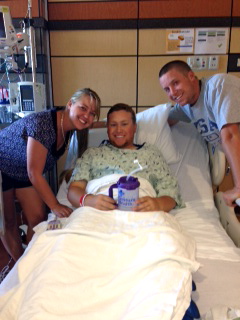 After 2 months of multiple emergency room visits, doctor visits, pain regimens, diet and supplements, nothing was working. As a result, Matthew moved to another hospital, a new team of doctors and a new battery of tests. Matthew remained hopeful things would change but after another two months, it was still more of the same "" daily nausea, migraines, dizziness, and severe abdominal pain. On top of that, depression was setting in. In his fifth month, Matthew was referred and admitted to the Mayo Clinic in Phoenix, AZ. During his 13 day stay at the Mayo Clinic, Matthew underwent extensive testing by a team of world class doctors. The end result is exploratory surgery scheduled for January 10.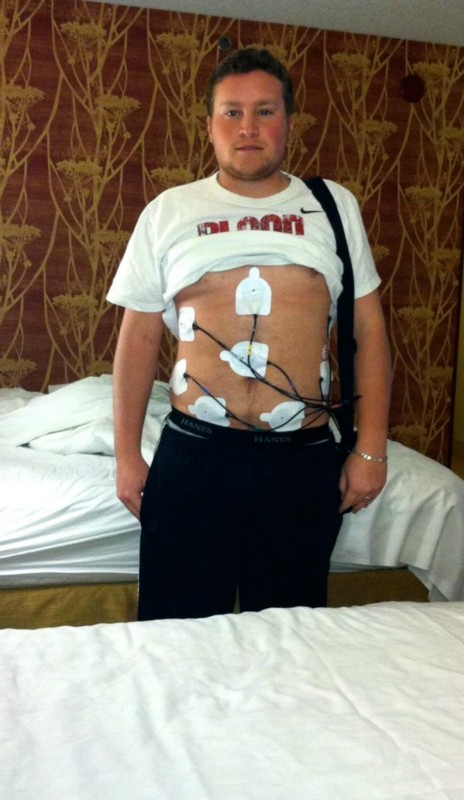 As you can imagine, Matthew has incurred thousands of dollars in medical expenses over the course of the five months. These medical expenses will begin to compound in January as the new year brings a fresh start to health insurance deductibles............ Matthew does not live in Arizona. Therefore, he has had non medical expenses associated with his stay at the Mayo Clinic - air travel and hotel stays along with car rental and meals so his new bride can be by his side. These expenses will continue to grow with his upcoming surgery. Unfortunately, Matthews surgery is considered "elective" and will most likely not be covered by insurance...........
The anticipation is that the exploratory surgery will identify the source of Matthews illness. If the surgery does not show anything, he will have 3 days of infusions to try and relieve some of his pain. Beyond that will be determined by his team of doctors at the Mayo Clinic.
Kim, Matthew's wife of 6 months, is also a schoolteacher and has not accrued enough paid time off to take what is needed to care for Mathew, especially out of state. This has put a lot of pressure on the newlyweds who want nothing more to get back to work and teach children to make a difference in the world.
My family has a personal connection with Matthew, Kim, and the Ihme family. Matthew and Kim have been our 2 daughters babysitters for several years. There is no better feeling than leaving your children with a babysitter and never having a doubt they are in great hands. Our girls adore them both and they can't wait for the day Matthew is better. They say a prayer for him every night and ask my wife and me every day how he is doing. Safe to say he has had a profound impact on them as children.
If you have been lucky enough to cross paths with the Ihme family, I don't need to tell you what an inviting, fun, and caring group they are. This is a family that gives back. Over the last 10+ years, they have raised in excess of $120,000 for Children's Hospital Colorado! With your support, we can give something back and help one of them.

Organizer
#1 fundraising platform

More people start fundraisers on GoFundMe than on any other platform. Learn more

GoFundMe Guarantee

In the rare case something isn't right, we will work with you to determine if misuse occurred. Learn more

Expert advice

Contact us with your questions and we'll answer, day or night. Learn more