John Tyler was bit by a dog at a Family gathering on his right forearm (John is right handed) July 29, 2017. What we thought was just an average dog bite turned out to be a bite that nearly lost him his arm!! When the dog bit down on his forearm, the dogs tooth punctured his Ulnar Artery (one of two main arteries in your forearm) causing him to have compartment syndrome which is a extremely painful and dangerous condition caused by pressure buildup from internal bleeding or swelling of tissues. As soon as he went to the emergency department at Mercy Hospital the doctor knew he needed a Specialist to look at Johns arm. Shortly there after a Trauma Surgeon was called in to assess the dog bite and before we knew it, John Tyler was being prepared for Emergency Surgery! Fasciotomy Surgery was performed - Fasciotomy is a surgical procedure where the fascia (basically a thin casing around your muscle) is cut to relieve tension or pressure commonly to treat the resulting loss of circulation to an area of tissue or muscle. Fasciotomy is a LIMB SAVING PROCEDURE! After having Fasciotomy Surgery he was scheduled for another surgery to reopen his incision and drain more of the blood as well as inspect his muscle reflexes. Both Trauma Surgeons who worked on John Tyler's arm said that he was very lucky - if any more time passed before he had gone to the hospital they would have had to consider amputating his arm!!
Most people can live with only one of the main arteries in their arm and since John Tyler had good bloodflow from his Radial Artery, the Surgeons made the decision to tie his Ulnar Artery on both ends. His arm for the rest of his life will only use one artery and recieve bloodflow from the Radial Artery only. John Tyler remained in the hospital for almost three days before he was released with restrictions to not work until his follow up appointment to remove his sutures. Today 8/16/17 was John's Post Op appointment (week 3). He still does not have complete sensation back in his right hand and fingers, he also can't feel a small section of his forearm. The Surgeons say that only time will tell if he will get all his feeling back or if this will be a permanent thing in his right arm. There is still swelling in his arm and the Doctors have now ordered Occupational Therapy. The Severity of the dog bite and the two Major Surgeries were enough for the Surgeons to restrict John from work for another 4 weeks! John Tyler works for a New Company that builds Mountain Bike Trails throughout Arkansas. His work requires his physical strength and limbs to clear trees, rocks and debri from forrests for those amazing biking trails. John Tyler is Uninsured... unfortunately John's Company is in the process of getting insurance but there is none active. To date John's bills are over $40,000 from his surgeries, doctors, medication and hospilitzations. The stress of the Medical Bills and the fact that he is unable to work while he heals is very overwhelming. John wont ask but we are... we need your help...please donate!
Our Prayer is to help John Tyler transition through this hard time without worrying over paying his rent and basic bills. John is very Thankful to the Good Lord and Trauma Surgeons who saved his arm and we know he will be thankful to anyone who is able to contribute.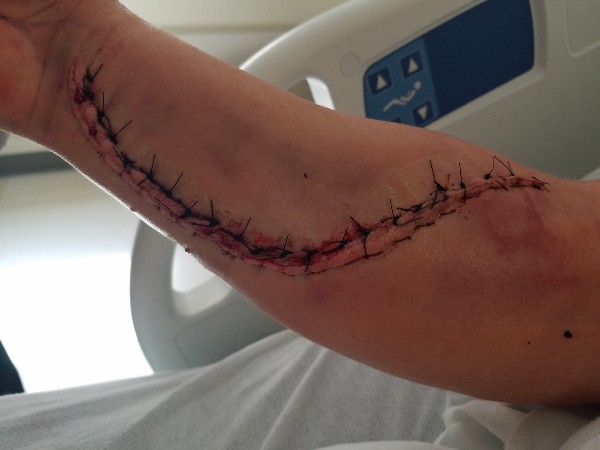 Organizer
Logan Ashlie Witt 
Organizer
Fayetteville, AR