Febuary 11, 2015
I am handcoloring several of the prints from each of the 12 plates. They are mixed media.  Here is the first handcolor version from plate 12. The hand color versions are one of the reward categories for the donations on my project.
Febuary 11, 2015
I continue with small steps.  My focus has been on developing positive coping skills to address how living is processed.  I continue to work hard no matter how I feel, somedays are more focused.  I completed printing the edition for plate 12. 
My next step is curate and collate the editon of 12 for all 12 plates. That is like doing "home work". I will have to pull out each set of prints. Then spend a day examining them to do the offical "signing and numbering".
Here is the print from plate 12.  It is available as one of the rewards for donations.
October 15, 2014
Time is getting away and days are zooming along as if to no end.  Since last addition to my discription I have completed plate 11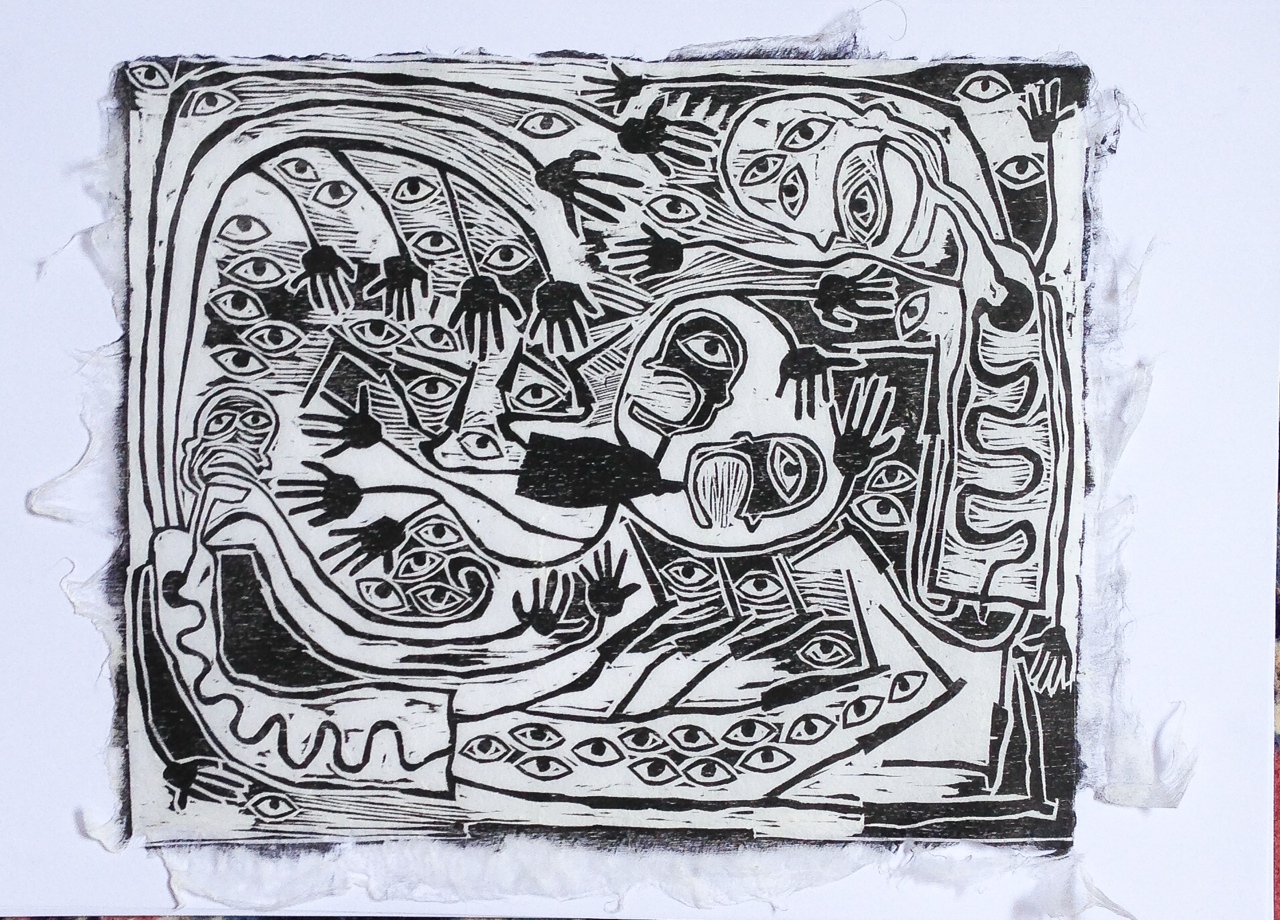 and started developing the visuals for plate 12, things are crazy as ever with lots of the things in my head churning
what I do know is if one wants unusal art they can donate and if one has no money they can post and share my project
August 8, 2014
I went back and started thinking about evolution.  My project started with the image of a person being swallowed by another person. It was in reference to the phrase "Swallow your pride".  So after looking at the current ten, handling a group of sketches for plate 11, my thoughts are now returning to the "swallow your pride".  I am focused on moving forward to finish the this group.  My own ideas are bouncing all over in my head with future stuff and I am in need to complete the 11 and 12.  Anxious to figure out a group of mixed media sculptures, anxious to get on with a series of 40 x 50 mixed media images, and anxious to attack a commercial paiting with a layer of me.  My head is a mess today 
August 8, 2014
Continuing to work visuals for plate 11 and 12.  
International news and tunnels have invaded my thought process.  The arms and legs and hands are evolving as the tunnels, and getting hand outs.  The world is watching as events unfold with bombs and death.
July 11, 2014
I spent the day studying 10 of my images  and scanned them into my laptop.  I took a breather so that I might study the visuals before I move on with plate 11 and 12.  I am using the prints as the reward levels for donations.  Make a "reward level" donation of $100 toward my project and own a piece of the crazy man series.  They are wood cut relief prints printed on handmade paper.  
June 19,2014
Running with Plate 10 and printing going very well.  I am thankful If you take the time to read my thoughts and look at the pictures.  I am grateful for any amount of donation.  I do know that many are unable to donate cash.  Yet spreading the word for me is also something a person can do...send them to my page, spread the good word,  give me a shout,  even just encouraging me.   The past week has been memories and flashbacks.  I only wish I had images of my old work to lend to this page.
Flash back to 1991, I started using the eye in various pieces after seeing images of the laser guided "Smart Bomb" being used in Iraq And now This morning more headlines of the current ISIS and requests for air support that will what, only paint another picture?
May 28, 2014
Proofing equates to the thoughts of what happens next, might re-carve a new plate, maybe removed some of the chatter that I should have incorporated in the development. Yet at the same time I wonder is it now color that comes in to fill in the space, another movement shift of thought process, the staggered drifting of attentions
long hours of carving, many cups of coffee
As I carve I experience a stream of the images moving and being frozen in a movement.  That fast motion high shutter speed setting that captures movement.
settled on this image for Plate Nine.  It comes from conflict, in daily life, it comes from a paint titled "Nude Descending Down a Staircase", it comes from memories of my own childhood, it comes from memories of my daughters childhood, and time of being bused to school where I always sat by an older kid that would draw me pictures of robots.
As I move from printed image to the next plate I sit and produce  groups of thumbnail sketches as reference directions that follow a previous image or move off in tangent.  I am always looking for those changes in direction, that single change, that multiple shift of visions that move through my head. The stages give me courage to confront my own life of cycles.
finished the number 12 for plate 8, had three in a row that were mis-prints and frustrated me at number 11 on plate 8.  So this one was was well accepted.
using the rice paddle to follow the elements of the plate, note iphone 4 is a good wieght for the size of this print, what good is a phone if you dont know how to use it
inking, managing the ink slab, cleaning the roller, laying out fresh ink are part of the edition
proof for plate 8, remove a couple of things and will run one more proof.
side by side view of 7 and 8.  Gathering visuals for 9 because I am still wanting the companion piece for plate 7.  I will turn the small figure on the next oneso that when together they converge.  It is odd for my view to have both going same direction. So I am not using 8 as the campanion to 7.
I have been going hand to mouth for the past 11 months.  Now down to $16 in my wallet and $4.95 in my bank account. What comes next i never really know. I am hoping to get a website started that shows various things I have encountered.  
Printed plate 7 and moving on with Plate 8.  Ideas for plate 8 are coming from sketching contorted bodies.  Plate 8 will be a companion piece to plate 7.  I have been pondering the heroic divers that are risking their lives in the recovery of bodies from the sunken ferry in Korea.  It must be a harrowing experience for the divers to jump in that murky water, challenge the darkness, and swim into the ferry searching the rooms.  I would freak after seeing the first victim and I just read that they found 48 in one room. Floating bodies with only the sound of your breathing, wearing life jackets and clumped together would leave a lasting impression on anyone.  I dedicate plate 8 to the divers, the families, the victims, and the survivors.
April 2, 2014. It has been weeks since i attended to my plates, a temporary work gig took up my time.  I am now back at the plate, handle a touch up in the carving and getting ready to proof.  I am dreaming that it would be great to get back to Indonesia to carve the last 5 plates....
I started carving plate for the number 7 image yet nerve damage on my right hand has affect speed at how i handle the carving. I survived a case of shingles and am thankful the only lingering damage has been in the fingers of my right hand. The process is carve for a short period of time and then massage the hand. So my project continues.
Please Support an artist's creative journey .
Any SUPPORT will help.
PLATE 7 marked on wood plate, ready for carving
My past 12 years have been used to research, practice, and apply skills to produce artwork for other artists.
The image is a Mixed Media artwork by Indonesian artist Yunizar developed in 2012
I worked as the Master Paper Maker at Singapore Tyler Print Institute from 2001 to 2011.
My next position was as the Director of Artist Operations at the YogyaArtLab located in Yogyakarta Indonesia. The YogaArtLab operated from April 2012 to June 2013.
Both positions utilized my talent as an artisan where I executed project specific paper, fabricated mixed media sculpture and created paper pulp artwork for regional, national, and international artists.
Prior to working as a technical wizard to create art for artists I followed my own dream of doing my own artwork. In 1982 I completed a Master of Fine Arts program from the University of Illinois Urban-Champaign. Upon receiving my Master's degree I operated my own private art studio practice and even had the opportunity to teach as a Visiting Artist at the School of the Art Institute of Chicago. During that period I produced a line of exclusive hand made paper and I exhibited my art in various international exhibits. My direction shifted to publishing when the legendary Printmaker Ken Tyler of Tyler Graphics Limited offered me the position of Master Paper Maker.
So after the 12 years of working to publish fine art for other artists I am returning to that of being the artist.
I started producing a series of 12 small wood cut relief prints.
woodcut relief print on handmade paper
I produced 150 sheets of paper. I used a very simplified paper making process.
I dried the paper on drying boards.
I carved the images on a wood plate.
The inked plates are hand printed
The inked plate.
I will continue to draw, carve, and print the next 7 images.
I will devote four months to completing the 7 images.
I am asking for support to raise $6500.
The $6500 will be applied to cover 4 months of living expenses.
Not everyone can make a monetary contribution but please don't let that stop you from getting this project noticed.
Please share this with your friends, your contacts and your community. Action and visibility are key in how your support provides me the ability to be creative. Please Support the adventure of inspiration.
I started carving plate six and will progress with a timeline that completes the printing of all 12 images by November 2013.
It is now end of NOVEMBER 2013. Progress is very slow, really need my own work place that I can hang out and just do my work. Right now working from HOME and have to keep the house tiddy(so I have to keep the mess in order)
Struggling
Preparation drawings are continuing to give me ideas....I really need to get in the ocean surfing...getting desperate...
not sure if anyone takes the time to read any of this.

Organizer
#1 fundraising platform

More people start fundraisers on GoFundMe than on any other platform. Learn more

GoFundMe Guarantee

In the rare case something isn't right, we will work with you to determine if misuse occurred. Learn more

Expert advice, 24/7

Contact us with your questions and we'll answer, day or night. Learn more