Rody is from Senggigi, Lombok, an Indonesian island right next to Bali.

Over the past month his village has been hit by a multitude of devastating earthquakes and hundreds of aftershocks.
These quakes have completely devastated most of his village and the livelihoods of its inhabitants. Homes have been destroyed, water, sewerage and electricity systems are down in places. Roads are a mess, and there is a shortage of the essentials for survival (food, water, shelter).


Adding to this problem is the complete elimination of the opportunity to make the money necessary to purchase these essentials.

Senggigi is completely reliant on tourism to survive. It is a popular travel destination, full of resorts and attractions. So when the earthquakes began, the tourists left, and the businesses were destroyed – both financially and physically.

Thus Rody and his fellow villagers have no way of helping themselves, at least in the short term, as there is no work available.

No tourists = No jobs = No money = No essentials for survival


The response from the Indonesian government has been completely ineffectual on the ground. Rody and his fellow villagers were forced to construct their own emergency camps. If they are lucky, they found sleeping mats and tarps to keep the elements out. 
The earthquakes keep reoccurring and damaging their attempts to rebuild their homes. 

Rody says that the people are all living in constant fear that another earthquake will occur, or worse, that it will trigger a tsunami.

 "100's of people died during the earthquakes, they fell down stairs or the building collapsed on them."


- How You Can Help -

Rody and his village need immediate support.

There is some food, water and survival equipment available for purchase, but due to the limited availability and increased demand, prices are rising. Add to that the destruction of the tourism industry, and the locals now have no ability to purchase what they need.
Any donation, no matter how small will help. Rody has listed the current prices in rupiah (r) of some of the basics needed, and these have been converted to $USD

- Noodles (serve):  2500r       =  0.17 $USD
- Water p/l:               7,000r       =  0.48 $USD
- Rice p/kg:               12,000r    =  0.82 $USD
- Oil p/kg:                  27,000r    =  1.85 $USD
- Sleeping mat:       100,000r =  6.85 USD
- Blanket:                  120,000r  =  8.23 $USD
- Tent (3 person):  350,000r =  24 $USD




Before the earthquakes, Rody (Mufrodi Hidayat) was the manager of a successful resort in the heart of Senggigi, managing the staff, stock, operations and other related responsibilities.
Please help however you can. Donations of any size are welcome. Given the current exchange rates, even a small amount will go a long way over there.


---
GoFundMe wants to help ensure that relief support intended for the Lombok earthquake is as above board as possible inorder to avoid fraud. They suggest that I tell you a little about myself and why I have chosen to start this GoFundMe for Rody.
I'm Zachary Phillips, 
I met Rody last year whilst on holiday with my family in Senggigi. He was the manager of the resort we stayed at. Over the time we spent there, we struck up a friendship and have remained in contact since. He is a kind and honest man with a gentle soul and was always exceedingly friendly. I was so saddened to discover the extent of this ongoing tragedy.
He didn't ask me to start this (or even know that such a thing is even possible) - I saw the destruction and wanted to help. I asked him how it was going and what he needed "water, food and shelter, for me and my vilage" 
Rody's English and internet access is somewhat limited, so if you have any questions for Rody or would like to pass on some well wishes, I would be happy to do so on your behalf.
I will be posting updates and photos as Rody sends them through to me of the water, food and shelter purchased with the donations on my social media @zacpphillips across all platforms. 
Any donated funds will be distributed by Rody to his village to best aid the people on the ground who need it most.
I will also be providing updates on my podcast and blog at www.zachary-phillips.com 

Kind Regards,
Zachary Phillips

(Rody with my son Archer almost one year ago to the day)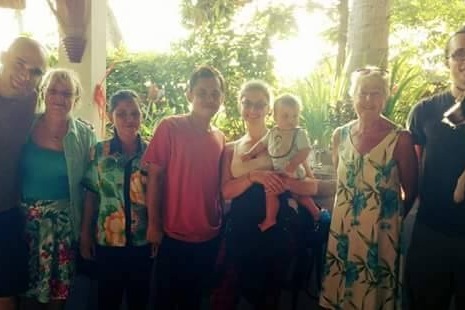 (Me and my family with Rody last year)
- Please Help! -
Organizer
Zachary Peter 
Organizer
Lysterfield South VIC