STA Avengers Innovation Fund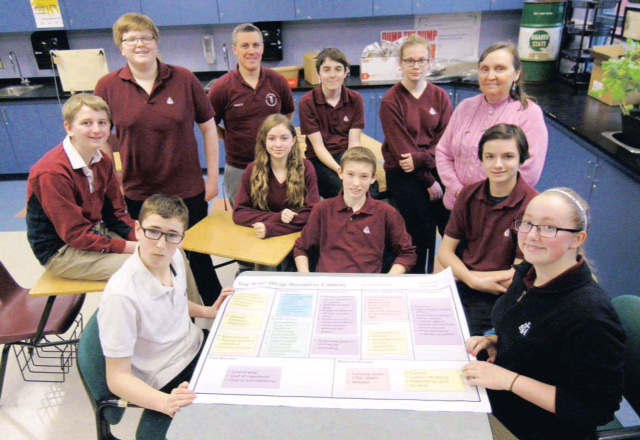 "They call themselves the AVENGERS and these Russell students could prove to be the next -gen group of heroes for both the environment and the farming community". -Le Reflet/THE NEWS
This past school year, a group of ten grade 8 and grade 9 students from St Thomas Aquinas High School in Russell, Ontario formed a team to compete in FIRST(For Inspiration and Recognition of Science and Technology) LEGO League in our region.
Guided by adult Coaches, FIRST LEGO League teams research a real-world problem such as food safety, recycling, energy, etc., and are challenged to develop a solution. This year's theme was "Trash" and the goal of the project was to formulate a creative solution to reduce trash and/or improve the manner in which trash is handled. Together, the students and teacher-coaches devised a new type of agricultural wrap to be made from environmentally friendly components which had the added bonus of being completely biodegradable. Their product, along with the presentation and sales pitch that accompanied it, won the hearts of the judges at the regional and provincial levels- the team from St. Thomas Aquinas High School team took 1st place in both competitions! This made them eligible to apply to compete in the next level – The Global Innovation Award to be held in Washington, D.C. in mid-June. The teams moving on to compete in Washington were announced on April 15, 2016 and our AVENGERS  team was notified that they were accepted to move on to compete at the International level. Only 20 teams were selected from over 600 teams from 23 countries.
In the past 12 months and hundreds of hours of hard work and dedication, these kids have demonstrated what a difference they can make in solving one of the agricultural industries biggest environmental problem. 
After a year's work and 2 competitions we have now exhausted our financial resources. Now that they have been chosen to compete internationally, they need your help to get there and to further advance the development of their product and pitch.
Any contributions are greatly appreciated. Please assist us in encouraging our youth by helping them get to their final destination and supporting them in their efforts to further develop their innovative idea.
Any contributions would be greatly appreciated by June 18th,  2016.  The AVENGERS  thank you in advance for your contribution and support.
Organizer