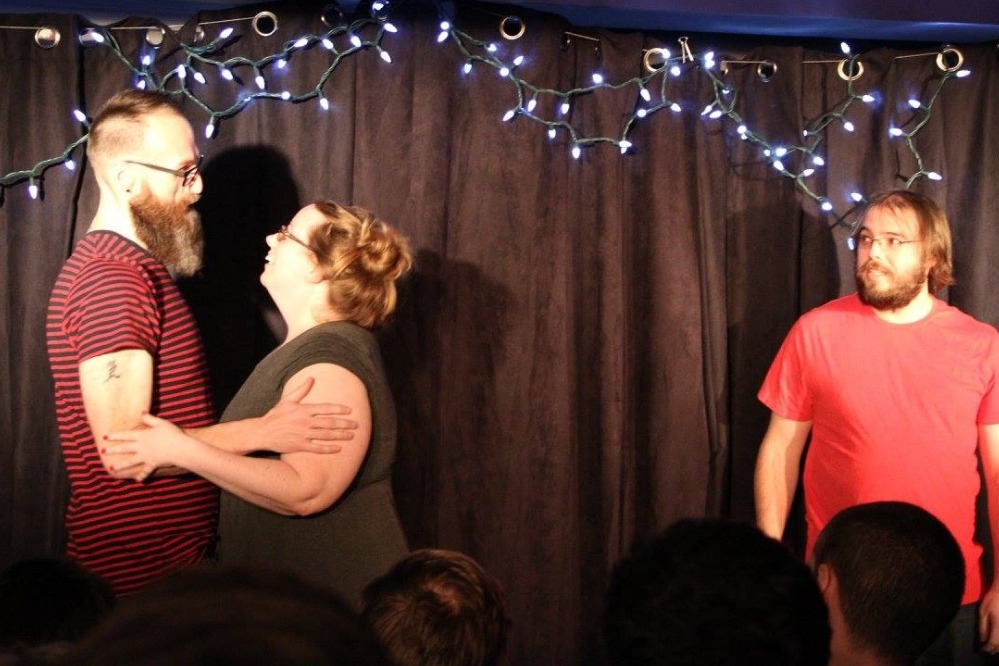 I met Angus Wright two years ago in an improv class. He was confident, funny,  outgoing and one of the most caring people I have ever met. We became fast friends.   Little did I know of his daily struggle to just function with every day tasks.  
***
This is his story:
In 2003 he was over 500+ pounds, his health was starting to decline with joint pain and mobility issues. He had severe sleep apnea and a number of other issues that made it difficult to function. In 2008 he had a life changing serious surgery in the hopes to prolong his life. During that time his partner and him moved into their dream home and tied the knot becoming life partners. This should have been the happiest time in his life, however while he recovered from the Duodenal Switch, a number of things came up during recovery. He had severe energy loss, dehydration, anemia, anxiety, pain etc.  He was diagnosed with Post Prandial Hypoglycaemia and a thyroid condition. He also began to struggle  at his work as a bus operator and eventually was placed on Long Term Disability from 2011-2013. 
In the meantime, with the stress of his health, financial stress a very close friend and roommate was diagnosed with leukemia. Angus stepped in and provided care to his friend. Once he received notice that his LTD was going to end, he was switched to Medical Leave Without Pay. He continued living with chronic pain and unsure of his future he pursued other work options as advised by his employer. 
He opened up a Community oriented consignment store called 'Le Fripe, C'est Chic' which did quite well.  Unfortunately suddenly his marriage fell apart and he had to vacate his retail space and was forced to go bankrupt due to the end of his marriage. His possessions and home were repossessed. 
He did not let this effect his life in a negative way but got three part time jobs, one as a personal support for a young man with special needs, provided marketing for a website and worked in another consignment shop. All of this while pursuing his previous employment and an accommodation for his disability. 
In 2015 he was offered temporary placement with full time hours with his employer which meant he had to quit his other jobs to pursue it. After that term ended he was unable to find another placement and suddenly back on Medical Leave Without Pay.
In April 2016, he had the opportunity to learn about coffee, and open a new Bridgehead coffee shop location as a shift supervisor. This allowed him to pursue other avenues as he navigated back to work. It was a result of increased activity, healthy food choices and more weight loss that lead to the realization that his deflated thighs is what was causing the pain.  He was able to adjust and reduce his pain significantly which resulted in clearing the restrictions and opened the door to his return to work as a bus operator. In May 2017 he returned, retrained and was back behind the wheel!
As a result in job change, he's increased his weight. Maintaining the weight that leads to less pain comes at the cost of being underweight. Being a healthier weight overall leads to increased pain. Being in the position to make a choice of which unhealthy element to pursue is difficult. He's lost a number days of work as a result of this situation he's in. He just want to be successful.
The surgeon who would do the reconstructive surgery estimated that he would have 8-10lbs of excess skin and fatty tissue around his belt line and thigh area.  Under his arms from a deflated chest. The reconstructive surgery would provide a thigh lift, removing the excess and providing him with a normal shape. This would relieve the pressure on his testicles and lead to less or no pain. It would also provide a belt line reconstruction which would help relieve the pain from the excess pushing on his lower back. This reconstruction would also include correcting his chest.
He's lost and maintained 300+ lbs for ten year and has many opportunities to do things he never dreamed possible. But this excess leads to severe distress as he has PTSD, Body Dysmporhic Disorder. It limits what he can do physically as running/jumping and leads to loss of work time.
Unfortunately OHIP doesn't recognize this as something it can approve, even though there would be coverage if he identified as a different gender, if he were female, or if he lived in a different province like Quebec. Angus has been pursuing finding out how to change this in order to help other people in his shoes. 
Another avenue is self pay, but as a result of the bankruptcy, he doesn't qualify for financing. Also, on account of the divorce, and rebuilding from scratch, the self pay option isn't feasible.
Needed is $21,500.
His plan is to share his story with people. In the course of his recovery from the initial trauma and then from his attempt to do what's right for his health, he's lost a big sense of privacy. He wants to share that experience, to help people understand people with disabilities, but most importantly he wants to motivate people to know that they can tackle any problem with life, and as long as they keep at it, eventually they will succeed.
***
Thank you! Share your Angus stories too (you know you have one!)