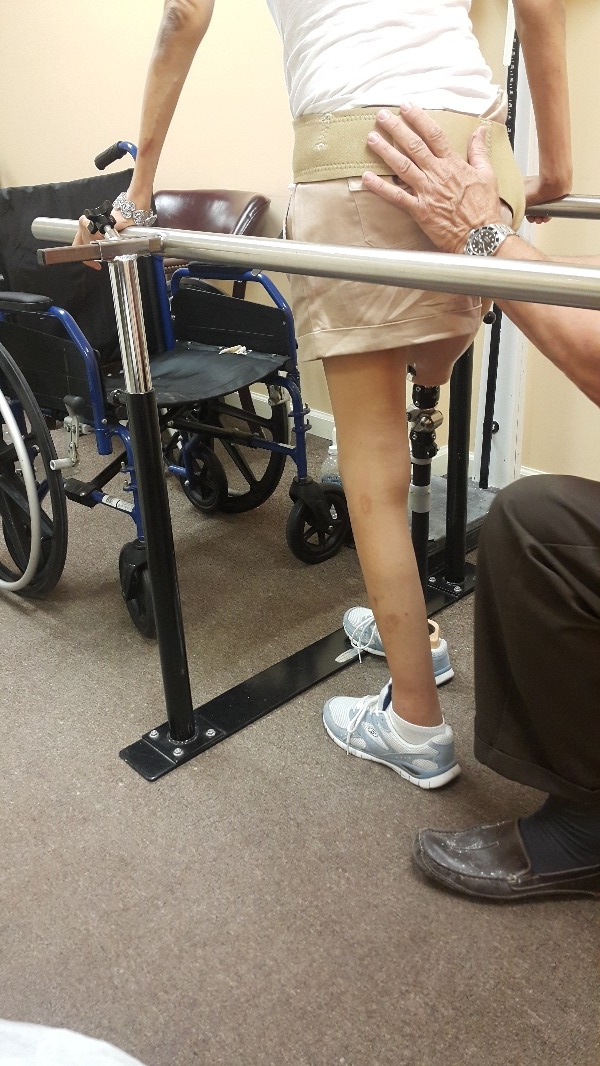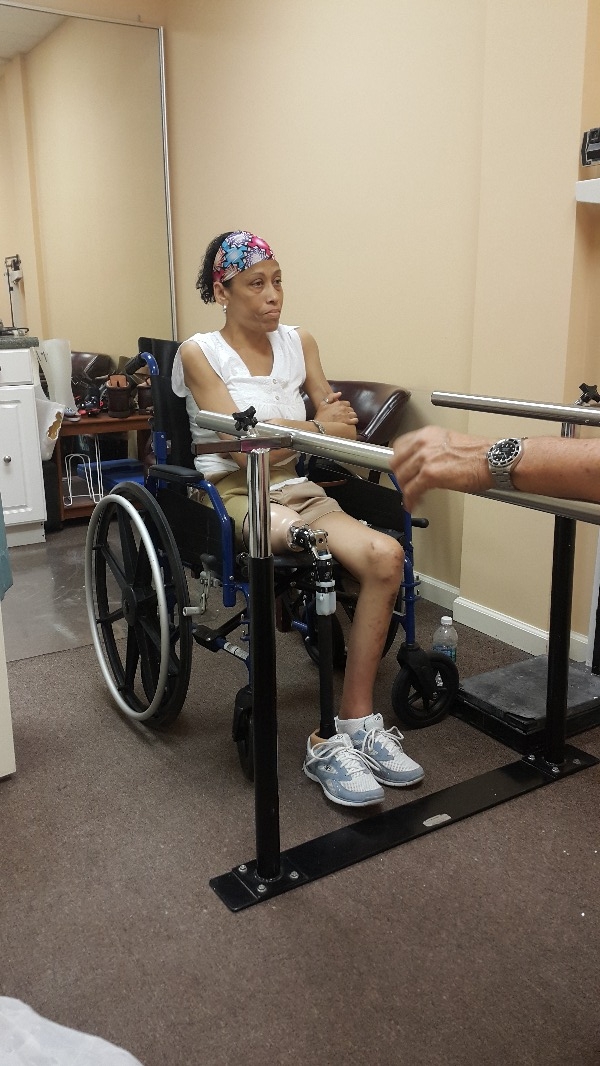 My name is Lennys Rodriguez Tirado. I am a 37 years old female and single mother of three beautiful girls, ages: 15, 13 and my baby 8. 
When I was 11 years old, I was diagnosed with Juvenile Diabetes type 1. That was the worst news that my parents had ever received. I was told that if I didn't take care of myself, later in my life, I was going to suffer the consequences of being diabetic. Well, those words were heard thru one ear, but came out thru the other. 
Today, I'm on my final stage of Kidney Disease; receiving dialysis 3 times a week, and sometimes, because so much fluids in my body, I have to take daily dialysis. I also have pancreatitis, Gastroparesis (which doesn't allow me to eat properly), amputation of my right leg, and blood clogs all over my body. I already had 2 episodes of Cardio Arrest, and starting to have seizures. I also have problems with my blood count (Hemoglobin), which causes me to receive constant "Blood Transfusions".   Because of so many complications at this moment, I'm not a candidate for a Kidney/Pancreas Transplant.
Since 2008, I have been constantly in and out of the hospitals. At this moment, I have been in the hospital, in the ICU area, since June 5, 2016. My parents and some of my siblings are the ones that take care of my daughters. My mom, Dennise Rodriguez, had to resigned to her wonderful Full-Time job, and work only part-time, to be able to take care of me and my daughters. She is basically 24/7 with me in the hospital.
One of the solutions that the Medical Staff is recommending me is to have a "Pacemaker", place in my Stomach, that would alleviate most of my digestive problems, and by that said, will also help with my nutrient system.
My Medical Staff, together with my Case Manager, have requested for me to be transfer to other Medical Institutions, because the hospital that I'm current in, does not perform that procedure. They all have rejected the petition because of my Health Insurance (which is Medicare and Molina as a Secondary). Medicare will pay 80% of the cost, but Molina is not willing to pay, because I have already used all the hospital stay benefits.
Also, in May of 2016, I lost my house, and me and my daughters had to move in with my parents in a 2-bedroom Mobile Home. Medicare did not approve an Electric Mobilized Wheelchair, a hospital bed, and other equipment, because the space in the mobile home is too small and I'm sharing one bedroom with my 3 daughters. We need to add some additions to the home.
By this means, we decided to open a Fund Raising Account, and hoping that with as little as a $1.00, we can at least reach the goal of $15,000.00, which will cover 10 days of stay in the hospital, and the rest to be used in adding an additional room for me, so that I can get the necessary medical equipment when I return home.
Please help make a difference in my life by contributing whatever comes out of your heart. Your support will be very appreciated.
--------------------------------------------------------------------
Mi nombre es Lennys Rodriguez Tirado. Soy una joven de 37 años de edad y madre soltera de tres hermosas niñas, edad: 15, 13 y mi bebé 8.   Cuando tenía 11 años, fui diagnosticada con Diabetes Juvenil tipo 1. Fue la peor noticia que mis padres habían recibido. Me dijeron que, si no me cuidaba, más adelante en mi vida, iba a sufrir las consecuencias de ser diabética.
Bien, esas palabras fueron escuchadas a través de un oído y salieron por el otro.   Hoy, estoy en mi etapa final de enfermedad renal; recibiendo diálisis 3 veces a la semana y a veces, por tener tanto líquido en mi cuerpo, tengo que tomar la diálisis diaria. También tengo pancreatitis, gastroparesia (que no me permite digerir los alimentos correctamente), amputación de mi pierna derecha y obstrucciones de la sangre por todo mi cuerpo. Ya tuve 2 episodios de Paro Cardiaco y actualmente, me están dando convulsiones. También tengo problemas con mi conteo de sangre (hemoglobina), que me hace recibir constante "transfusiones de sangre".   Debido a muchas complicaciones en este momento, yo no soy un candidato para un trasplante de riñón/páncreas.  
Desde 2008, he estado constantemente dentro y fuera de los hospitales. Mis padres y algunos de mis hermanos son los que cuidan de mis hijas. Mi mamá, Dennise Rodríguez, que renunció a su trabajo a tiempo completo y trabaja sólo a tiempo parcial, para poder cuidar de mí y de mis hijas. Básicamente esta 24/7 conmigo en el hospital. 
Una de las soluciones que el personal médico me recomienda es tener un "Marcapasos", instalado en el estómago, que alivie la mayoría de mis problemas digestivos y por tanto, también ayudara con mi sistema de nutrientes.  Mi médico personal, junto con mi Manejadora del caso, han solicitado que yo sea transferida a otras instituciones médicas, porque el hospital que estoy actualmente, no realiza este procedimiento. Todos me han rechazado por mi seguro de salud (que es Medicare y Molina como secundario). Medicare pagará el 80% del costo, pero Molina no está dispuesto a pagar, porque ya he utilizado todos los beneficios de la estancia de hospital.
 Además, en mayo de 2016, perdí mi casa, y yo y mis hijas tuvimos que mudarnos con mis padres en una casa móvil de 2 dormitorios. Medicare no aprueba una silla de ruedas eléctrica movilizada, una cama de hospital y otro equipo, porque es demasiado pequeño el espacio en la casa rodante y estoy compartiendo una habitación con mis 3 hijas. Tenemos que añadir algunas adiciones a la propiedad.
Por tales motivos, hemos decidido abrir una cuenta de recaudación de fundos, y con la esperanza de con tan solo como un $1.00, por lo menos podemos alcanzar la meta de $15.000,00, que cubrirá 10 días de estancia en el hospital y el resto para ser utilizado en agregar una habitación adicional para mí uso, así podre conseguir el equipo médico necesario cuando vuelve a casa. 
Por favor, contribuye con lo que pueda y le salga de su corazón. Su ayuda hará una gran diferencia en mi vida. Su contribución será muy apreciada.

Organizer and beneficiary
Dennise D Rodriguez 
Organizer
West Palm Beach, FL
#1 fundraising platform

More people start fundraisers on GoFundMe than on any other platform. Learn more

GoFundMe Guarantee

In the rare case something isn't right, we will work with you to determine if misuse occurred. Learn more

Expert advice

Contact us with your questions and we'll answer, day or night. Learn more