Totaled Two Cars In Two Days
Last week I accidentally the whole two cars. One of them wasn't mine. I am really glad to be alive and uninjured but I pretty much owe my friend at least one car now.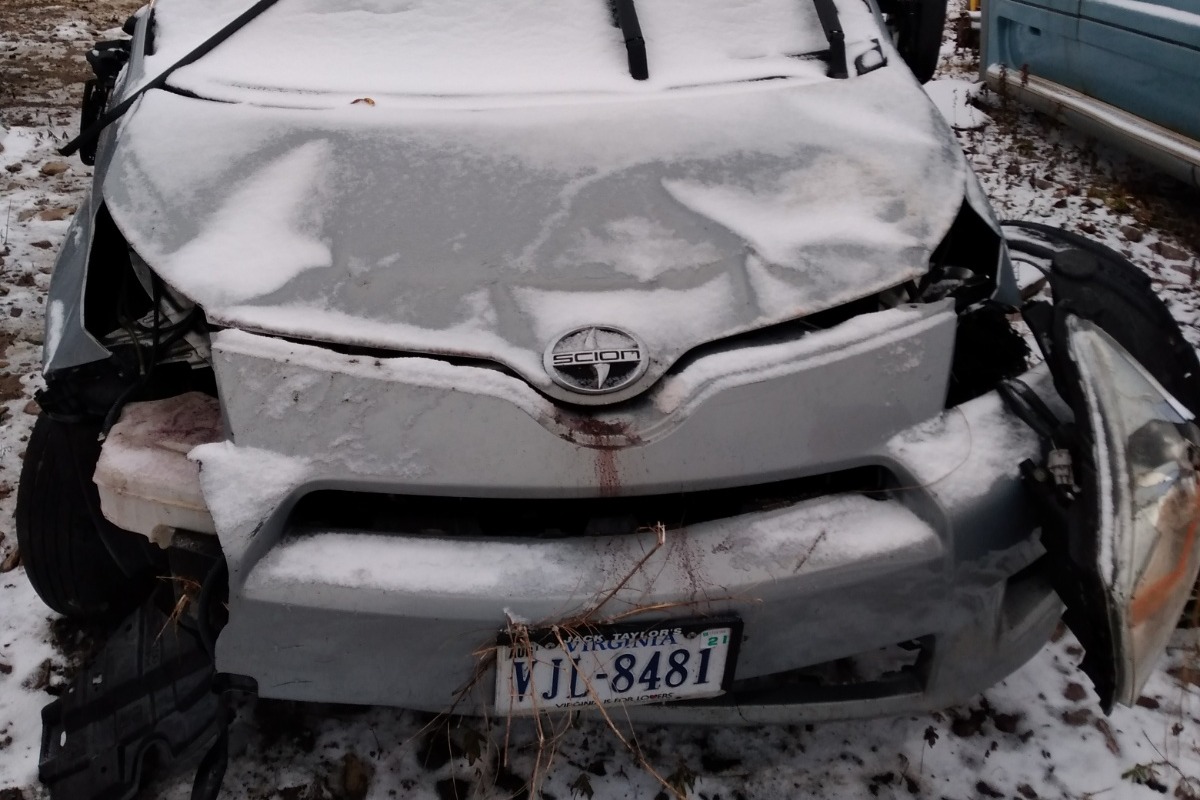 I was driving to Parkersburg, West Virginia for a job interview, but gravity had other ideas. I had just passed an off duty ambulance near Grantsville, Maryland, where the road was dusty with fresh untreated snow and I began losing traction. I tried to merge into the relatively dry center lane and totally lost control. I spun out and the car crashed upside down in a ditch.
I momentarily blacked out from the G forces, so I'm not sure if the back window was broken on impact or by first responders. I do know I was not seriously injured. I crawled out of the back after righting myself onto the ceiling and through the detritus of the back seat, miraculously with a few superficial cuts and bruises, a slight concussion, and maybe a hairline fracture along my forearm. Had I not been wearing my seat belt or learned any yoga I probably would have been seriously injured or killed.
After spending the night in Grantsville, a friend was kind enough to drive me back home the next day. And that would be the end of things, and a manageable problem, except that two days before, my own car had serious, possibly irreparable engine problems. The mechanic I had charged with replacing the intake manifold gaskets didn't (which led me to believe he didn't consider it to be a serious problem) and then when they were destroyed it ran out of oil, then flooded, then ran out of oil again. I'm not sure how much it will cost to fix, but it might involve rebuilding the power train. 
Another big problem is that, even tho I'm lucky to live in a fairly transit-dense region, I often need a car to reach clients. I do have leads on replacing them - one of my relatives is trading her car for a late-model, and the trade-in value of my car in poor condition is roughly equivalent to that of hers in good condition. Unfortunately, a lot of that is going to be contingent on what of my car can be saved.
In the meantime, I'm considering a few inexpensive certified used kei cars, like this Spark EV. Financing it entirely would cost maybe $50-$75 per month, which is very affordable for me. The problem is that I'm expected to make a substantial down payment, somewhere between $500 and $2000. But I've lost several gigs on account of the ongoing logistics problems and currently have to rent cars ad-hoc to get to most of the rest, which costs me $40+ a day that I often can't fairly expense clients for.  I have to pay to parking on top of that, and have to make sure the building doesn't tow my car, as none of the rentals are registered with them - that would cost $160 a pop.
At the very least, I want to be able to replace my roommate's car. I was driving his at the time of the accident and neither of us were able to afford comprehensive insurance. He's forgiven me, but even if I'm able to spend months or years without a car of my own, I feel horrible about having left him in the lurch on account of his own charity and I want to make it right for him, since he did the right thing and I did my level best in a very difficult circumstance.
I feel terrible about not only having done this and being in this situation, but that I would have to ask others to help me help myself again. I was doing much better working for myself, making a reasonable income on my own schedule playing to my strengths and compensating for my (myriad) personal issues, but not having a car seems to have put a lot of this in jeopardy. I just want to get back on my feet and stay there, and I am eternally grateful for anyone and everyone who is able to help me walk thru all of this for myself.
Donations

Organizer
#1 fundraising platform

People have raised more money on GoFundMe than anywhere else. Learn more

GoFundMe Guarantee

In the rare case that something isn't right, we will refund your donation. Learn more

Expert advice, 24/7

Contact us with your questions and we'll answer, day or night. Learn more