Grandma Jody's Cancer Healing Fund
Hello, my name is Tara and I'm creating this fund for my parents, Jody and Danny. On May 2nd, our family was rocked with news that we could never have prepared for, my mother was diagnosed with Stage 3 Lung cancer and Superior Vena Cava Syndrome.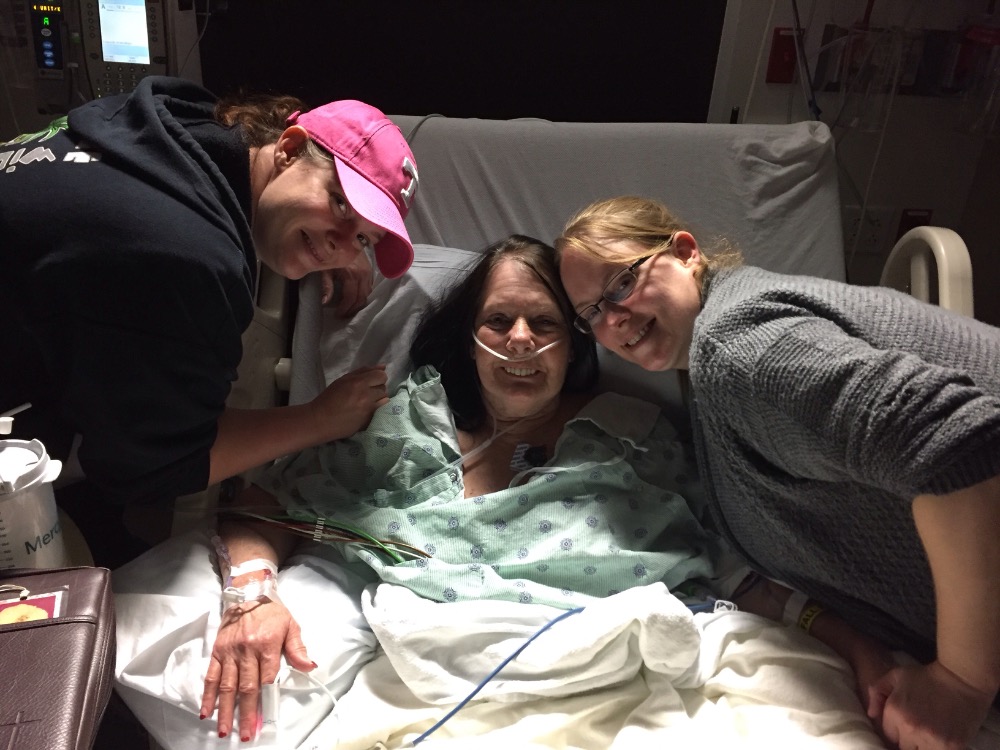 Since November 2015, she had been having upper back and shoulder pain that went misdiagnosed as a pinched nerve in her spine. We tried everything to give her relief. The doctor had prescribed her hydrocodone for the pain and shortly after she developed shortness of breath, facial swelling, and a strange, veiny-type rash on her chest. Everything seemed to point to a hydrocodone allergy but her doctor misdiagnosed her again, saying the swelling was her gaining weight, and the shortness of breath wasnt anything to worry about (possibly allergies).  The veiny rash had turned into what looked like bulging and bursted veins. The doctor said it was just her getting old but could possibly be a liver issue due to alcoholism. Any one who knows my mother, knows that she hates the taste of alcohol! The doctor didnt believe her. She was sent home with more hydrocodone and told to take benadryl incase of an allergic reaction. Nothing helped.
We planned to take my mom to the hospital for a 2nd opinion but her medicare coverage hadnt kicked in yet so she wanted to wait til the first of May when she'd have coverage. A few weeks later, her condition suddenly worsened. The facial swelling had moved to her neck and right arm and the shortness of breath had worsened to the point of almost blacking out with excursion. Straight to the hospital we went! Sitting in the ER, the doctor confirmed our worse nightmare, she had a large tumor in her right lung and her vena cava (the major vein of the body) was almost completely closed off. We spent 11 exhausting days in the hospital. It was found that my mother has stage 3 lung cancer and the tumor was pressing on her vena cava like a rock against a hose. The blood flow was backing up into her upper body and was causing the swelling and the broken veins was the blood trying to find a way back to her heart. To make matters worse, she has many blood clots as well (caused in part by the cancer and a blood clotting disorder). She was immediately put on a large dose of blood thinners and within days, blood flow was restored and the swelling had gone down.
After almost 2 weeks, we were finally able to bring my mom home and begin her radiation treatments. Due to some other issues, the oncologist has not been able to start chemo yet but we are hoping she'll be able to in the next week. She has her good and bad days due to stomach issues caused by all the prescribed pain meds. We had her switched to pain patches and her stomach is slowly healing. However, due to this, we've had her on a liquid diet of mostly Ensure and Boost ($60 for a week supply), to give her needed nutrition. Another, complication is the fluid around her affected lung. It's hard for her to breath, especially in a recline position. So getting enough sleep is tricky. Praying the diuretics provide relief soon. She's exhausted physically and mentally but her faith in Jesus is alive and well! Her constant faith through everything, never ceases to amaze me! We are speaking faith and standing on God's word that "BY HIS STRIPES! She is healed!" and we are expecting  an amazing testimony to God's grace and healing! 
The reason I created this gofundme page is that even though we're not letting cancer steal our joy, it is stealing from our finances. Medicare is moving very slow and though she has part A coverage to cover part of the hospital expenses, they still have a very large bill that is increasing daily. She has no coverage yet for the daily radiation and upcoming chemo drugs. Every doctor visit and medication is paid out-of-pocket. Her twice daily blood thinner injections are almost a $1000 for a month's supply and she's due NEXT WEEK for a refill. My mom and dad are self-employed but they are not paid for their work until the client finishes the job. Right now is their slow season and they had enough saved for expenses until the next season when they started receiving income again. However, cancer has stolen those savings. My father has applied for jobs to supplement income, but businesses seem to want the younger applicants. My sister and I have been paying for her medications and medical needs at home. My husband and I have been using our savings, which are disappearing fast. In fact, we had planned a florida vacation a week before my mom went into the hospital. We tried to cancel to get our money back but the online agency declined our refund. If we cancel or choose not to go, it will cost us more, not to go. I'm sick to my stomach knowing that money is gone and I cant use it for my mom's blood thinner injections. It just seems like one hit after the other for our family.  
With all the times I've donated to gofundme accounts of friends and family, I never thought I'd have to make one, to help me save my mother's life. She is the World's Number 1 Mother to me and my sisters! She's a Grandma of 5, with the littlest, a grand-daughter, due to arrive in August. She's the wife to my father, that cant live without her. She's the glue that holds our family together. And I'm asking my family and friends and any kind soul....if they'll please help us raise money to save my mom! The money will be used for her nutritional needs, expensive medications, radiation/chemo, medical needs, hospital bills and anything needed to help her fight this in the natural, while GOD fights for her in the supernatural! Thank you all so much! And please, if you donate, leave a message so we can thank you :). If you'd like, leave a prayer request of anything you need prayer for and we will pray for you, just as you pray for us! <3
Organizer and beneficiary
Tara Creech 
Organizer
City of Saint Peters, MO