Let's Bring Julia & Conan Home!
$4,445
of $7,000 goal
Raised by
77
people in 26 months
In 2010, Conan Palacios, a Mexican citizen who had spent most of his adult life living and working in Kentucky, fell in love with Julia Satterlee, a US citizen, educator, and community activist.
Conan had been living in Kentucky for 10 years when he and Julia found out that he would have to leave the United States.  Despite appeals, many character references, letters, and the fact that they had a baby on the way, the couple was faced with the difficult choice between separating their new family or all three ofthem making the move. They opted to keep their family together and left for Mexico when Lucia was just 7 weeks old.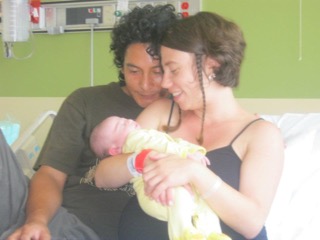 Over the past four years, Julia has kept a blog about their lives in Southern Oaxaca, MX.
Here
 you can catch up with their entire journey.  Exile to Mexico will tell you all about their living with Conan's mom in the small mountain town of Juquila, what it takes to build a home in Puerto Escondido, all about Julia's pregnancy and Khalil's arrival in a distinct setting, the Palacios-Satterlee wedding, raising bilingual/bicultural kids, and  the many trials and tribulations of life away from the world both Julia and Conan are accustomed to. 
While they've created a life far away from home, and it has been an adventure, it hasn't been without a lot of struggling. They lived for quite a long while without electricty,  have had never-ending car trouble, multiple health care crises, and have been unable to get home to Kentucky for incredibly important events. While they have some amazing friends and family there, they have a lot more support in the US.  
As Lucia and Khalil get closer to school age, Julia and Conan have become more concerned about the lack of educational opportunities in Oaxaca, where teachers are often on strike for weeks and even months at a time. They're concerned about access to quality health care in their small town, especially for Lucia, who has asthma. They have become increasingly aware of the limited opportunities for them to build their own careers.
Furthermore, they fiercely miss their friends and family in the US, and the wonderful sense of community and belonging that they have here. Julia's family has been able to bring her and the kids to visit once a year. With Khalil soon to turn two and needing his own ticket, those visits may not be possible. Conan's immigration status prevents him from even being able to accompany Julia and the children to visit family here, and Lucia has begun to ask why her Papi can't come to Kentucky with them. 
Everyone who knows them knows how close Julia and her mom Fausta are and how difficult it is to be so far apart. Both Julia and Conan want to be close to Julia's mom and other family, as well as their wonderful network of friends. If they lived in the US, they would be reunited with family and could all visit together in Mexico to be with Conan's family. Learn more about their reasons for wanting to come home by clicking this link: 
The Compass at our Crossroads
For Conan to come back to the US, they will have to pay at least $1,450 in immigration fees, $4,800 in lawyer fees (which sounds steep but is competitively priced, and absolutely necessary; it would be crazy to attempt this without a good lawyer), a trip to the border for an interview, a special medical exam, courier expenses, and moving expenses. It will cost more than $7,000 in all, on top of their regular monthly expenses, medical bills, and supporting their children. 
The process to bring them all home will take at least a year, but hopefully less than two years from the time they file the first form. As soon as they have enough money to get started, they will begin the process. For more details on the process and the costs incurred, click here.
Their opportunities in the U.S. are much more plentiful, and if they both worked here they could come up with this amount of money. However, in their current position, where you have to earn eighteen pesos to make one dollar, saving up $7000 dollars is impossible. For these and many more reasons, they need your help to come back home, where they began their family!
Anything that you can contribute to their reunification will be greatly appreciated. If you can't contribute financially, it helps to share this, or just send good thoughts and energy! Every dollar, every share, every word of encouragement help to make the impossible possible for the Palacios-Satterlee family.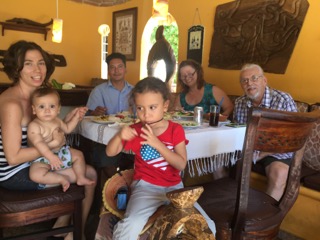 -------------------------------------
(If you are interested in more details about this long and complicated process, and why it's so costly, you can contact Julia directly for more details, or please check out some of the following links: for average costs associated with family-based visas
http://www.hooyou.com/services/attorneyfee/attorney-fees.html
, for some simplified information about the process
https://www.uscis.gov/green-card/green-card-processes-and-procedures/consular-processing
plus other forms and filing we will need, like this
https://www.uscis.gov/i-601
and this
https://www.uscis.gov/i-864
)
And Julia explains it pretty well here:
Ending our Exile
Please share!!
+ Read More
Be the first to leave a comment on this campaign.