When a desperate NHS doctor rang Bella Gonshorovitz and asked her to help make PPE for Covid-19 medics, she knew she had to help.
Bella, a made-to-measure designer based in Walthamstow, north London, quickly pulled together a collective of trusted professional sewers who were ready to start making the isolation gowns that Royal Brompton Hospital so urgently needed.
It quickly became clear, however, that Bella could not run this project without funding.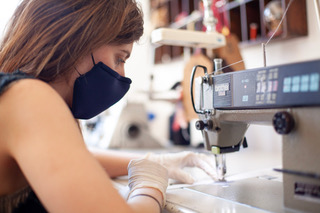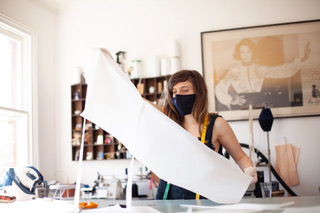 The specific splash-proof fabric that PPE is made from does not come cheap. Bella worked out that each single-use gown would cost £30 to make – £20 for the materials and £10 for the machinery bills and labour.
Bella has been out of work since the lockdown began in March. She had already been told that she was too small a supplier to be considered for government funding. She needed money – and fast.
"The doctor I spoke to was scared for their life. They had already lost team members and were worried they would be next," she says.
That's where GoFundMe came in.
Bella quickly set up a page and broke down the cost of making a gown in the description – a decision she credits for encouraging the first people to donate.
Her original crowdfunding goal was £6,000 but she increased it to £30,000 after more hospitals started getting in touch.
It was LBC radio presenter James O'Brien who gave Bella her biggest fundraising boost to date when he shared her GoFundMe page with his 630,000 Twitter followers.
"I don't have a big Twitter following and I hadn't tweeted in a decade, but I decided to tweet the link to him in the hope he might retweet it," she says. "He did, and we raised £5,000 in 45 minutes."
Shortly afterwards, Bella's story was picked up by the Guardian's coronavirus blog. Within hours, her GoFundMe page had hit £12,000. Three days later, she spoke about the campaign live on O'Brien's radio show.
"The response was incredibly moving," she says.
Most people donated £30 to cover the cost of one gown. But now, thanks to the nearly £23,000 raised on GoFundMe so far, Bella is able to buy medical-grade fabric in bulk and make double the gowns for the same price.
She is now able to pay workers £10 for every gown they make and is only passing on the in-demand fabric to experienced seamstresses.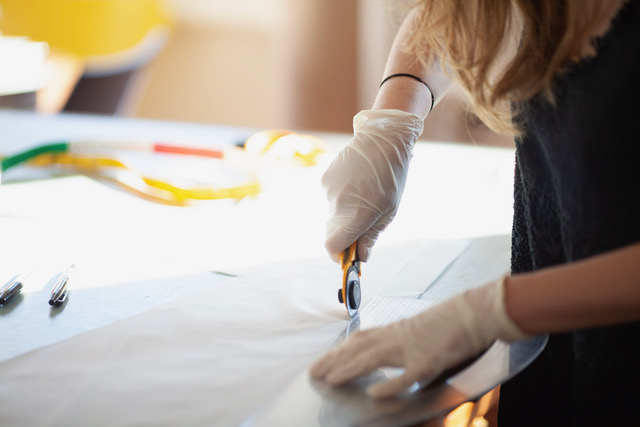 "Lots of people have got in touch through the GoFundMe page saying they have sewing machines at home and can help but I have to say 'No, thank you'," she says. "This material is really difficult to work with and it's hard to insert the sleeves.
"If these isolation gowns – which go on over scrubs –  aren't sewn together perfectly, you risk a seam splitting, which would expose the doctor to contamination and risk lives."
Sewers are receiving less than minimum wage as each gown takes two hours to make, but they are grateful for some income.
"Many of the people working with me have lost their jobs due to coronavirus. Some have kids and some are single mothers," says Bella.
"In addition to helping the doctors, this project is a lifeline for them. They are getting faster with practice and will hopefully get the minimum wage soon."
Bella has delivered the first batch of 200 gowns to Royal Brompton Hospital and Homerton University Hospital. Her collective is now making 1,000 gowns every week and will scale up production as far as funds allow.
"The doctors are extremely grateful," she says. "We shouldn't be making PPE as there shouldn't be a shortage in the first place, but it's lovely to be able to help."
Inspired by Bella? We asked her to share her top fundraising tips.
1) Be transparent
"People told me that clearly laying out why we needed the funds made them more likely to donate generously. I post regular updates on the GoFundMe page, send thank you messages to donors and I'm going to upload some photos of the sewers in action so that people can see what's going on behind the scenes."
2) Choose a strong header image
"I asked my illustrator friend, Geffen Rafaeli, to create a striking header image for my page. Her bright blue illustration of NHS workers stands out whenever I share the link on social media, which grabs attention and helps pull in donations."
3) Find a high-profile ally
"Getting James O'Brien on side really helped our page gain traction. I thanked him and he said, 'What have I done? I just clicked a button!', but that made all the difference."