Six Steps to Guarantee a Successful Disaster Relief Fund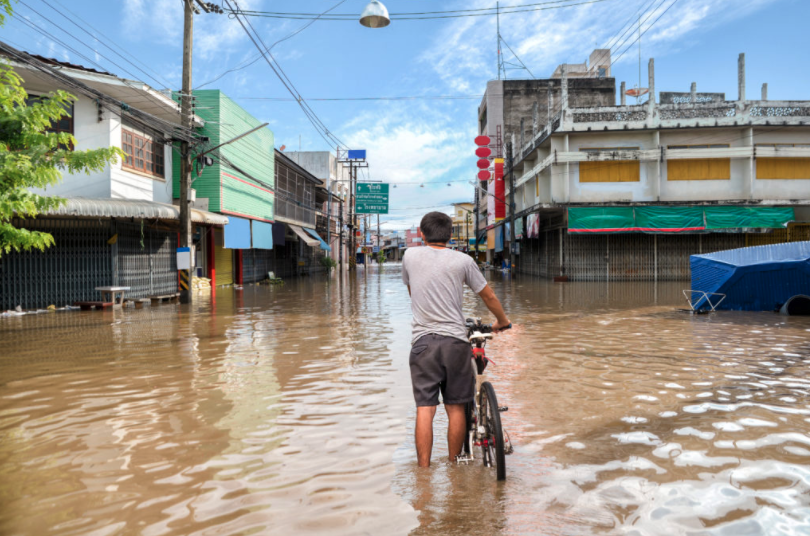 When a community rallies together after a disaster, the collective power is undeniable. Directing that power effectively is essential for recovery and rebuilding. And no matter how strong a community is, in the aftermath of a disaster it needs real assistance from the outside.
A disaster relief fund can help you rally your own community, and help others offer vital support and services. With our crowdfunding platform, GoFundMe has helped many communities do just that. Relief fundraisers can take many forms—you could raise money to rebuild homes after a flood, fund emergency medical care for survivors, or help get your neighbours back on their feet in hundreds of useful ways.
After the devastating fires in Napa and Sonoma, Napa resident and vineyard owner Jake Kloberdanz started his fundraiser Napa and Sonoma County Fire Relief. Jake rallied more than 5,000 people in his community and across the country to raise more than £550,000 to help the efforts of Sonoma Valley Fire and Rescue Authority, Napa County Fire Department, Lake County Fire and Rescue, and other shelters and relief organisations.
Because humans aren't the only ones affected by natural disasters, Nancy started the Harvey Disaster Animal Fund after the hurricane and floods devastated Texas. 4 Paws Farm is a rescue north of Houston, and they partnered with I Love My Dog's community to rally support. More than £200,000 was raised by over 6,000 people to help rescue and rehome dogs who were left homeless by Hurricane Harvey.
Of course, disasters can happen anywhere in the world. And it was an international group of social media stars who came together to start the Love Army for Somalia to help people in Somalia affected by the famine. Jérôme Jarre and his fellow fundraiser organisers used their influencer power to raise more than £2.5 million and partner with NGOs on the ground to distribute food and supplies to people in need.
Based on the success of these relief efforts, here are our six essential tips for running a successful fundraiser.
1. Set up a relief fund for the community
Set up a relief fundraiser on GoFundMe—we have a 0% platform fee for organizers, and every donation is backed by the crowdfunding industry's first and only guarantee refund policy. It only takes a few minutes to set up a fundraiser of any kind on our platform, and you can start collecting donations instantly.
In the description section, explain what happened and how it hit your community. Writing to reach not just friends and family, but others who may not know the full story. Donors from outside your community will also want to know how their donations will be handled. Write a timeline for fundraising and distribution, clearly showing how funds will be distributed effectively.
In his fundraiser for Napa and Sonoma County Fire Relief, Jake Kloberdanz clearly explained the extent of the damage, which groups the donations would be distributed to, and his relationship to the area. All of this helped his credibility and showed donors that they would be making a difference in the wake of the disaster.
Others in your community will likely set up fundraisers that complement yours. Connect with others raising funds to make your combined efforts as effective as possible – including those efforts described in the steps below.
2. Use your social network to spread the word
Promote your fundraiser on social media. It's proven to be the most immediate and effective way to announce your relief fund to your community.
Encourage your friends and family to share your fundraiser link. The extra exposure can boost both traffic and donations and increases the likelihood of your fundraiser going viral.
On Facebook, make sure that your posts about the relief fund are made Public, rather than Friends Only—unless a post is Public, it cannot be shared by people you don't know. Only a Public post can go viral.
On Twitter, tag your posts with the most popular hashtags associated with the situation—for example, #TexasStrong.
For the Love Army for Somalia, Jérôme Jarre and his co-fundraisers used their massive social media influence to capture the world's attention about their fundraiser. But they didn't stop there: they regularly posted update videos, talked about their progress, and challenged other influencers to share and donate. This kept the momentum going for as long as possible—and led to massive donations.
3. Reach out to media for extra exposure
When a disaster strikes a community, it often creates a flurry of media attention. It's important to take advantage of that attention while it lasts.
In addition to sharing your relief fund on your own profiles and pages, share it on the social media pages and accounts of relevant organisations. Reporters are often happy to shine a light on relief funds, which offer viewers or readers something positive and actionable to do.
You can also reach out directly to local media outlets (TV, radio, and online news sites). Ask them to add your fundraiser name and link to their stories, so people know how they can help.
If the disaster has been covered on news websites but the articles don't link to your fundraiser, email the reporter or post author, asking him or her to update the story with your relief fund link. Another approach is to post your link in the comments section of both the story itself and any social media posts about it.
Find the Twitter and Facebook pages of your local news organisations, and post links to your fundraiser on their pages. If they approve and/or share your post, it could reach a large local audience. If the event is covered nationally, use the same approach with national outlets.
After Hurricane Harvey and Hurricane Irma, the New York Times and hundreds of other outlets published articles on how people could help victims, including links to country star Chris Young's GoFundMe for hurricane relief as well as various other crowdfunding fundraisers. If the disaster has been covered on news websites but the articles don't link to your fundraiser, email the reporter or post author, asking him or her to update the story with your relief fund link. Another approach is to post your link in the comments section of both the story itself and any social media posts about it.
4. Host a fundraising event
Fundraising events do more than generate donations—they actively engage your community, increase awareness, and reach new kinds of donors.
Local residents will look for ways to support the relief effort with more than just monetary donations. Fundraising events allow such people to bring donated items, meet like-minded people, and team up on relief efforts. They can also inspire ideas and projects that could be good outlets for your funds. Many of the fundraisers for Hurricane Harvey and Hurricane Irma were spearheaded by athletes with strong ties to their local community, who rallied support through offline fundraising events.
If you plan an event, focus on fundraising event ideas that create a direct link between your community and the cause.
5. Partner with local businesses and organisations
You can also partner with fellow community members or local organisations to host fundraising events supporting your cause.
Local businesses and organisations take pride in their community and will invest in its recovery. They typically offer help after a disaster in one of several ways – most often matching donations, providing space for fundraising events, or donating a percentage of proceeds from products or services to fundraisers.
After the horrific shooting in Las Vegas, online retailer Zappos partnered with the Direct Impact Fund to match donations to provide relief to the victims and their families with their fundraiser Support Las Vegas – $1 Million Dollar Match.
Many local businesses and organisations in the Napa and Sonoma area directed their charitable giving to the Napa and Sonoma County Fire Relief fundraiser. Organiser Jake Kloberdanz made sure to thank all of his major community donors in his updates.
6. Keep your community updated
When they donate to your fundraiser, donors become financially and emotionally invested in helping the victims. They often expect updates about the relief fund's progress and its positive impact. Be sure to post regular fundraiser updates to keep people engaged and informed about recovery efforts.
For the Love Army for Somalia, Jérôme Jarre and his fellow organisers posted regularly video and photo updates throughout the fundraising process. They let supporters know when they hit milestones, when they needed more momentum, and perhaps most importantly, they gave on-the-ground updates from Somalia to show their donors the direct impact of their generosity.
Such updates can give fundraisers new life, inspiring donors to share with their social network once more. Updates can also be a good place to maintain clear communication between victims and supporters.
A powerful tool to help restore your community
In disaster and its aftermath, people have an innate desire to help others. If your community is recovering from a disaster, a relief fund can be a powerful step toward recovery. Whatever challenges you're facing, we hope that these six steps can help you recover as quickly and effectively as possible. For more tips, read Developing and Financing a Family Disaster Recovery Plan.