Help dress the Angel babies!
$8,097
of $10,000 goal
Raised by
166
people in 52 months
https://www.facebook.com/angelgownsbydiane
www.angelgownsbydiane.org
Please consider Angel Gowns by Diane when you are choosing who you will make your end of year donations to.  We are a 501(c)3 non profit and 100% of the proceeds go directly back into making the gowns and helping families.  We can supply a tax receipt if you need you!!!

Thanks to all of you who have helped us to date. With your support Angel Gowns by Diane (Angel Gown Foundation Inc.) has become a full-fledged Public Charity (501©3) corporation) as defined by the IRS. Our standing as such was established effective March 16, 2015, meaning that any donations made to the Foundation, (AKA) Angel Gowns by Diane, since that date are fully tax deductible.
This marks a significant milestone for us, and it means we can do even more to help grieving families through their time of pain and suffering.
We have been fortunate enough to have received a great deal of extremely positive media attention, both in print and television, over the past few months which has generated even more support and donations of material and volunteers.
http://www.chron.com/neighborhood/katy/news/article/Katy-woman-creates-angel-gowns-to-help-grieving-6059257.php
https://video.snapstream.net/Play/4PPP1gUSKkUVdrpMFFlTnL?accessToken=df9zud7y8iao2
https://video.snapstream.net/Play/2GpHrcCmoMKR0i2UAIQzPv?accessToken=b3nkcf6e1sfk7
https://video.snapstream.net/Play/z70JKfJI4b5b7yPiaRSR6?accessToken=cf7igir301qv9
Our appreciation for this generosity is difficult to put into words; a simple "Thank you" will not suffice.
It also has created a challenge that we hadn't anticipated occurring so quickly. We have a large number of dresses in storage (inventory) right now and continue to receive more each day. Our volunteer seamstresses are incredible, but they are human volunteers, so there is only so much they can do about converting these beautiful dresses to stunning gowns, which is creating a continuing storage issue for us. We do not want to turn away a dress donation ever, anything offered is done so for the best reasons and will be treated as the gift of love it is, however, we are literally bursting at the seams with dresses.
We have been fortunate to obtain climate controlled storage facilities nearby that can contain our inventory of dresses as we go about our work making the gowns, and continue to slowly grow until we could find additional funding for a small office/warehouse site. The office site will serve not only as a location to house the inventory of dresses, but serve as sewing and cutting space for volunteers, a permanent location for package delivery and walk-in drop offs, meetings, and sew-ins, in addition to the others in the community.
We are in the process of developing leads on and soliciting grants from sources that will help achieve this plan, but until we receive any such funding we are in desperate need of funds to help us keep the dress inventory safe and secure from damage. We have outgrown the homemade racks built to hold this inventory (which grew MUCH more quickly than anticipated) and are in need of some much more durable and portable racks. These racks cost approximately $150 each and currently have a need for at least 12 of them (that's not anticipating another surge in dress donations) to support our current inventory.
To date Angel Gowns by Diane has donated 5500 wraps and gowns to hospitals, funeral homes and families. Besides here in the Houston area, these have been sent to FL, VA, LA, OK, AL and we are beginning to hear from more out of state hospitals.
We all want to make sure that Angel Gowns by Diane is here for a long, long time taking care of as many Angel babies as possible. The NICUs are all loving having a nearby organization supplying them with these much needed gowns for the little ones, so please, help make the dream a reality to reach as many families as we can!
Please consider making a generous donation to help us achieve these goals!
There is a link to PayPal on our home page and the link for out GoFundMe is
http://www.gofundme.com/emr8ro
Thank you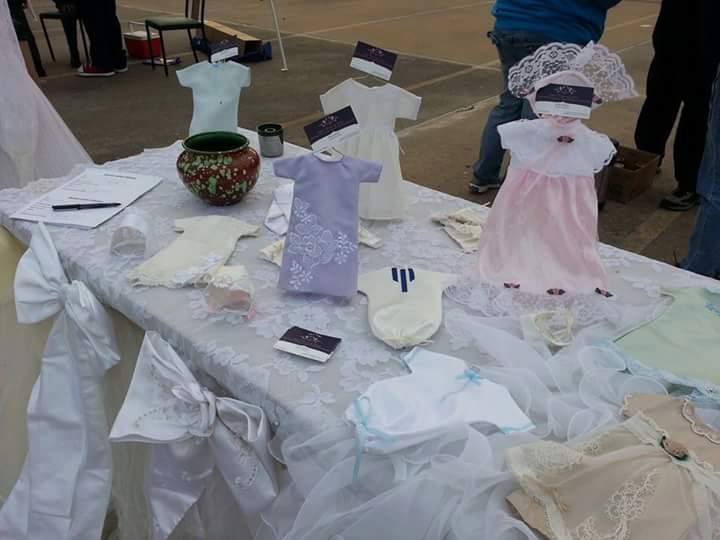 Thank you
+ Read More