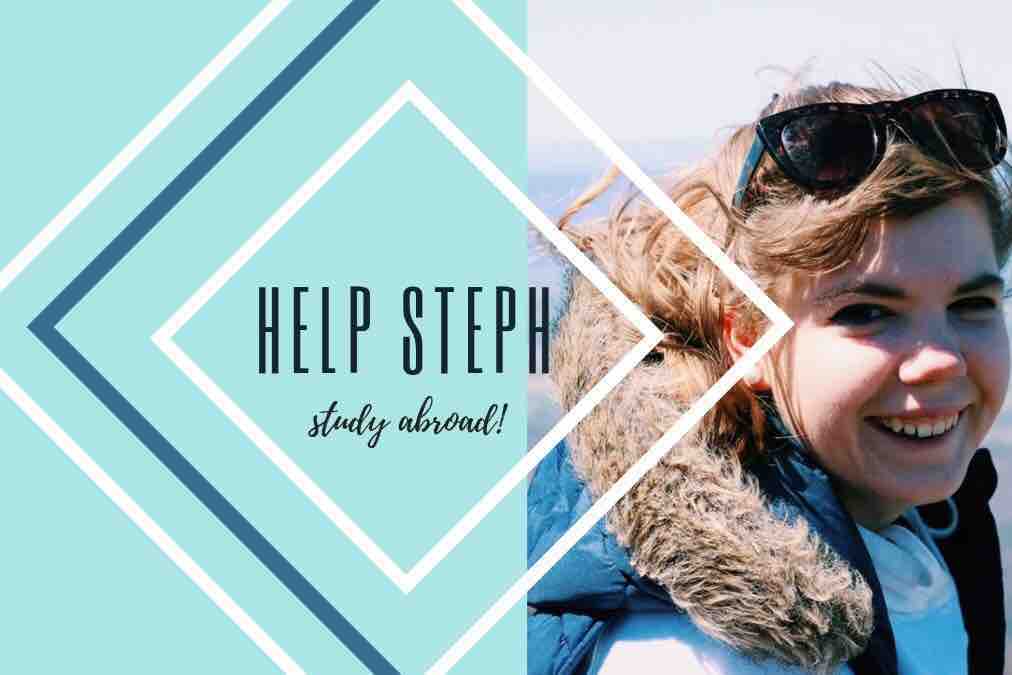 4
2
Help Steph Study Abroad!
$225
of $3,500 goal
Raised by
6
people in 7 months

Hi! My name is Stephanie Whitehouse, and I am a junior SMAD major at James Madison University studying Interactive Design within the School of Media Arts and Design. I am also a German Major with a minor in Non-Profit studies. I am an active member and senior warden of Canterbury Episcopal Campus Ministry and President of JMU's German Honor Society Chapter, Delta Phi Alpha. 

Just 2 months ago I was called to participate in a life-changing study abroad program within the School of Media Arts and Design based in Ireland, and today I found out I was **accepted** (!!!) into this highly competitive program of 15 students to participate in this prestigious program. This opportunity would allow me to study alongside students and professors of varying communication/media disciplines for 6 weeks in Galway, Dublin, and Derry, Ireland.

My desire to study abroad has existed as a small voice in the back of my head since my sophomore year of high school. When I got to James Madison University, I waited two years into my undergrad, shuffling nose-to-the-grindstone from GenEd to GenEd, hoping to be accepted into SMAD to finally pursue what I loved: Interactive Design. Four years it's been since my sophomoric pangs of wanderlust, and I find that the small voice still lingers in the depths of my brain. When I saw the posters for the summer study abroad hanging in Harrison Hall (my new home!) on the quad, I knew it was time.

This study abroad program offers a host of opportunities:

- It'll allow me to collaborate on a community and media based project with the Galway division of the nonprofit organization Foróige in order to examine the perspective of young people in today's Irish society. (This would be an AMAZING experience because I hope to pursue work with non-profits after college!)

- I would also get to examine and experience the social and cultural context of various parts of Ireland and create content for the non-profit

- It would give me the opportunity to document my own journey and experience with reflexive content in various media formats, all to help me develop my analytical, media, and cross-cultural literacy while gaining a greater knowledge of the culture and myself (all which I plan on sharing with you lovely people!)


Junior year has, however, presented some interesting challenges. Even now, as I live off-campus in Harrisonburg, juggling my various majors and leadership positions within 2 organizations, working 3 jobs, and utilizing loans to relieve my own financial burden of tuition and living expenses, my goal of studying abroad is and has been constantly clouded with the fear of not being able to afford the experience.

Being able to participate in this amazing opportunity would mean the world to me. Ever since I was little, I was a creative, raised on IMSPaint & Mr. Rogers, a learner, ravenous for new ideas, new tech, and consistently intrigued by the colorful, the vibrant, the moody, & the detailed.

I believe that meaningful design can unify, revolutionize, and most importantly, bridge the gap between peoples and cultures to help us realize our still-very-human experience in an ever-growing digital landscape. As I use media to express myself, my passions, and my goals, I can only think of the positive and constructive influences that would come by being submersed in Ireland's culture, gaining a fresh perspective of my own world through the novel, the different, and unfamiliar.

Going on this study abroad would not only be an experience that I would take with me for the rest of my life, but it would equip me with the tools I need that I would bring back home, to help fuel and develop my own campaigns and help me make a difference in my community (such as the shelf'd initiative at my campus ministry!) .

I would greatly appreciate any possible help.  Thank you so much for all of your support and prayers, and for taking the time to read my story. 

All my love and appreciation,

Steph <3
____________

Here's the link to the JMU Study Abroad program:
https://www.jmu.edu/global/abroad/programs/jmu-ireland-media.shtml   

....annnnd here's the link to my portfolio which shows my most recent projects and inspiration! 
https://whitehsp.wixsite.com/stephaniew 

(one more I promise LOL) .....and HERE is the link to a project I am working on to gather resources to identify and ultimately end student hunger on campus:
https://whitehsp.wixsite.com/findingfood 


p.s. If I get around 200 people to simply donate $20.00 I will be able to achieve my dreams in no time!


+ Read More
Update 1
3 months ago
Share
Hey guys! I am SUPER EXCITED — I am 100 days from shipping out for study abroad this summer!
Still trying to raise some final funds but I just wanted to say thanks so much for all your continued support!! ♥️♥️

Love, hugs and blessings,
Steph♥️
+ Read More