Give Africa a Gift of Literacy
$460
of $3,000 goal
Raised by
13
people in 47 months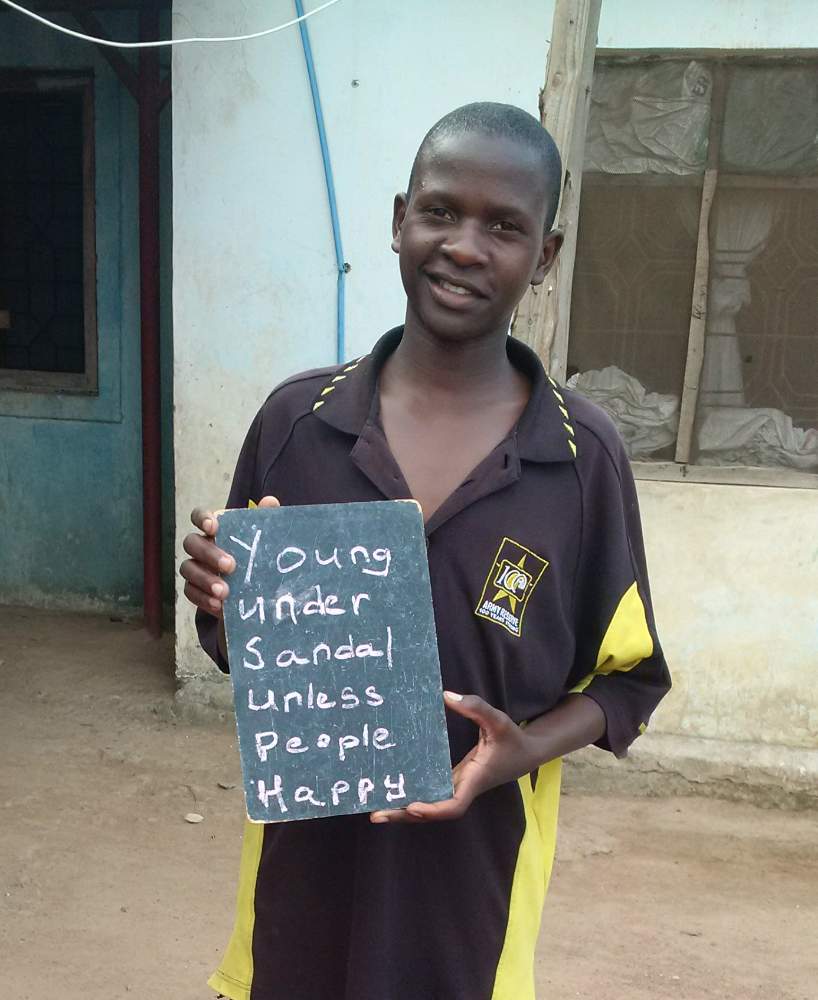 Yusuph (16 yr) - at the Watoto Wa Africa Orphanage, Mwanza, Tanzania.
Give your name as a gift of Literacy to children in Africa. Play the REAAL NAMES Game.
I'm a Grandpa and a Geek. 10 years ago a watched my daughter become a mother and we welcomed Nathaniel into the World. To help support Nate's, and now 3 1/2 year old Cherish's education, I started The Rose of Education Organization [TREO], to develop educational games and mobile apps.
Project 1
The first game I developed is REAAL NAMES, a vocabulary game used to increase children's language skills. Turn your name, first and/or last, into an acronym, and tell your story with the letters to create a list of qualities or a descriptive sentence, about your dreams, aspirations and inspirations.
Example: DEIRDRE 
Dawn's Embrace Is Richly Desired, Rewards Everyone.
To test the concept in the 'Real World', REAAL NAMES was taken to Africa (Tanzania, Kenya and Malawi), India (New Dehli) and Cambodia (Siem Reap and Phnom Penh).
REAAL NAMES is a hit with teachers and students. 
Won't you join us by making a contribution?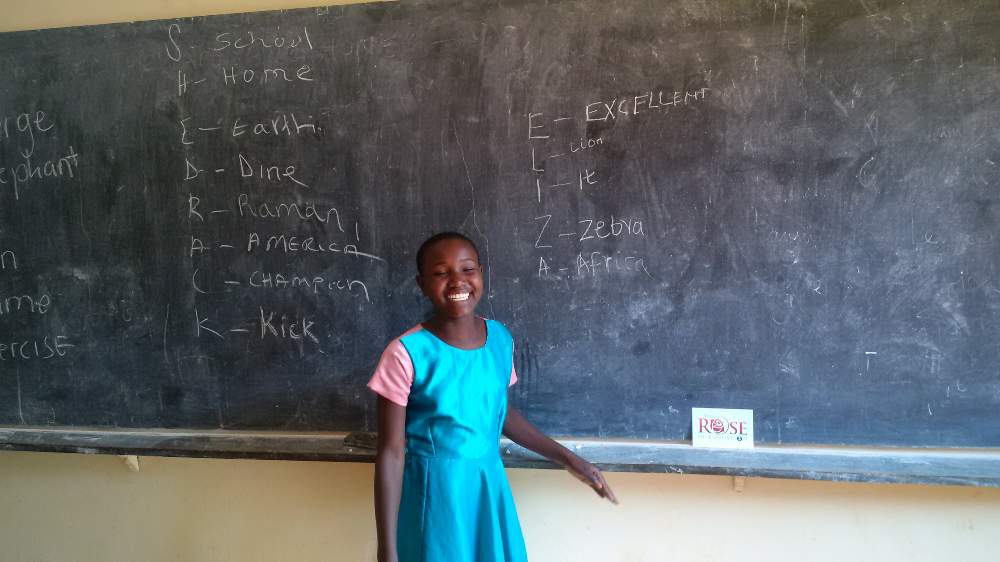 Eliza - student at the Matumaini Child Care Kilimanjaro, Tanzania.
Play REAAL NAMES and give A gift of Literacy.
1. You can enter your REAAL NAMES gift in the Comments box provided when you make a Donation.
2. You can email your REAAL NAMES to: Anthony@theroseofeducation.org.
Players will have their REAAL NAMES added to the list here on the campaign page, Facebook and shared with the children at the schools and NGOs in TREO's network.
'Give a gift of the future to the Future'
Project 2
ALNUGE (ALphabet, NUmbers, GEometics), is a Visual, Scientific and Mathematic Language, which promotes critical thinking, creativity, communication and literacy skills. ALNUGE is aligned with STEM, STEAM and Common Core Standards -
www.alnuge.com.
TREO is seeking to raise $1000 to purchase 20 ALNUGE Activity Posters and 500 Activity Kits for the schools and organizations participating in the REAAL NAMES Game literacy program.
Future Goals
A $3000 stretch goal to return to Africa, Dec 2014 - Jan 2015, to deliver the ALNUGE Activity posters and kits and support TREO's pilot programs.
A further stretch goal of $9000 for expansion of the educational programs at NGOs and schools in Cambodia and India.
Help us improve the lives of children everywhere.
The Rose of Education is developing the REAAL NAMES Game as a classroom-based literacy pilot program at the Matumaini Child Care Kilimanjaro, a non-profit organization in Kilimanjaro, Tanzania, and with schools and NGOs in Cambodia and India.
We plan to continue this research and strengthen it to gather data and metrics on the intended learning outcomes. To move forward with this project, we request your support.
Donate today!
I'm a Grandpa and a Geek who believes that collectively we can solve our most pressing issues.
Children are a precious gift. Give a gift of literacy.
Play REAAL NAMES!
What's Yours?
---
Reagan (10) - at the Cheery Children Education Centre, Nairobi, Kenya.
What is The Rose of Education Organization?
We are a collaborative group of individuals from around the world who believe that everyone should be helped to enjoy a better quality of life. Our mission is to support educators in nurturing students to become life-long learners. Our goal is to transform families to support life-long learning through a unique blend of mentoring, education, and technology.
Mission:
Increase literacy rates.
Increase health, wellness and fitness.
Increase STEM education, participation and job creation.
Vision:
The Rose of Education is researching the pedagogy of using technology within language literacy education programs to foster critical thinking skills. The vision is to create enthusiasm and joy of learning through language, both verbal and non-verbal.
Beyond language literacy, we plan to develop literacy programs for the STEAM disciplines (science, technology, engineering, arts, and mathematics). Using language literacy as the catalyst, we intend to engage individuals eager for educational opportunities that will enable them to achieve their dreams of being self-supporting citizens with good jobs and improved standards of living.
Our holistic approach to education will be to offer several language literacy programs to ensure that students use their entire being – that of mind, body, and spirit.
Below are ways in which you can support our research:
- Play REAAL NAMES  a language literacy game based on acronyms and sentence structures.
- Provide monetary support. Every dollar will be used to further our research and develop online programs so we can offer literacy programs to students worldwide.
- Join the conversation. Register to become a member so your voice can be heard. The more members we have, the more effective we can be in offering our education programs to students everywhere in the world.
Won't you join us by making a contribution?
DONATE TODAY!
Add your REAAL NAME to the growing list below:
AARON HALL - Ambition And Resilience Overcomes Negativity; Heralding A Lasting Legacy.
TAIYE LAMBO - Technological Aspirations Inspired Youth Education; Listen; Accept Miracles; Become One.
DEBI MELZER - Discerns Enlightenment By Imagination, Masters Enlightenment Lovingly, Zeal Empowers Realization.  
MIKE FESS - More Integrity, Knowledge, Energy, Freedom, Equals Superior Society.
NORA - Nurtures Our Reasoned Awakening.
MERRIN - Mother Earth Rejoices, Revealing Intelligent Nature.
WAYNE - Wise African Your Name Empowers
ANGELA - Angel, Natural, Great, Elegant, Lavish, Adorable
SHIRLEY - Success Has Individual's Real Life-lessons Embedded Yearlong! 
ALEVI - Active Loving Esteems Vigilant Imagination
PETER - Possibility Entails The Endless Rightfulness
KADILO - Kind Accommodation, Dependable Inspires Listener Obviously
REBETA - Resourcefulness, Ends Biasness Equally Thoughtfully Assertively
PATRINA - Prideful, At Times Reduces Intense Not Allowed
LEAH - Leaders Exemplary, Admits Hardship
KANYABO - Keep Accepting New Yielding, Activities Before Ordered
WAMBURA - Worthwhile Action Meets Best Unexpected Reasonable Outcome 
BUWAHWAH - Be Unchanged When Any Hurting Wave Alters Hope
KADILO - Keep All Determination In Life Everyday DIANA - Dedicated In All Needed Articulation
--- Check back often for updates.
+ Read More
Be the first to leave a comment on this campaign.