"Medication - Post BM Transplant"
$

60,543
of $100k goal
Raised by
271
people in 36 months
Hi and welcome to this site!
I'm the administrator for this site, but the site was created by my brother (DeQuido Brown), in order to raise funds to go towards my nephew's life-saving and life-sustaining medical care. My 12 year old nephew D'Quan, is battling Pre-B ALL Leukemia, and also he now suffers from a Spinal Cord Injury with Paraplegia. He and my brother has relocated from the Bahamas to South Florida, where he now receives cancer treatment a private children's hospital, in preparation for his Bone Marrow Transplant procedure. D'Quan also requires aggressive physical therapy, and urology and neurology consults.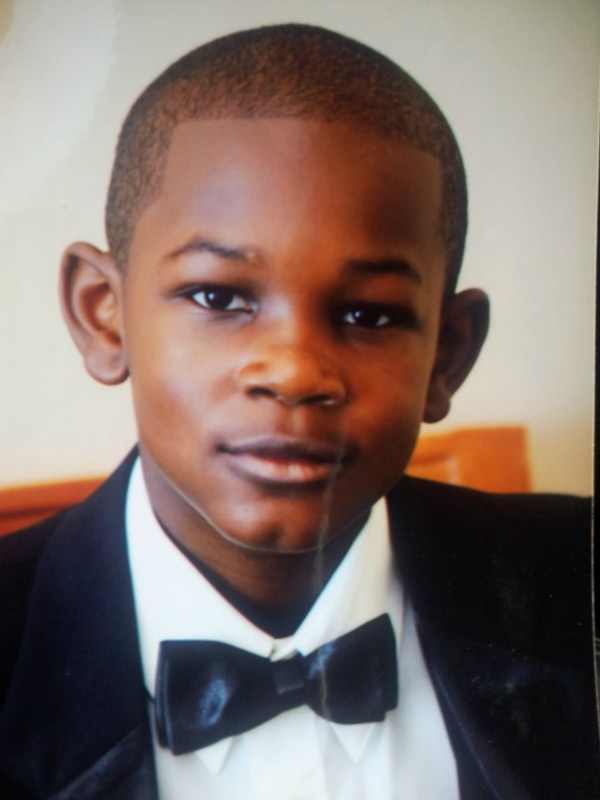 From his birth, D'Quan had always been a cheerful kid, who was known for his great smile, so full of life and energy. His dreams were to become an NBA player like LeBron James and a track star like Usain Bolt, his potential to achieve this was noticed by many.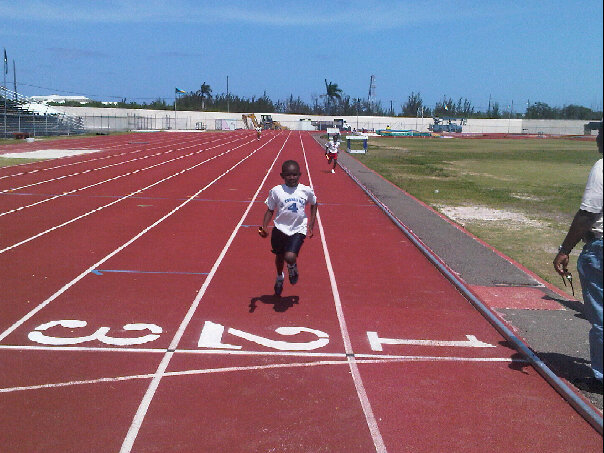 On September 25, 2012. D'Quan was diagnosed with Acute Lymphocytic Leukemia, which is a deadly form of childhood cancer.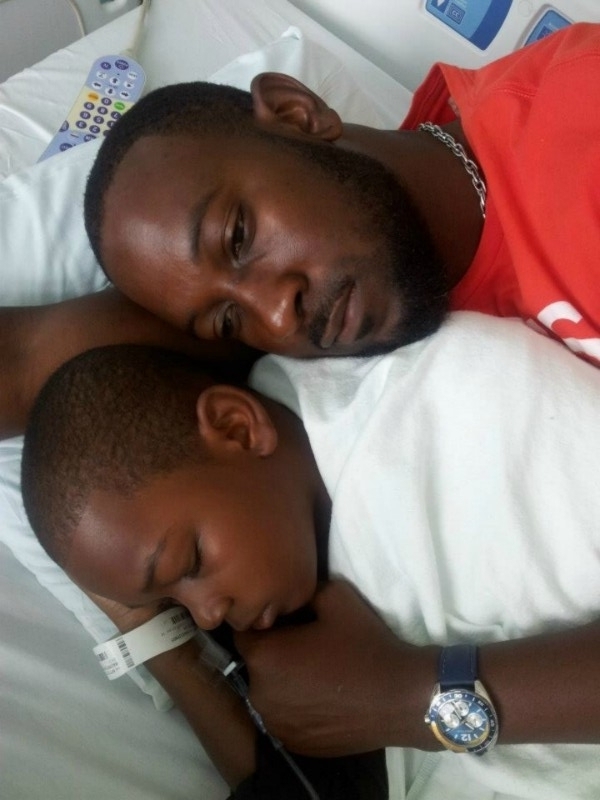 Our family had no previous history, nor did we have any prior knowledge about this disease. We were shocked and in denial of that diagnosis. We thought, "How could this deadly disease, develop in an active child, born without any illnesses or defects, who had completed all of his vaccinations, physicals and regular checkups, is slender in size, eats a balanced and healthy diet, and is the middle sibling in the household"? This made no sense!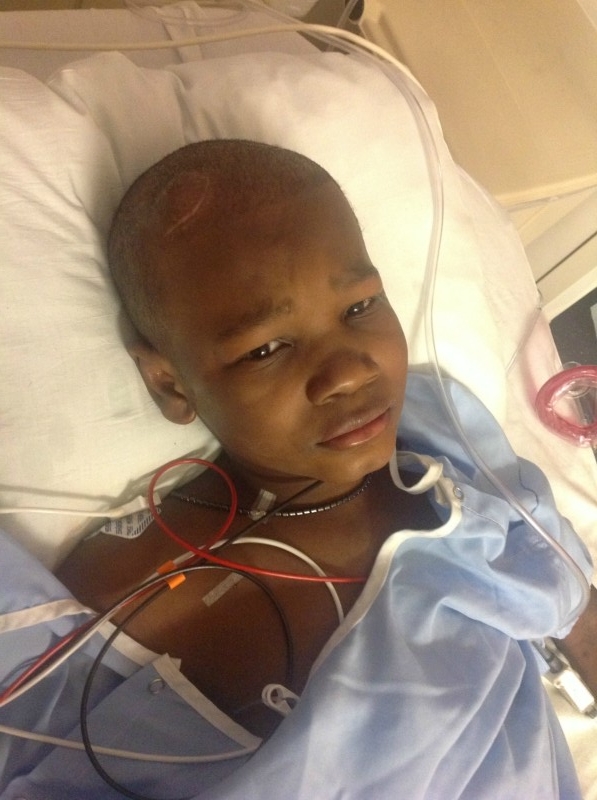 On September 27, 2012, D'Quan started chemotherapy treatment at a South Florida Children's Hospital. On that day, his protocol required a Lumbar Puncture, also known as a "Spinal Tap". On the afternoon following the procedure, he began to feel numbness in his legs, by the next day he couldn't move the legs at all, and had lost all control of his bladder and bowel function.
It was discovered that he had significant loss of sensation of his lower extremities. A few days later an MRI of his lumbar spine was conducted, it was then confirmed that a large spinal hematoma had been discovered, but by that time the damage had already been done, the window of opportunity for a successful surgical evacuation/drainage had expired. D'Quan was left to suffer an irreversible spinal cord injury, the hematoma that initially affected the T11-T12, L2-L5 and S1-S2 areas.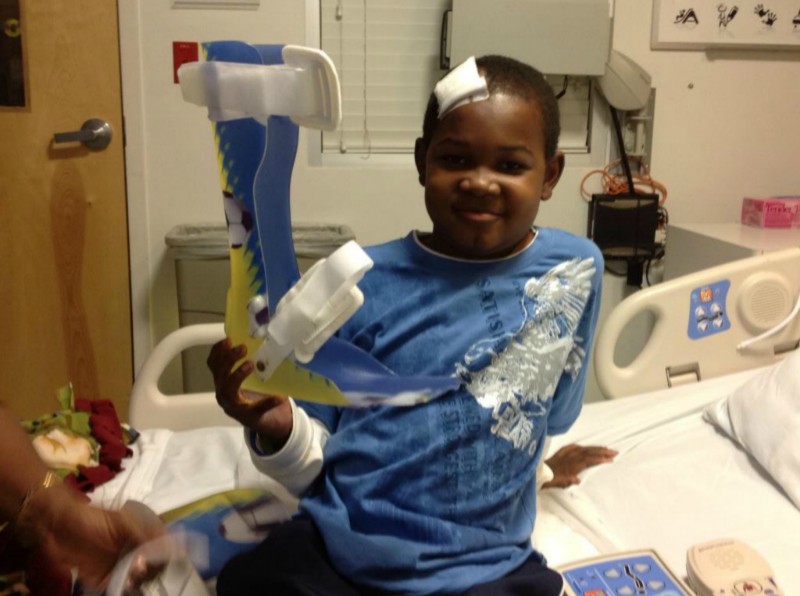 Pediatric neurosurgeons then indicated that spinal taps were no longer an option, therefore they insisted that the implantation of an Ommaya Reservoir into D'Quan's scalp was necessary to facilitate the delivery of chemotherapy fluids.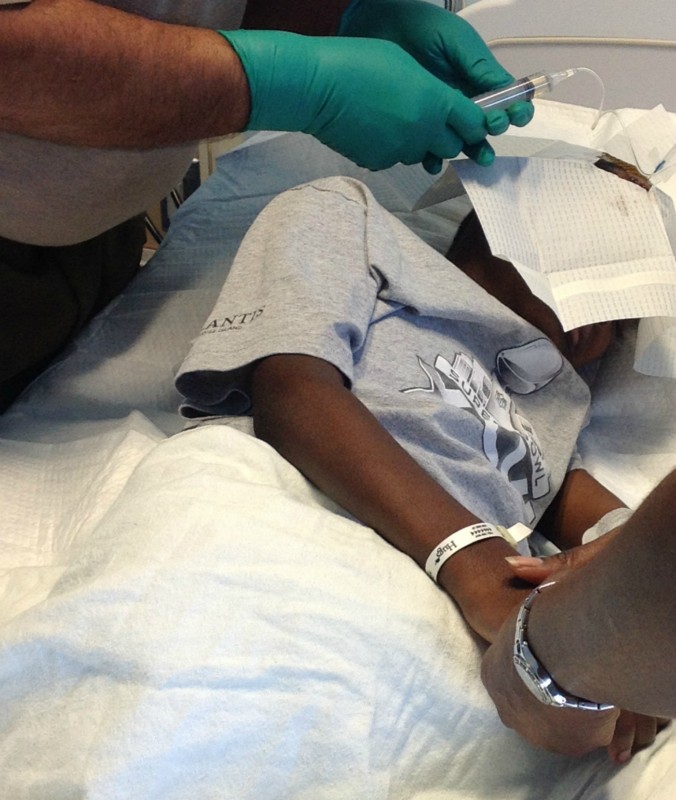 ALL and Spinal Cord Injury with Paraparesis was the new diagnosis, this diagnosis still remains today. D'Quan remained admitted in the hospital for almost 2 months, including 3 weeks in the Inpatient Rehab Unit, where he had occupational therapy and physical therapy, sometimes twice daily. During his admittance, he contracted the painful shingles virus, but amazingly he kept his glowing spirit and he continued to smile. D'Quan went into remission in November 2012, and he continued treatment as well as physical therapy.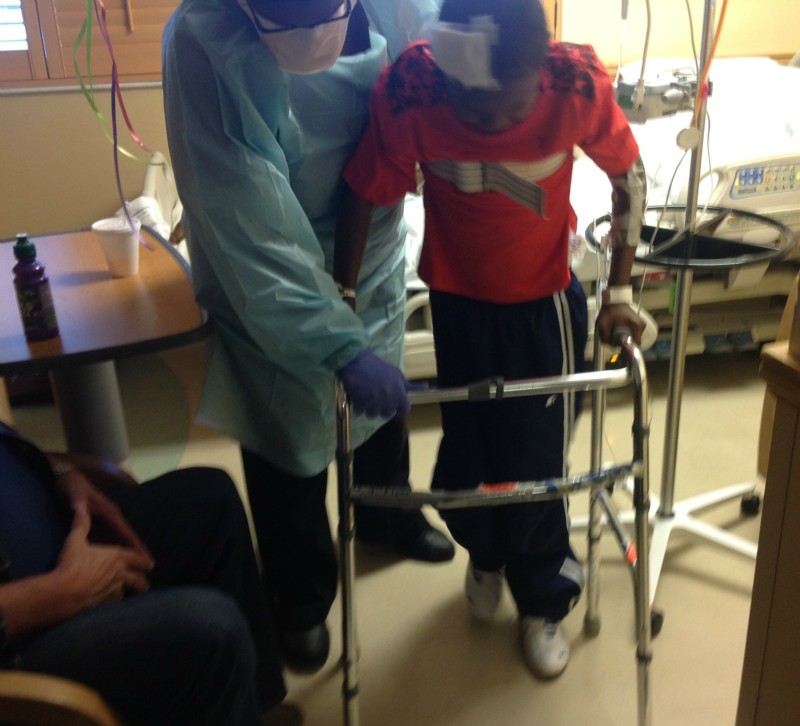 In July 2013, our worst nightmare reappeared. D'Quan contracted a bacterial infection and had to be hospitalized, he was then airlifted to yet another South Florida hospital for an immediate assessment and treatment. It was then confirmed that he had relapsed.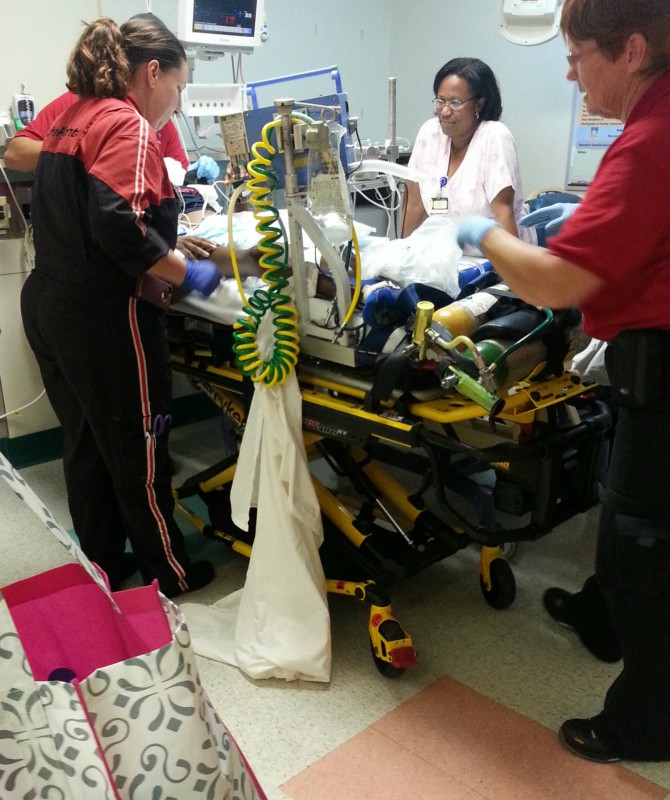 D'Quan spent two weeks in isolation, in the Pediatric Intensive Care Unit until he had been stabilized. He was then transferred to Pediatric Oncology for treatment.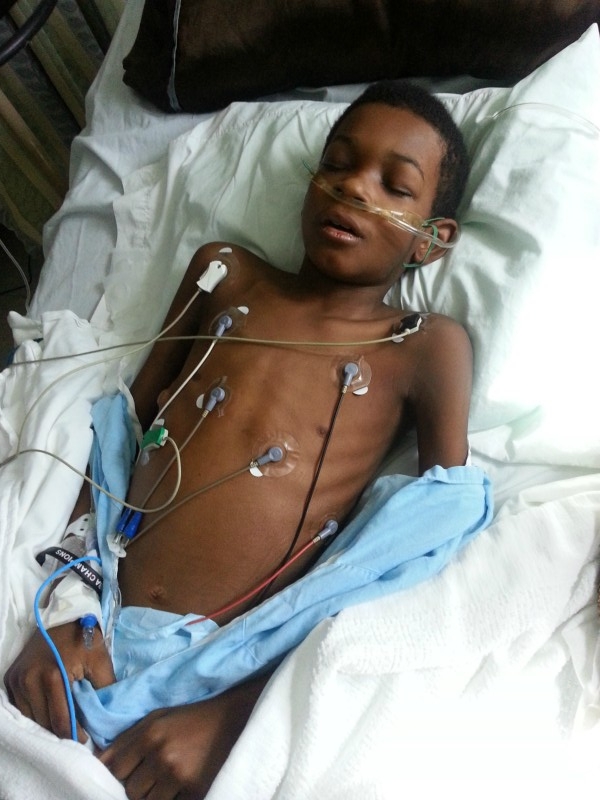 This required aggressive rounds of chemotherapy and numerous hospitalizations. D'Quan has achieved his second remission but specialists then concluded that a   Bone Marrow Transplant would be the only option for his survival. The transplant has been scheduled for early 2014.
However, as a result of the Spinal Cord Injury, D'Quan has Gait disturbance, balance impairment, suffers with chronic and intense nerve spasms in the bladder, he's incontinent of his bowel and bladder, requires laxatives and intermittent catheterization 5 times per day, he wears diapers, he has chronic leg nerve pains daily, he is wheelchair-bound and requires a customized wheelchair for posture and comfort, unable to walk or stand independently and without bilateral AFO's, he has no sensation of his bilateral feet, lumbar lordosis.
He needs assistance with door opening, bath, bed and vehicle transfers and quite a few of life most simplest tasks and he requires a caretaker around the clock, his father gladly accepted this job.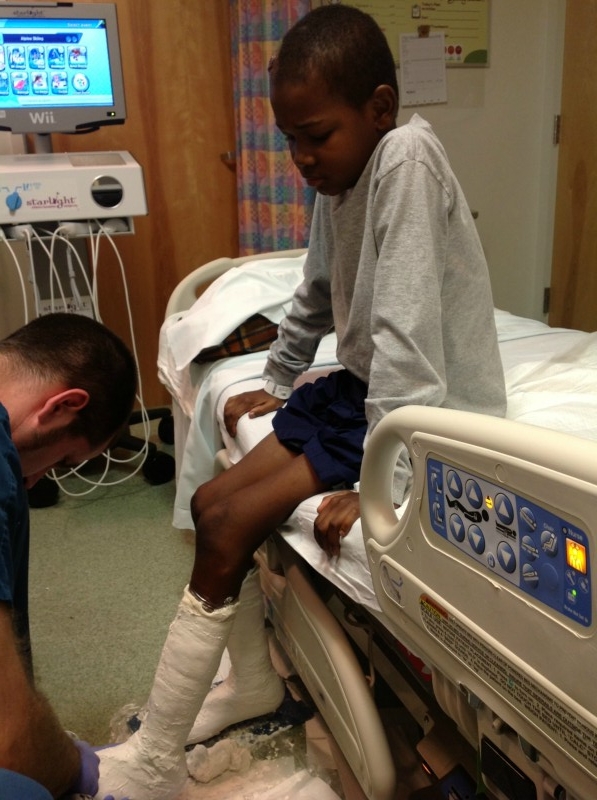 D'Quan has now completed over 300 hours of physical therapy (excluding at home) and he is still actively enrolled in physical therapy whenever his strength or chemotherapy treatment allows his participation. However, in the few months he has had improved strength and he's been able to do more exercise and walk short distances with assisted devices such as a four-wheeled walker. An October 2013 MRI, suggests that the spinal hematoma has been reabsorbed, but now an Arachnoiditis Cyst can be seen at the base of the cuada equina in the spine.
D'Quan has scheduled follow up appointments with Neurology, Urology, Radiology, Neurosurgery, Hematology/Oncology and Physical Therapy, and since the cancer diagnosis back in September 2012, then further complications from the SCI thereafter, he hasn't been able to attend grade school due to his health and delicate physical needs, therefore he desperately needs homeschooling when he's at home, this is a need that hasn't been met thus far due to his busy schedule.
Yes! D'Quan currently has "medical insurance", but unfortunately over 90% of his
maximum lifetime coverage
has already been depleted. The cost of the required medical services and the length of time that these services will be needed for D'Quan creates even more financial anxiety for our family, as the cost of his medication, lodging, transportation etc, and the cost of living in South Florida is VERY high and this is still the beginning of this journey.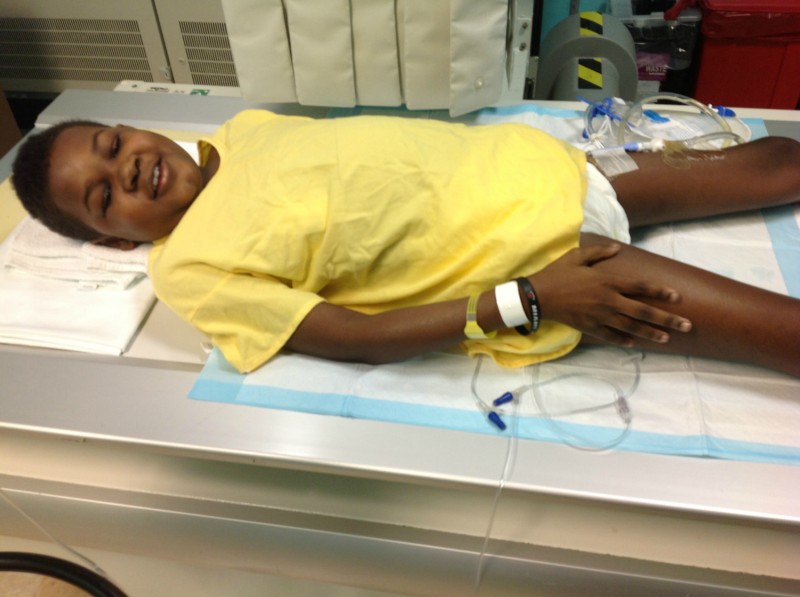 D'Quan often asks my brother tough questions like "" Daddy, why'd this happen to me? And why am I the only child with cancer, who's confined to a wheelchair? There's always one answer "" You are the only child that can handle this right now, and the other kids are depending on you to get through your trial, as a sign of hope that they'll get through theirs, but God know's your struggles. D'Quan misses seeing and spending time with his family and friends, but he also understands that he won't see them for a long time.
We'd give just about anything to watch D'Quan run on the track, on the soccer field or play on the basketball court again!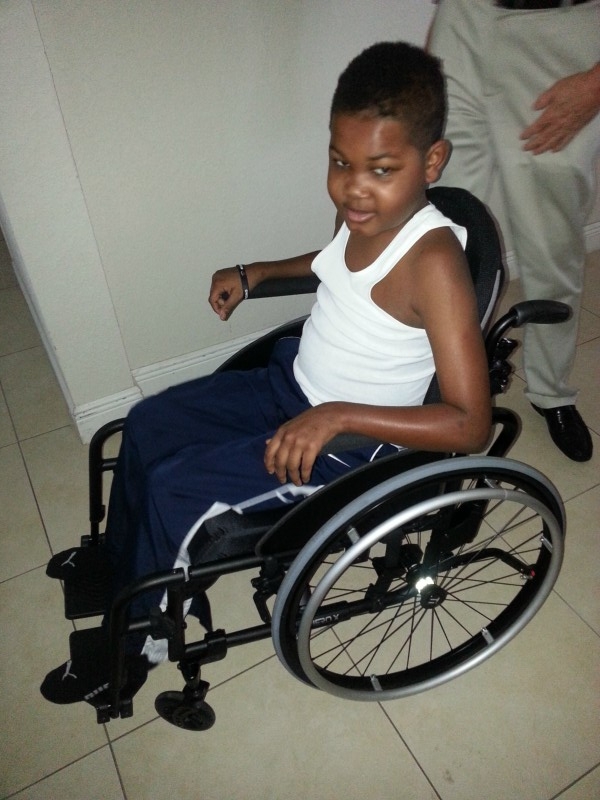 This is our plea, a family's plea, we're reaching out to EVERY individual out there, both private and corporate. PLEASE help by donating to Funding For D'Quan, so that he would have the best opportunity at winning his battle with leukemia, overcoming his Spinal Cord Injury challenges, receiving the education that he deserves, and regaining his physical independence, so that he may continue to dream like children ought to. No donation is too small, lets keep that smile on his face.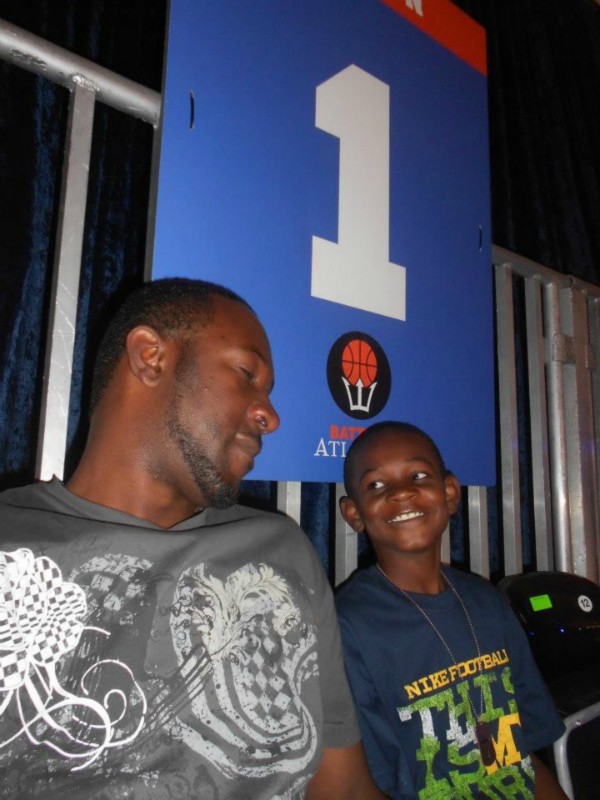 Please continue to share and support the cause, online donations is a simple 2 step process, and the site is safe and secured. If you, or anyone you know are interested in donating to this fund, but have no access to a credit/debit card, or simply don't support online donations, RBC deposits are welcomed.
Bank info: DeQuido Brown (Acc#7226053) RBC Prince Charles Dr.
When making deposits, PLEASE include your name. Your name and donation amount will be added manually to the site in order to maintain your trust, and to achieve the overall goal of this campaign, PLEASE click on the message link if you have any questions, concerns or need to contact us.
Don't forget to DONATE & SHARE!!
http://www.tribune242.com/news/2013/oct/28/11-year-olds-brave-battle-leukaemia/
Thanks again for visiting!!
+ Read More
Help spread the word!
 5.9K total shares