14
8
Donate to the Oakland Parklet
$3,937
of $5,000 goal
Raised by
27
people in 6 months
Imagine it's a beautiful afternoon, you are on your lunch break and looking for a fun, relaxed place to have your meal?  Currently, there are no places in Downtown Oakland where you can enjoy a relaxing respite for the otherwise hustle and bustle of life. 
There is where our Webster Street Parklet Project comes in sponsored by
Howden Market
and
Spice Monkey Restaurant & Bar
!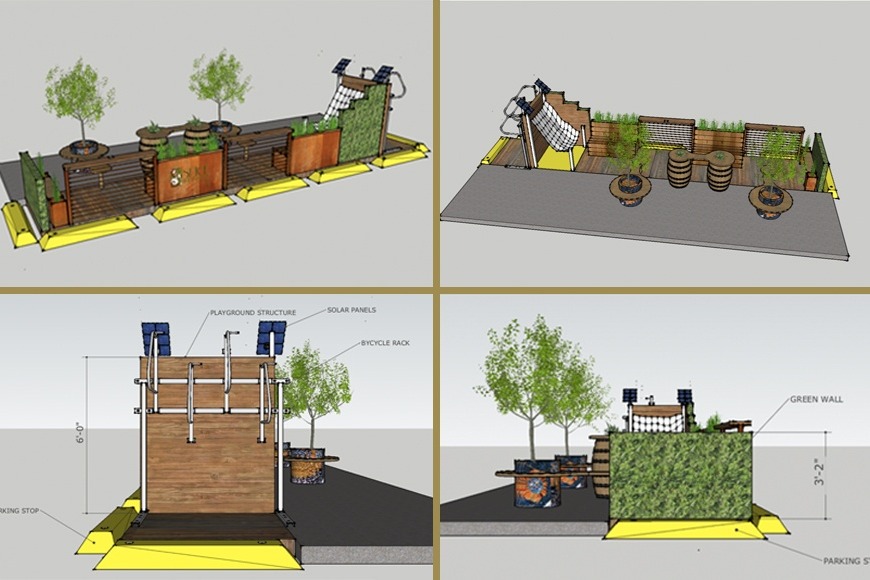 (the above are the architectural plans for the Webster Street Parklet Project)
Parklets repurpose parking spaces into functional community leisure areas open to the public.  This project would transform the space in front of the
Spice Monkey Restaurant & Bar
and
Howden Market
from the current sterile environment consisting of on-street parking spaces, into a vibrant public park, accessible to all members of the community.  
As Oakland endures continuous gentrification, there is greater urgency for local residents to come together in spaces that foster community, connection, and solidarity.   This Oakland Parklet is designed to do just that!   
It will be an extended public space on the corner of 17th & Webster St which will provide a public place available to community members any time of the day to simply relax, charge in their electronics, enjoy a meal or even host an event!
One the most exciting aspects of the parklet will be its unique and inspiring artwork – designed and built by local artists, reflecting Oakland's community, and incorporating innovative solar technology, making the artwork not only beautiful, but functional – able to generate energy to both power the lighting for the parklet and enabling users to charge electronic devices such as cell phones. 
Beyond artwork, the parklet will also incorporate seating areas, tables, a hammock – providing opportunities for people to lounge and for children to climb and play – drought-resistant plants, and bicycle parking.  Thanks in part to pleasant weather year-round, people in Oakland crave outdoor public spaces in which to congregate, interact, and unite. 
The parklet itself would be inspired by the same ethos as its sponsor business –
Spice Monkey
Restaurant
– an established Oakland restaurant and bar. Spice Monkey prides itself on being an oasis in the heart of the vibrant, diverse, yet hectic Uptown District. A goal of its owners is to provide an inviting location where people can be part of a community. The parklet would be open to all Oakland residents, not just patrons of Spice Monkey or its sister business Howden Market. As the sponsoring company, Spice Monkey would be responsible for maintenance of the parklet. 

SUPPORT US in BRINGING OAKLAND TOGETHER by DONATING to the WEBSTER STREET PARKLET PROJECT.
+ Read More