134
29
Dominic Watson & Family
$14,705
of $20,000 goal
Raised by
130
people in 19 months
Dominic Watson is 11 years old. On January 19, 2018, Doctors at Cook Children's discovered a massive brain tumor (the size of a small orange). On January 20, they successfully removed the tumor. On January 24, the family was informed that the tumor was malignant, and Dominic was diagnosed with Giant Cell Glioblastoma, a grade IV cancer that is extremely rare in children. This is an aggressive brain cancer that they were very lucky to catch early and were able to perform a total resection on. Although there are statistics on glioblastoma, there are no reliable statistics for glioblastoma in children, with treatment, and a total resection. The statistics in his case, are pointless because, well...he's Dominic, and he's a Warrior, obviously :)
Prayers are welcomed, encouraged, and appreciated! If you would like to make a donation to help the Watson family with medical bills and personal bills (they are unable to work during this time), you can donate one of 2 ways:
gofundme/.com/dominic-watson-family
or
an account is set up at Texoma Community Credit Union under the Dominic Watson Family.
Thank you to everyone for your kind words, prayers, and generous donations. This will be a long road that Dominic is going to come out on top of. He, with his family, friends, and all of you, will fight and never give up, because that's what true warriors do. #prayersfordominic #dominicthewarrior
___________________________________________________________
 I'm copying this next text from Sarah's Facebook page to give insight on the story:
Thank you to everyone for your calls/texts and prayers! We've had an overflow of love and support. Wanted to update everyone at once because I'm not able to keep up with all of the texts and calls.
After weeks of headaches, nausea, zero fever, no cough or sore throat, but not feeling well at all, being diagnosed with a viral sinus infection and then with what was thought to be mono (we hadn't received the mono test results back yet), we finally have some answers. Not at all what we were expecting or wanting.
His headaches that started on Christmas turned into migraines and he spent the past week in bed completely exhausted and nauseous, with zero appetite and unable to keep anything down other than Pedialyte.
Tuesday I noticed when he was looking at me, that he was actually looking beside me. He said he was having double vision and Thursday morning he woke up with one eye crossing. We went back to the doctor and they said it was an eye infection, called in drops and said he could likely go to school the next day (today). I decided to take him to the eye doctor to be sure and am so glad I did. Dr. Kisner did an eye exam and found swelling in his optic nerve. She called his pediatrician and they agreed that we needed to go to Cook Children's Hospital. Cook's took us back as soon as we showed up and set him up for an MRI.
We have now found out that Dominic has a tumor in the right side of his brain about the size of a small orange. He is scheduled for surgery Monday morning. We do not have any information on the type of tumor or how old/aggressive it is. He has swelling around the tumor that they are trying to get down before surgery. He also has a blockage of spinal fluid. He has a good team here at Cook and they have a plan in place. I have a good sense of peace that everything is going to be ok. Nick was able to get a flight into DFW today and will be here shortly. Dominic is being himself! He's talked every nurse's ear off about Star Wars, Zelda, Percy Jackson, Harry Potter (and how awful book 5, Order of the Phoenix is),
He knows everything that is going on and he's doing great - he says he just wants it out.
Thank you to everyone for your prayers and please continue to pray for him!! We are doing good and am thankful for all of our wonderful friends who have helped with Kelcie, our dogs and the house. Taylor and Emerlie are doing good too! Turning off my phone for the next few days unless needed. I'll update everyone here on Monday or if anything new happens between now and then.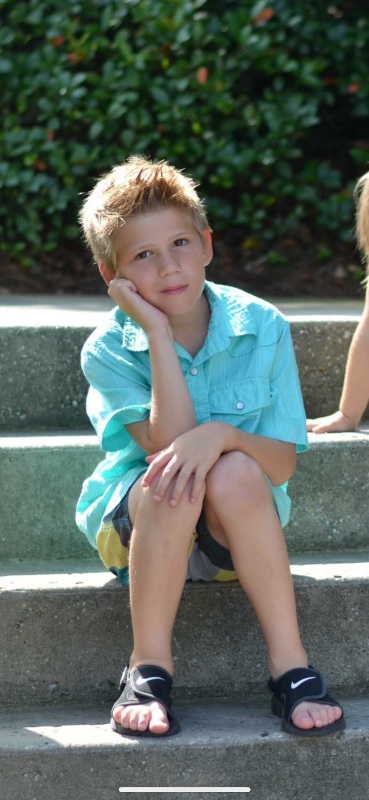 With Sarah and Nick unable to work, any amount donated will go toward bills at home, a large insurance deductible, and an unknown amount of medical bills. This is the very last thing we want them worrying about during this time. Thank you so very much!
+ Read More