Safe Haven for Stalking Victims
$1,405
of $16k goal
Raised by
30
people in 12 months
Stalking victims
are often so traumatized and terrorized by stalkers that they can no longer interface well with 'normal' society. Here is a solution which needs your help...
Author H. Michael Sweeney
, a consultant on personal privacy and security, has worked with hundreds of such persons over a 15 year period, and as result, has sought to establish
Free Will Haven
,
an intentional community
for stalking victims who can otherwise never feel safe. It is based on low-cost
tiny homes
 and a
high-security 'gated' community
in a deep rual setting well away from 'society' at large.
Victims who have been so targeted tend to be unemployed or underemployed as a direct or indirect result of their stalking, many forced into early SS retirement or disability. Free Will Haven will be a self-sustaining community giving them a safe place to work with each other in a peaceful commune-like environment free of stalking threats.
There, they can live comfortably on less than $500 a month for food and living expenses, and own their own home, to boot! For most residents, this will represent an opportunity to once more set aside money for savings, instead of just 'getting by,' or worse, depleting any savings they might already have had. Free Will Haven will be able to house between 6 and 12 persons initially, and seeks to expand on an as needed basis. We have 12 persons who have applied, but each has their own logistcal roadblocks to overcome such that residency will grow slowly over time. 
We have land
. We just don't have the funds to use it.
A partnership with
Ascension Arts
, a non profit specializing in sustainable life styles, service to others, and increasing human potential. has resulted in the acquisition of an initial property suitable for the project, which is located in Oregon near the Idaho border. They are also an expert in intentional communities and tiny home projects such as Free Will Haven will employ. This represents a significant investment in FWH for which we are most grateful, and therefore, anxious to take advantage.
As result, we now have
immediate need
for funding to allow us to establish basic access and utility services to the raw, undeveloped land, which would enable occupancy by the working partners and the first few residents, who can then in turn establish a 'base camp' and construct initial facilities.
We have two portable domiciles, a hot house and general storage facilities, and a variety of major appliances for shared community useage ready to go, but no way to get them there. We need funds to rent or hire trucks to transport items several hundred miles, and to insure basic services are in place upon arrival, and to establish appropriate site security.
URGENCY!
The property became available to us in mid winter season, and drained all exisiting funds when finally acquired just a week ago. Yet in order to take advantage, we must occupy as soon as possible now that Spring is upon us. If there is further delay, we loose crop planting options which will become important later in the year for self sufficiency and economy related issues.
Most people have never had to live in abject fear 24/7/365. For stalking victims, the life-altering effects of such a life are quite similar to that of PTSD trauma. This project has been in works for three years, and is extremely well planned out, but it has never before been at a logistical or tactical point where it was appropriate to ask for funding. Funding thus far has been largely by dedication of profits from the sales of my books and T-shirts, etc. 
Please HELP
. Victims, mostly women, many who are elderly, have no hope without your help. My gratitude as 'founder' of the Free Will Haven concept is as unimportant as my vanity. What truly matters is the constant gratitude of those victims who will once more be able to live a normalized life free of constant fear. Please try to put yourselves into their shoes for just a few moments, and if faithfully imagined, you will understand why you must help.
Victims of Stalking
should please contact me directly about their options using the email addy below.
Thank you,
H. Michael Sweeney,
proparanoidgroup at gmail com
author of
The Professional Paranoid
: How to Fight Back when Investigated, Stalked, or Targeted by any Agency, Group, or Individual (hard copy from 
paranoiapublishing.com
, for ebooks, see below).
Google me if you doubt my credentials: you will find millions of pages which quote me or my works, radio and TV interviews, etc. 
Note: all profits from sale of this book in ebook form also go to FWH project. Order via paypal to proparanoidgroup at gmail com.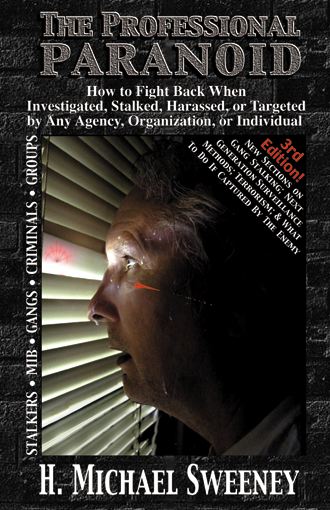 + Read More