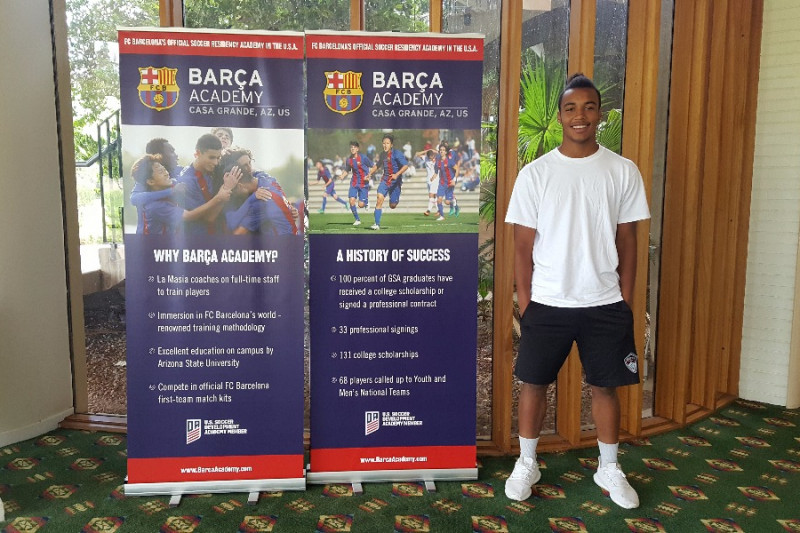 118
5
Djibril's Barca Academy Dream
$19,550
of $25,000 goal
Raised by
121
people in 6 months
Djibril's soccer journey has been quite a wild ride since five years ago, when he stepped back onto the field as an out-of-shape 11-year-old who hadn't played in two years. His FC Boulder coach spotted goalkeeper potential, and 
very
reluctantly Djibril agreed to give it a try. 
Since then that's been all he's wanted to do. Fast forward five years past an amazing series of successes -- CO State Cup championship, WCDA western region all-star team, ODP championship all-tournament team, ODP Region IV final pool, Colorado high school state champion with Boulder High, all-state as a sophomore, Rapids Development Academy, USA Today preseason All-American as a junior and more -- to the culmination of all those years of hard work, the
Barca Academy
!
The Barca Academy is FC Barcelona's first residential academy in the US, opening at Grande Sports World in Casa Grande, AZ, and Djibril has been invited to be in its first crop of players, which is a HUGE honor and opportunity. He's still pinching himself. 
He needs help realizing this dream, though. The annual tuition is $69,500 (details of everything that covers is below).  Of that the Barca Academy has generously offered us a $45,000 scholarship, reducing the amount we need to pay to $25,000.  I'm absolutely committed to making this dream a reality, but I'm a single mom of two, my other son is about to start college, and there really isn't much in the coffers.
We need to make our first $5000 payment by August 7th.
Tuition covers his residency, team meals that are nutritionally balanced for an athlete, experienced coaching and training at the number one training facility in the country, strength and conditioning training, training gear, tutoring and academic support, college recruitment assistance, NCAA eligibility counseling, SAT/ACT prep, team travel and team transportation, tournament and tournament registration fees. 
He'll also attend a top level charter high school located on the academy campus - Arizona State University Prep High School. ASU is a Cambridge Curriculum school that offers rigorous, student-centered and innovative program of study, and provides an excellent education for the academy students.
This could be
absolutely life-changing
for Djibril, who has really struggled with balancing his rigorous soccer schedule with school, jobs, etc. This academy would provide the structure, integration and support that could allow him to realize his full potential and thrive as a soccer player, student, and all-around human being, not to mention getting him that much closer to his dream of playing soccer in college and professionally. We're incredibly grateful for any help he can get making this dream a reality!
If you'd prefer to make a
tax-deductible donation, 
checks can be made payable to
Grande Sports World Foundation
and mailed directly to:
Francisco Grande / Barça Academy
Att: Accounting Dept/GSW Foundation
12684 W Gila Bend Highway
Casa Grande AZ 85193 
Please include a note that the donation is to be earmarked for Djibril Doumbia's tuition
. No amount is too small! Donations to the Foundation will be added to the GoFundMe total so the total of this campaign reflects all fundraising.
The link below is to a letter from the Barca Academy soliciting sponsorship for Djibril. We'd be so grateful if you could pass this on to anyone you know who might have the means and interest in helping a kid realize this kind of life-changing dream. 
https://drive.google.com/file/d/0B2Che4Y6CQI1YlBsZ1VoczFEUmxRcFZ5by15bFpTRTl0VUI0/view?usp=sharing
In gratitude,
Katrina and Djibril
*********************************************************
More info:
Djibril's highlight video from his 20-0 championship Boulder High season last fall: 
http://www.hudl.com/v/23jkW2
More info on the Barca Academy:
http://www.barcaacademy.com/academy/
https://view.flipdocs.com/html5/?id=10021769_698620&P=0#0
http://goalnation.com/fc-barcelonas-official-usa-soccer-residency-academy/
More info on the Grande Sports World Foundation:
​​Grande Sports World Foundation awards scholarships to talented, deserving and passionate student-athletes who share the core values of honesty, integrity, respect, commitment, discipline, teamwork and sportsmanship.
Grande Sports World Foundation's scholarships assist these elite student-athletes in maximizing their abilities and achieving their full athletic, academic and personal potential, thereby earning college scholarships.
+ Read More