Dayna's Breast Cancer Angels
$34,523
of $90,854 goal
Raised by
148
people in 40 months
Know your body and trust yourself!
In May of 2013, I had my annual mammogram which came back suspicious.  The radiologist conducted additional diagnostic testing concluding that it was nothing and I need not return for a year.  By early November, the mass was the size of a twinkie and I was without health insurance.
Thanks to the tireless efforts of a nurse practioner from Planned Parenthood, diagnostic testing was provided that concluded I had stage 3, invasive lobular carcinoma of the breast.  Or, as my breast surgeon likes to say, "The tricky form of breast cancer."
Planned Parenthood only covered me through diagnosis so they put me in touch with a non-profit that generously assisted me in getting treatment started.  Sadly, Obama care wasn't yet available and at the rate my tumor was growing I couldn't wait.
So I forged ahead with 16 chemo treatments ($6000 each), 4 Nuelasta  injections ($10,000 each), a double mastectomy and six and half weeks of radiation.  A very expensive venture indeed!  
The true cost of cancer is more than the medical treatments. It's the loss of income from being unable to work.  Or, the complimentary therapies that repair the never ending damage chemo left in its wake.
My journey is not yet complete as I have a minimum of two surgies left in my battle against this nasty disease. The next surgery is a 10 hour procedure with 2 days in ICU is scheduled for January 7th.
My family and I could use your support.  Whatever funds are raised here, will be used to pay off the debt we've acquired.  
Hopefully, you will become one of my cancer angels by perhaps making a donation but just as importantly by sharing my story with all the women you know and men who have women they love.  It has inspired several women to get mammograms and increases my karmic circle of love and prayer.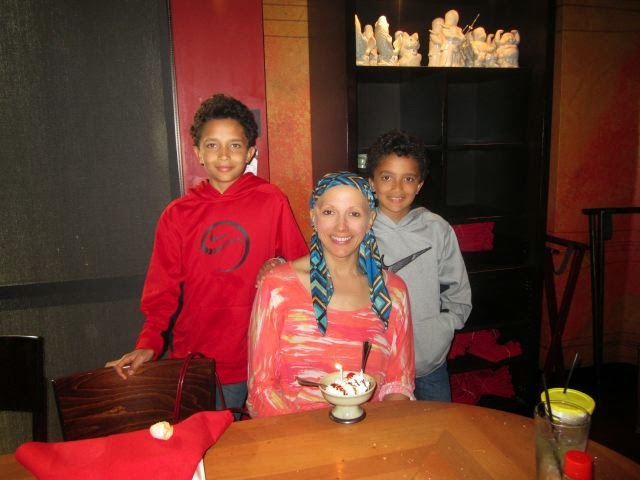 + Read More