Caring For Krystal
$6,981
of $20,000 goal
Raised by
86
people in 5 months
Hey y'all. If you don't know her, we want you to meet  Krystal. She is an amazing friend, mom, and children's health advocate who needs our help.  For years, Krystal has worked tirelessly for the health and safety of children in Texas and across the US. Now, her own health problems make it impossible for her to work, and we are raising money to help cover Krystal's expenses.  If you can't give right now please help us spread the word by sharing her story!
Krystal has to have brain surgery in the next two months to remove a cyst in her brain that is causing memory, speech, balance, and coordination problems. She is consulting with doctors about a path forward, but remains unable to work or care for her family due to the effects of the cyst. Although doctors do not know what has caused this cyst, it may be linked to her exposure to pollution from a nearby concrete and asphalt factory – which was what led her to become such a fierce advocate for her son's health.
After moving next door to an industrial concrete and asphalt plant over four years ago Krystal began to observe dust and dirt coating her home, yard and car. It fell from the sky "like snow," she says. Shortly after moving into this home, Krystal's young son developed mucus plugs in his lungs and she sought treatment and answers for her son's breathing difficulties. All the while she was cleaning her dusty and dirty house on a daily basis – but the dust continued to coat their home every day. Looking back now, Krystal wonders if she "took a bullet for my son." During this time, she began to get headaches and bloody noses.
Here is a picture Krystal took of the fly ash coating her car:
Unable to get any relevant information from the concrete plant or the Texas Commission on Environmental Quality, Krystal began to do her own research about Portland cement and fly ash, what she had been exposed to, and researched about another town in Texas, Midlothian, called the "Cement Capitol of Texas,. Middleton is a community which has been concerned about the high rates of cancer, respiratory disease and birth defects. She learned that industrial plants like these are responsible for some of the worst pollution in Texas as their high-temperature kilns pump out millions of pounds of toxic pollutants such as arsenic, cadmium, benzeine and dioxins each year. The pollution includes particulate matter, sulfphur dioxide, and nitrogen oxides, producing continuous visible clouds.
This is a picture of Krystal (left) testifying to the EPA with an X-Ray of her sons lung less than 48 hours after being released from the hospital battling her own health issues:
Shocked by what she was learning, Krystal moved her family away from the plant and dedicated herself to protecting other families by shedding light on the impact of these industrial facilities. For the past four years she has been an effective advocate for children's health, testifying before federal, state and local decision  makers and testifying before the US Environmental Protection Agency (EPA) in Washington, DC.
Krystal and her son Tanner pictured here with former EPA Administrator Gina McGarthy:
More about Krystal….
Krystal spent years speaking to every neighbor and elected official who would listen about her son Tanner and the health of Texas' children. But, she never talked about her own health struggles. After a series of health problems including blood clots, nasal growths that had to be surgically removed, and nerve problems, doctors found a cyst in the center of her brain. Please help alleviate the significant financial burden this is placing on Krystal and her family and help support an amazing environmental health advocate and dear friend.
We're helping raise money for Krystal as she has outstanding medical bills in excess of $20,000 that have been piling up during her medical crisis over the last several months. Not all of Krystal's medical care has been covered by insurance. She will be undergoing brain surgery to remove a symptomatic cyst in her brain that was only discovered by doctors after she was undergoing severe neurological impairments. Her surgery will likely be scheduled within the next few days or weeks. Any help that you can provide will go along way in helping her and her family during this difficult time. Her son is currently in the care of a relative while Krystal is going through this very difficult time.
In the last year alone, she's experienced so much. Here are only a few of the things she's dealt with:
July 2017
A blood clot was found as pain drove her to the emergency room. Two days later, she flew to Washington, D.C. to testify before the U.S. EPA, showing them images of her son's vulnerable lungs.
September 2017
She was hospitalized with medical complications from a medication she was on for the unresolved clots, which made her lose a lot of blood. She stayed in the hospital for days while they took her off the medication, stopped the bleeding and installed a filter in a major blood vessel to catch clots before they reached her brain, heart or lungs.
March 2018
After almost 2 years of sinus issues, she had 2 growths in her nose removed. Her doctor told her that often those kinds of growths are associated with industrial toxic chemical exposure or specifically hexavalent chromium exposure. Krystal knew there had been hexavalent chromium in the fly ash she had be exposed to.
June 2018
She visited a neurologist because she was experiencing numbness and tingling in her hands and legs. Nerve testing was done, and the doctor found that 7 of the 8 of the nerves in her legs were damaged. Tingling started within a few months after cleaning up the spill and it has gotten progressively worse.
After she developed a treatment plan with her physicians, she landed back in the hospital with worsening symptoms and has since discovered that she now has a symptomatic cyst in the center of her brain that is now affecting her motor and cognitive skills.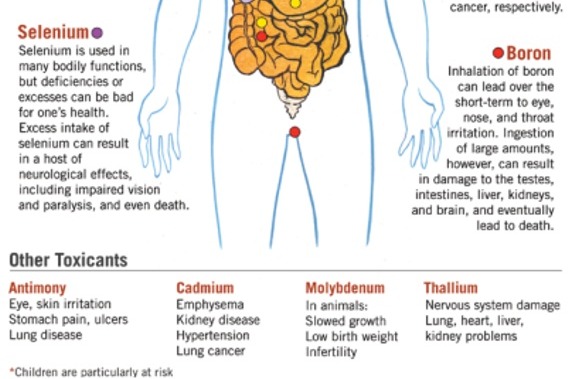 Listen to Krystal share her story back in November 2014: 
In Krystal's own words from a June Facebook post:
"Saw a neurologist yesterday for the first time, and he ran two initial nerve conduction studies on my legs…He said not normal for a 35-year-old and he needs to run more tests. 7 out of the 8 sensory nerves have been severely damaged and I've lost most sensation in my lower legs- damage to both axons and myelin sheath in right and left legs. 2 additional mixed sensory and motor nerves are damaged in both legs.They're needing to run more tests: nerve conduction for my arms, bloodwork for heavy metals exposure, MRI on brain, send me to a specialist in either neurotoxicology or enviro toxicology, and some sort of scan…I'm scared.I should've had this test run when I started getting these symptoms in early 2014 and I told the General practice doctor I was seeing at the time that I was feeling numbness and tingling, just after cleaning up the spill. It's progressively gotten worse over time. I finally went to my GP doctor about it last week after I had an episode for about a week where I was extremely dizzy and was falling over, couldn't stand up straight. Looked up causes of yesterday's test- could be alcoholism, HIV, autoimmune, chemo, etc..... or drumroll...industrial toxic exposures (i.e. neurotoxins). Mercury, lead, thallium, and arsenic are just some of the heavy metals known to be in the industrial chemical sediment the Texas Commission on Environmental Quality told me to clean on my property, without them even knowing what it was themselves. Some of these are known neurotoxins. And the entire community was left to fend for themselves.I'm trying to stay strong. I'm just worried what more could come next. First the initial problems came in 2013 when I cleaned up the chemical spill (2 molars shattered and were removed, bloody noses, fever, headache, bronchitis, ear drum ruptured), then all these recent problems…My Hematologist ran the gambit of autoimmune bloodwork, nothing blood related autoimmune showed up... now this. I had to step down from working in February because of all this.I vividly remember helplessly bawling while cleaning [that chemical spill] from all over our cars, house windows and outside belongings... not knowing what it was or what it might do to me. But I knew I had to protect Tanner, then 4 years old, from it. To this day, it still makes me cry."
+ Read More