Crescent Moon Spirits Distillery
$1,125
of $250,000 goal
Raised by
19
people in 23 months
My dream is to own and operate a micro distillery specializing in hand-crafted flavored spirits. We intend to use local Wisconsin grown grains, fruits, honey, maple syrup and supplies. This will allow us to have a personal relationship with our suppliers as well as support other local businesses such as farmers in the communities surrounding areas.
Crescent Moon Spirits Distillery
      I don't have a fancy story of backwoods distilling or moon shining. Crescent Moons Spirits Small Craft Distillery will be a distillery that tailors to consumers of flavored spirits and vodkas and future whiskey. It has taken many many years of hard work, research and classes on distilling to get where I am today. It all started with a small dream and quickly grew into a passion of mine to open my own distillery. The journey has not been an easy one, but all the time that I have spent through trial and error and experimentation has finally paid off and I have loved every minute of it. I have come up with and mastered many unique flavors that will be available at Crescent Moon Spirits Small Craft Distillery that includes flavored spirits not like anything else on the market today. Our flavored spirits are steeped with herbs and spices for months to achieve the character and flavor needed before bottling. We are a small craft distillery, but don't let that fool you, once you taste our products you will be coming back for more.
      I have purchased property at 1890 Donbea St. in Green Bay, Wisconsin and allows plenty of room for expansion. The property is conveniently located along a major thoroughfare and hiways.
     With your generous donation to help with the building, you'll get a token of our appreciation and an opportunity to show your pride in Crescent Moon Spirits Distillery gear!
      On behalf of all those working hard to make Crescent Moon Spirits Distillery a reality, I thank you for your generous donations! Rewards from donations will be sent when the goal is reached.
Thank you,
Eric Boesen
Rewards Below:


Interested in more than 1 reward? Mix and match any rewards you would like. Donate the total to Crescent Moon Spirits Distillery and send email to Eric@crescentmoonspirits.com to let me know which items you would like. You will get exactly the items you want/pledge. 

1.5 oz. Black Ceramic Shot Glass $10.00 Reward (shipping included)
Hot & Cold Skinny Tumbler 15 oz. $25.00 Reward (shipping included)


Stainless Mason Jar 24oz. $25.00 Reward (shipping included)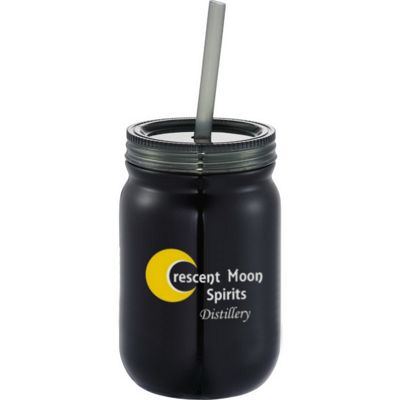 Hats available in 2 colors Back&Yellow or Grey&Black $25.00 Reward (shipping included)

T-Shirts Available in 2 colors Black or Grey w/logo $25.00 Reward (shipping included)
Sweatshirts available in 2 colors Black&Yellow or Grey&Black w/logo $75.00 Reward (shipping included)
Your name or company name on our wall in our distillery with a 6X6 ceramic tile! $100.00 Reward.
+ Read More
Be the first to leave a comment on this campaign.