Cade Cranford Fund
$13,470
of $20k goal
Raised by
154
people in 35 months
This site was created to help an amazing family and most importantly a sweet baby boy. Cade will be ONE April 26, 2014. He is one cute little man, who loves to smile. His parents had to receive devastating news, no parent wants to hear. Please consider donating to help Cade receive his treatments, airfare, hotel, and any else they may need for this journey. Let's continue to pray for Cade and the family.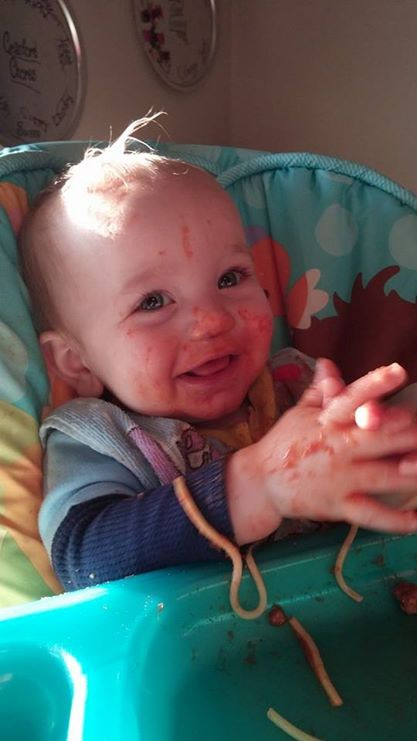 Jeremiah 29:11 - "For I know the plans I have for you," declares the LORD, "plans to prosper you and not to harm you, plans to give you hope and a future.
From the words of Cade's father Scott - who is a hard worker, dedicated, and passionate for his family and everything he does.
"Here goes...To all my friends and family. I cannot begin to explain the emotions that my wife and I have felt over the past few days. Our family is devastated and we are doing everything to be positive and stay strong for our little man.
Over that past month or less we had noticed a slight tracking problem or lazy eye effect with Cade's left eye (my baby boy). He was due for his annual evaluation later this month as he turns 1 year old on 4/26/2014. Instead we took him early to the Pediatrician's office on last Friday. The Pediatrician recommended a local Ophthalmologist for immediate follow up on Monday.
From there, my World turned upside down when the Ophthalmologist called me direct at work as my wife was too distraught to call. The Doctor told me that my son, Cade, had a malignant tumor in both eyes and that I needed to come to the office immediately to be with may wife and that he would explain the condition further. As you could imagine, I broke down immediately; Andy Nimmo helped me through this, told me to drop everything, and took me to the office which was located near 26th and Maiden Lane in Joplin.
The doctor diagnosed Cade with what he believed was Retinoblastoma, eye cancer. He noticed large tumors actually inside the eyeball noticeable by looking through the pupil with a light. He did not know what affect there was on the vision. He did tell us that 10 years ago that this condition was 100% fatal; THAT DID NOT HELP! He went on to explain that from what he has read, this possible condition for Cade has had significant recent advancements in the United States. Up to 90-95% of the occurrences are curable. He went onto explain that many times they have to take one or both eyes, leaving the child blind. WE ARE A MESS AT THIS TIME.
Dr. E.L. Jordan then referred us to a specialist at Children's Mercy KC were we had an appointment the next day on Tuesday morning. This specialist confirmed the diagnosis and said that there was no other physician she would trust as much as Dr. David Abramson out of Memorial Sloan-Kettering in New York; a physician with breakthrough therapies in the field of Retinoblastoma.
We had just left the appointment at Children's Mercy expecting to wait for a call later in the week as to when we would possibly be going to New York when we received an expedient call asking for us to return and meet with a social worker. The worker had already scheduled Cade into the clinic in NY at 1330 hours today and she handed us to airline ticket vouchers for Jessica and I. A myriad of phone calls and coordination happened within a short few hours.
To this point, Jessica and I were terrified of what Cade was going, is going to have to go through. With little more than a couple hundred dollars in the bank; we had no idea how we were going to do any of this for Cade.
And then Kevin Theilen and Adam Grimes called with a notice that the Joplin Firefighter's Union Local 2618 was going to donate funding to help with initial expenses. Andy Nimmo then called and the Joplin Chapter of the Fraternal Order of Police donated funding for initial costs. I FELL TO MY KNEES and thank the good LORD for everything. It is truly my life's honor to work amongst everyone of you whom are my friends and extended family both far and near. Fire or Police Service; no matter.
Thank you to all of MY CHURCH FAMILY and BISHOP for all you sacrifice in time and service
I have never cried so much in my life than the last few days. Hopes, dreams, my baby boy; will he make it though this. Will he keep his eyes. What will be his vision. What will be his quality of life. One miracle at a time.
So we drove back to Joplin Tuesday, packed up everything, placed our six other children with Grandma's and friends. We left back to KC and arrived there at 0130 hours, got 2 hours rest, and left for Kansas City International Airport. We flew out on Southwest Airlines at 0550 hours and arrived in New York LaGuardia at 1055 hours. An FDNY van was waiting for us; I BROKE DOWN AGAIN. They took us straight to Memorial Sloan Kettering.
We checked into finance, filled paperwork out and proceeded to the appointment.
They dilated Cade's eyes with drops. Waited 15 minutes. Gave him a breathing tx to help clear up runny nose. Waited 15 minutes. Then we took him back to put him into Anesthesia so they could perform several tests. They made us leave. Shortly thereafter, Dr. Abramson came out to consult what he had seen so far.
He started the consult with..."If this had been your first child, it would have been most likely fatal". Explaining the advancement of treatments. Next he said, "50% of the children of the world who were diagnosed with Retinoblastoma in 2013 died as a result of the disease." BROKE DOWN AGAIN. Then he followed up with, fortunately, in the U.S., a great deal of Retinoblastoma cases are 90-95% curable. He told us that an option commonly used was "Enucleation" (removal of the eye), sometimes both eyes. OUR HEARTS SANK.
He then went onto say that He was POSITIVE he could save my sons life, CONFIDENT he could save his eyes, slightly unsure on the left eye but confident, and that he was CONFIDENT that his vision which is very POOR NOW, could be mostly restored depending on the treatments.
Treatments: Cryo or freezing is for smaller tumors along with laser, radiation was the past common treatment but had varying side effects with cell development and therefore caused other cancers to occur later in life. Wide-spread chemo shrinks the tumor but many times it comes back after treatments stop. So the doctor decided on
http://youtu.be/45US3AoFwFk
.
This is a dangerous and invasive technique but very effective. Cade will need a minimum of 3 and up to 10 treatments on a 4-week period between treatments; that's that many trips to New York. Our cost outlay and expenses , personal expenses will be tremendous to say the least. Insurance pays 80% of treatment. Travel fees, food and lodging are unknown at this time. Without this aggressive therapy, they would probably take one or both eyes for sure due to tumor size and the radiation would put him at great risk for future cancer. He has to get an MRI to confirm no spread. Doctor is confident it has not spread from what he has seen so far. The rest of the family also, has to get screened with exams.
It is now 2211 hours in New York, Cade and Mommy are sleeping.
We go in at 0630 hours for Cade's first treatment series. I'm Frightened, elated, hopeful, and strong for him and mommy now!.
I have nothing but love for each and everyone of you, I and deeply thank you for your friendship and support. It means the so much more than you will ever know; you are each unique amongst SAINTS.
I will continue to keep you updated throughout this journey."
I will keep this updated as much as possible through Cade's journey. We love you sweet baby Cade! You got this!!
+ Read More