The Young Men's Health Forum
$2,425
of $4,000 goal
Raised by
14
people in 50 months
www.convictiongroup.org.au




Conviction Group Team 
- Marco Capobianco 
- Chris Lee
- Justin Faehrmann 

Conviction Group is a non for profit organisation aiming to encourage young men and young women to re-evaluate their perspectives on social issues affecting them and empower enhanced decision-making.A Captivated Audience and Highly Publicised Issues
Targeting some of the most confronting social issues of their time, young male students will come together, from a range of schools, to learn, discuss and be empowered for better decision making. These students, supported by their school, key teachers and principals will hear from some of Australia's highest profile speakers who will share their stories and perspectives. This Forum was sold out in less than two weeks, reflecting the demand for public discussion and a community response to tackle these issues.
The Young Men's Health Forum
We are hosting a FREE forum for 300 year 10 boys from 16 different high schools in the Western / North Sydney region  on June 12th at the Parramatta RSL. The forum targets 4 main issues:
- Alcohol Fuelled Violence
- Body Image 
- Mental Health and Drugs 
- Leadership



The Young Men's Health Forum - BROCHURE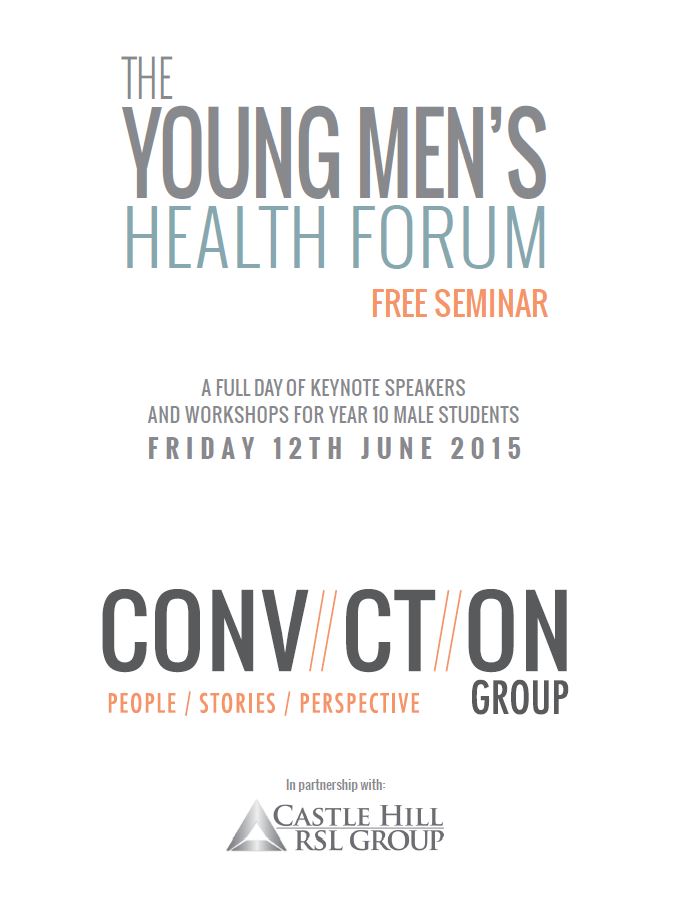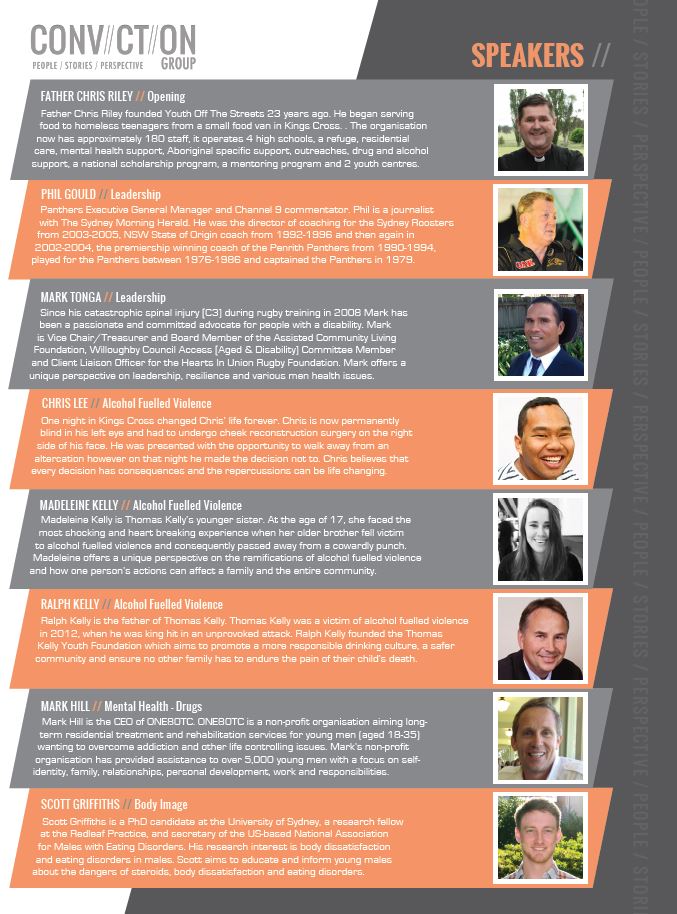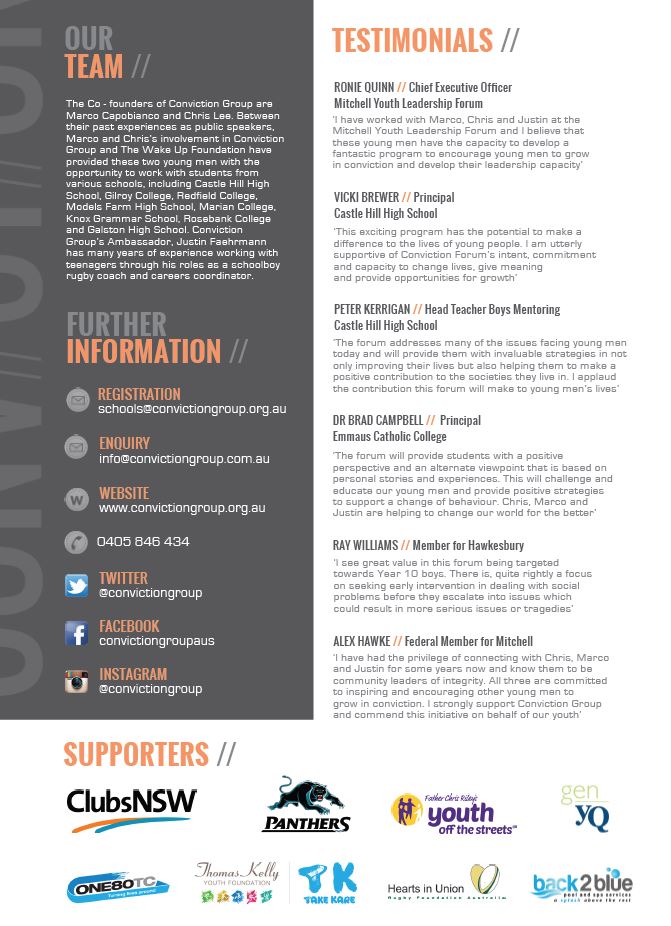 Objective 
Our objective is to provide students with keynote speakers possess real stories and unique perspectives on the various issues concerning young men's health.
Each keynote speaker has a perspective, which has
been drawn from first hand experiences. Following
each speaker, small group sessions will be used
to reinforce key principles, stimulate discussion
between students and provide students with the
practical tools to deal with these issues.
Speakers
FATHER CHRIS RILEY // Opening
Father Chris Riley founded Youth Off The Streets 23 years ago. He began serving food to homeless teenagers from a small food van in Kings Cross. The organisation now has approximately 180 staff, it operates 4 high schools, a refuge, residential care, mental health support, Aboriginal specific support, outreaches, drug and alcohol support, a national scholarship program, a mentoring program and 2 youth centres.
PHIL GOULD // Leadership
Panthers Executive General Manager and Channel 9 commentator. Phil is a journalist with The Sydney Morning Herald. He was the director of coaching for the Sydney Roosters from 2003-2005, NSW State of Origin coach from 1992-1996 and then again in 2002-2004, the premiership winning coach of the Penrith Panthers from 1990-1994, played for the Panthers between 1976-1986 and captained the Panthers in 1979.
MARK TONGA // Leadership
Since his catastrophic spinal injury [C3] during rugby training in 2008 Mark has been a passionate and committed advocate for people with a disability. Mark
is Vice Chair/Treasurer and Board Member of the Assisted Community Living Foundation, Willoughby Council Access [Aged & Disability] Committee Member
and Client Liaison 0fficer for the Hearts In Union Rugby Foundation. Mark offers a unique perspective on leadership, resilience and various men health issues.
CHRIS LEE // Alcohol Fuelled Violence
One night in Kings Cross changed Chris' life forever. Chris is now permanently blind in his left eye and had to undergo cheek reconstruction surgery on the right side of his face. He was presented with the opportunity to walk away from an altercation however on that night he made the decision not to. Chris believes that every decision has consequences and the repercussions can be life changing.
MADELEINE KELLY // Alcohol Fuelled Violence
Madeleine Kelly is Thomas Kelly's younger sister. At the age of 17, she faced the most shocking and heart breaking experience when her older brother fell victim to alcohol fuelled violence and consequently passed away from a cowardly punch. Madeleine offers a unique perspective on the ramifications of alcohol fuelled violence and how one person's actions can affect a family and the entire community.
RALPH KELLY // Alcohol Fuelled Violence
Ralph Kelly is the father of Thomas Kelly. Thomas Kelly was a victim of alcohol fuelled violence in 2012, when he was king hit in an unprovoked attack. Ralph Kelly founded the Thomas Kelly Youth Foundation which aims to promote a more responsible drinking culture, a safer community and ensure no other family has to endure the pain of their child's death.
MARK HILL // Mental Health - Drugs
Mark Hill is the CEO of ONE80TC. ONE80TC is a non-profit organisation aiming long term residential treatment and rehabilitation services for young men (aged 18-35) wanting to overcome addiction and other life controlling issues. Mark's non-profit organisation has provided assistance to over 5,000 young men with a focus on self-identity, family, relationships, personal development, work and responsibilities.
SCOTT GRIFFITHS // Body Image
Scott Griffiths is a PhD candidate at the University of Sydney, a research fellow at the Redleaf Practice, and secretary of the US-based National Association for Males with Eating Disorders. His research interest is body dissatisfaction and eating disorders in males. Scott aims to educate and inform young males about the dangers of steroids, body dissatisfaction and eating disorders.
HELP US MAKE A DIFFERENCE and DONATE
+ Read More
Be the first to leave a comment on this campaign.