Greetings and salutations. I have come forth at the mercy of the internet for my dear cat Silky. Silky Panther is one of five of a litter of a stray cat I rescued in 2007. At the time I didn't know the stray was pregnant until roughly 4 weeks after I took her in. October 19th at 11:29am, Silky and his two brothers and two sisters entered my world and I was changed forever. I didn't plan this, I didn't expect this, and suddenly I went from one cat to six. I loved each and every one of them with all my being and I can still remember to this day how small Silky was when they were born, small enough to fit in the palm of my hand. Watching them all learn to walk and run and climb warms my heart with fond memories, and I can assure you the letter to the Humane Society about getting assistance to get them all spayed and neutered was a fun one. They have all been one big happy family until last Saturday, Silky and his brother Gentleman had been in odd places they normally don't retreat to, under beds, behind my dresser, normally they're sprawled out on my bed or the couch or my office chair. They allowed me to pet them but they didn't want to come out, thinking that they wanted time away from their siblings and mother I left them be. This past Saturday they both came out in unison and were trying to climb into my lap, climb into my lap, not jump, which I thought was odd. I lifted them both up and noticed their skin was yellow and the whites of their eyes were as well. I immediately ran online to check the symptoms and my fears were confirmed, they were suffering from Feline Jaundice. It was too late at night to see my vet and so I isolated them from the others in the event the jaundice was brough on my some kind of infectious disease. They've always been indoor cats so I was very perplexed by this all. I managed to be seen by my vet first thing in the morning on Monday and their condition was bad, but not irreversable. After a battery of tests it was confirmed that they both had Fatty Liver Disease.

The below picture of Silky (Left) and Gentleman (right) on the night I realized something was amiss. ('Fraidy seen in the background)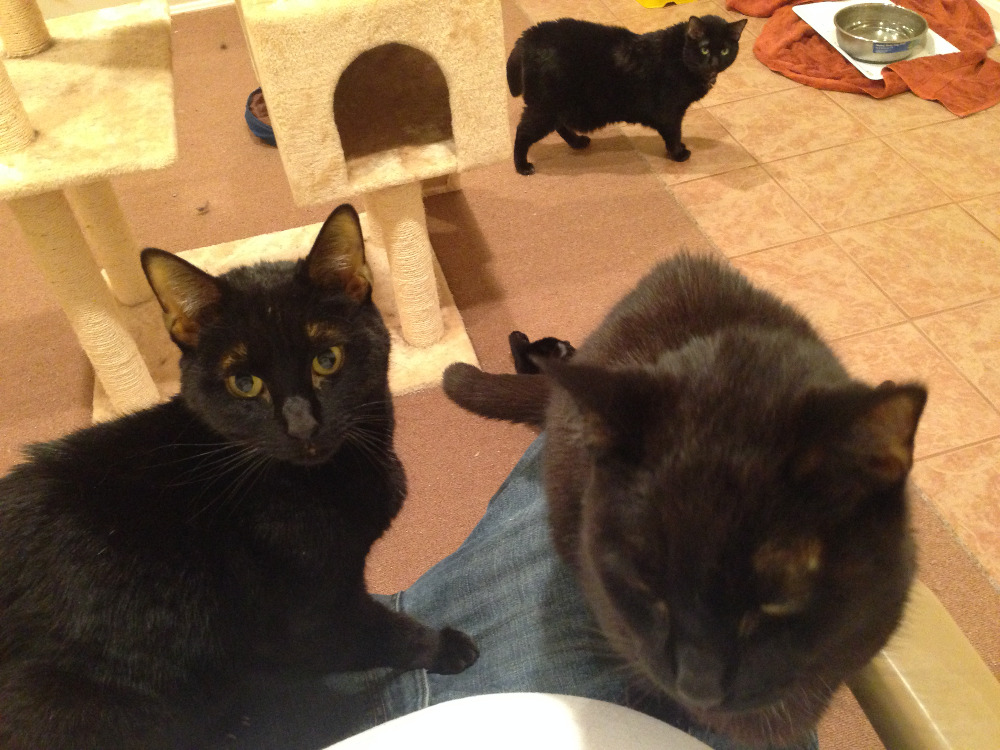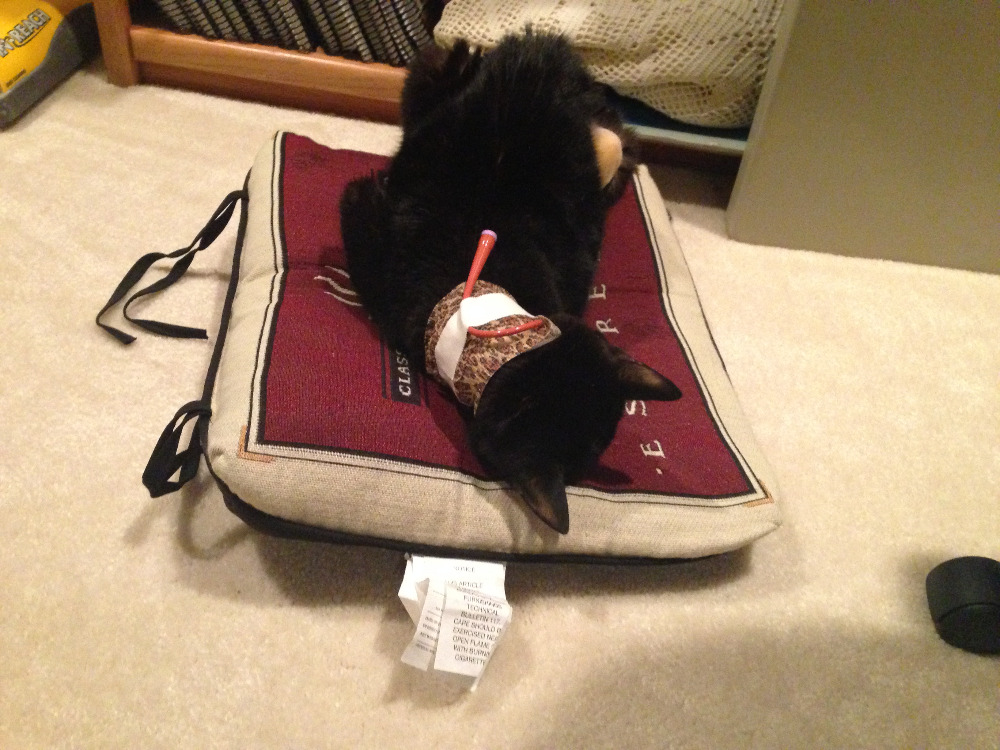 The above picture is Silky after he had his feeding tube installed and spent the first night home. The spot on his left side was shave so an ultrasound could be performed.

http://en.wikipedia.org/wiki/Fatty_liver

Based on the progression of their condition and the levels of stress on their bodies the doctor could only surmise that they just simply stopped eating for whatever reason. Gentleman has responded to high calorie food and intravenous fluids, but Silky has not been so lucky. He had no interest in food and an esophageal feeding tube had to be implanted in him so they could feed him a liquid diet in addition to his intravenous fluids. He has managed to keep it down but he has become anemic and was transferred to a 24 Hour Care facility in the next town over from me. The doctor over seeing him, said the situation was dire but not lost. He needed a blood transfusion for the anemia and the treatment of his liver needed to be far more aggressive. This is where we stand right now.
Had I still been working my previous management jobs in the past this expense would have been a non-issue, but in 2012 I made the decision to return to higher education and I had to downsize and I couldn't juggle a full time 40+ hour job and still go to school. Between balancing living expenses and expenses for class it has left me with little extra money for emergencies such as this. Just to help cover cover the expenses of Gentleman and Silky at the local vet for Monday I had sign up for a program called "Care Credit" and much to my dismay I was only approved for a line of $1700. After transferring Silky to the 24 Hour Care center and a much heated conversation with the operator I was able to get approved for another line of $1800. That's $3500 that has already been spent and gone in a single day. It will take me 4 years to pay that off in my current living situation and just to hospitalize Silky for 3 days if he continues to respond to treatment the way he has in the baby steps way he has, it will be at least $6000. If he were to stay for the full battery of treatments and time recommended by the doctor of 6 days it will be at least $12000.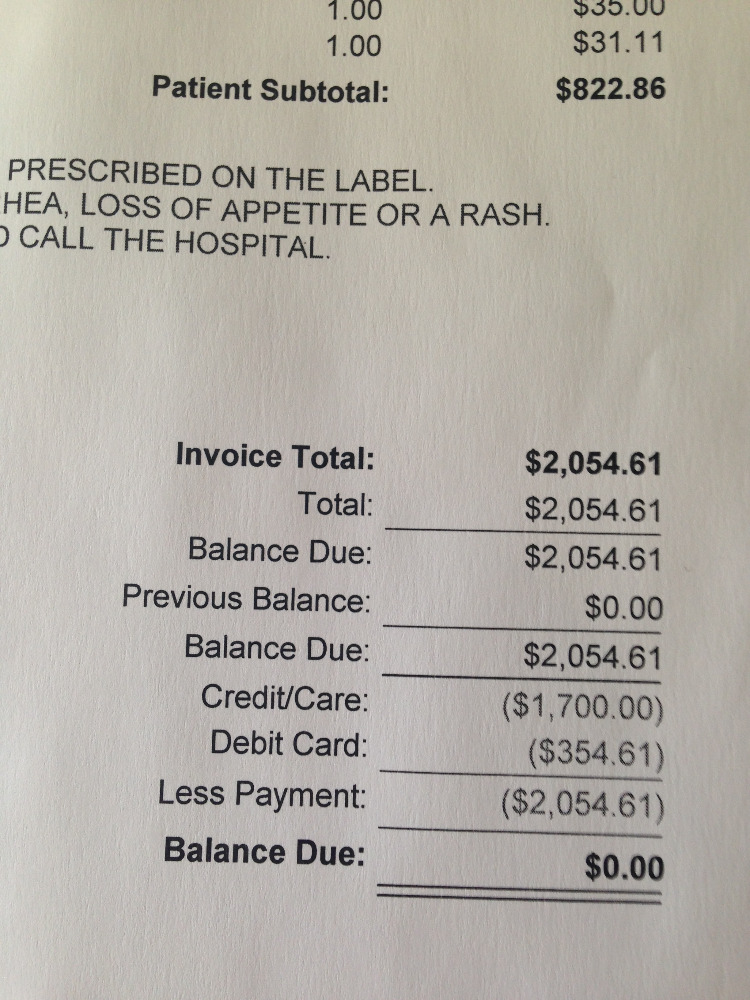 This is where I need your help, ALL of your help. I know it is a lot to ask for but this is my cat that I have know literally since the day he was born. If I can't do all that I can do to help him through this I will not be able to live with myself. Give what you can, tell two friends, share this on every social media platform you can, Reddit, Tumblr, Twitter, Facebook. PLEASE, I humbly beg for your help, any and all help, big or small. These cats, Cortana, 'Fraidy Panther, Noisy Panther, Littlest Panther, Gentleman Panther, and Silky Panther, for all intense and purposes are my children. The family misses their brother and I miss my "son." Please help bring him home in the fullest of health.