HOUSE THE MOONROSE
$43,945
of $86,000 goal
Raised by
66
people in 71 months
This is much more than an invitation to help a middle aged couple get their house back. Our home was a community learning center and sanctuary before it burned. We held gardening and cooking workshops, spiritual retreats, and celebratory gatherings, and we would like to be able to do so once again. The house that burned was an old-fashioned Tennessee shack; the rebuild is being designed according to Permaculture principles. We have many offers of volunteer labor, but there will certainly be costs for materials and specialties like wiring and plumbing.
(Just so you, we have been working on this page for 3 months before we publicized it. So folks started contributing on this site Nov. 24th 2013
. Within a week of the fire back in April, folks began donating funds that have helped us get this far.
)
Since we are still in the process of thinking through design and options, we don't know what the cost will be. Because the old house was constructed before there were building codes, we were unable to buy fire insurance. Banks have told us our property is "unmortgageable," and since our income level is low, we probably couldn't afford a mortgage anyway.
before the fire and demolition
This is a view of the house from the East side. South is on your left. Notice the complete lack of solar orientation.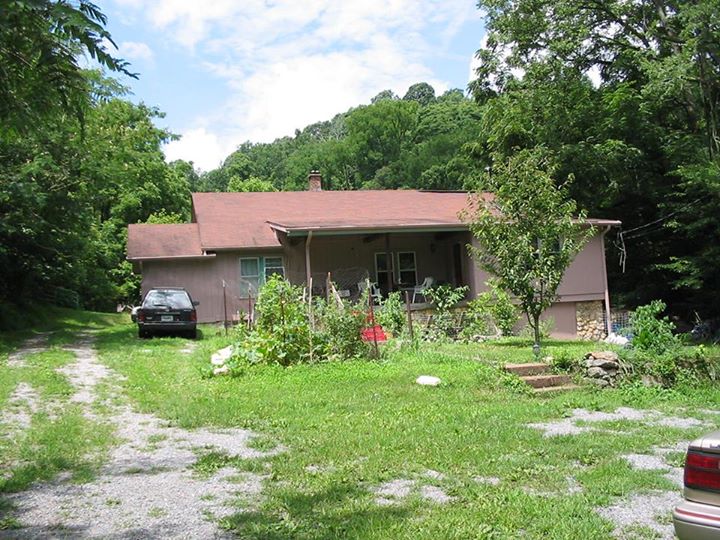 AFTER THE FIRE AND DEMOLITION
The remaining portion, on the right in the picture below, was the "great room" where we had many events. We had hoped to save the floor and foundation of the old part of the house, but when we exposed them, we found that the floor joists were rotten and the foundation was falling apart. We would like to rebuild this structure so that it catches sunshine!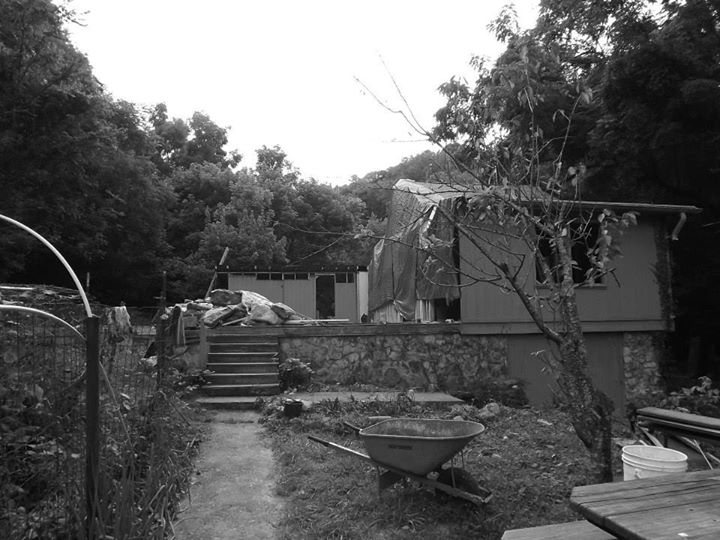 An idea of the rebuild. The yellow and maroon striped thing represents the garage doors visible to the right on the above two photographs. The brown-grey-yellow represents the stone veneer visible in the above photograph.There will be a about 20x17 sunlit studio space added to the existing remaining structure. This "sunlit studio/classroom space" doesn't take all the space up over the main floor, allowing room for the roof top garden to surround this space on three sides.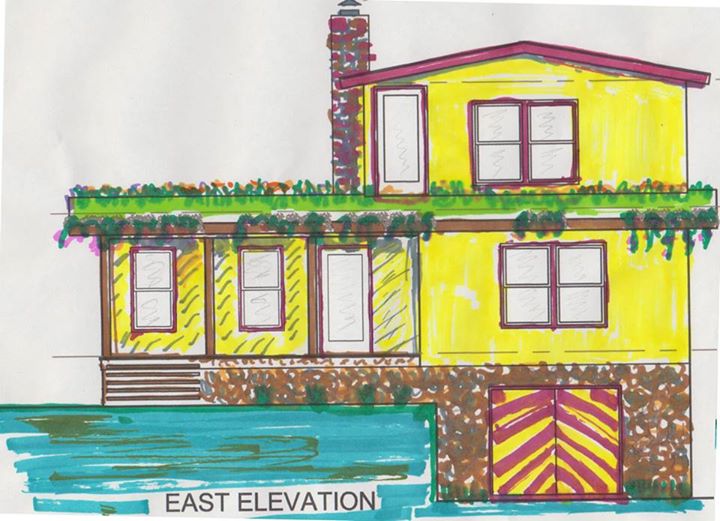 Enhanced photo showing 2nd fire before dawn.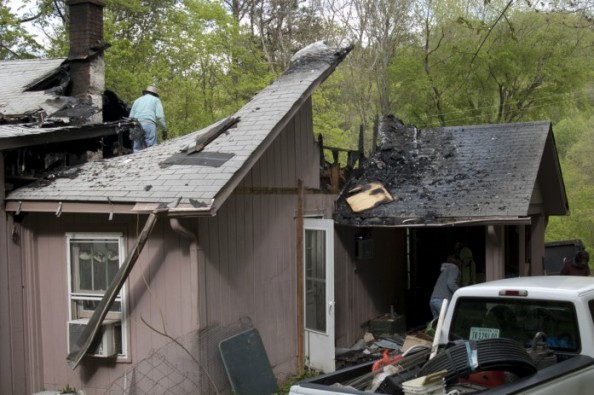 The fire department came out to our house 3 times: Monday morning April 15th about 6 am, Tuesday night about 11 pm, and Wednesday morning about 3 a.m.
Cindy writes:
At about 4 AM on the morning of April 15th, I was awakened by the smell of smoke, which isn't unusual since we heat our home with wood. I thought my husband was starting a fire with newspaper. I went down to check on the fire a little later and found he hadn't started a fire, and the wood stove was cold! We hadn't had a fire for 5 days or more. I called the fire department and they looked around and checked around with an infrared meter. The fire fighter with the meter said that the chimney was a little warm, but that the temperatures were far below flame temperature. They said they smelled organic odors. For the previous 5 days I had been smelling some dead animal in the house, then a dead animal plus a charring smell. I looked all over and was very upset about this smell and being unable to locate its origin.
Tuesday night about 9 pm, I thought I smelled someone burning trash. I could see no smoke or flame. Then about 11 pm, my husband saw smoke coming down through light fixtures in a converted attic room. The fire department came and put the fire out, leaving the house and our possessions soggy but largely intact. The electric company came within 15 minutes of the fire department leaving and disconnected the electricity from the house.
My husband and I found some dry bedding and loaded our pickup truck and headed uphill to a small farm building further back on our property. I was nearly asleep when I heard a twig snap, then another, then another. Then a lot of popping occurred as if a herd of animals was stomping sticks in the woods. I jumped up and looked around and saw 30 foot flames shooting from the roof of our house! It was unbelievable! I thought I was having a nightmare! We had already had a house fire once this night and the fire department came and put it out! WHY am I seeing flames again, far worse than before!!!???
My husband found my cell phone and called the fire department. The fire had rekindled. This 2nd fire did so much damage that most of our house had to be torn down. Water from fire hoses damaged the unburned portions of the house so that almost all the insulation and drywall had to be removed. The house needs to be rebuilt almost from scratch.
What caused the fire? Since we did not have fire insurance, the fire marshal did not give an official report. I have my theory. My evidence
is days of smelling a rotten animal and then smelling rotten animal and char. I know the some electric wiring was old, from the 1940's and not run through metal conduit. My theory is a squirrel bit the wire and died, but didn't trip the breaker. The carcass laid and rotted and oozed body fat onto into wood beneath. The combination of combustibles and electric current heated up enough to ignite and somehow there was enough of a draft to start a blaze.
The cause of the 2nd fire is a mystery, except that the fire department didn't get all embers extinguished.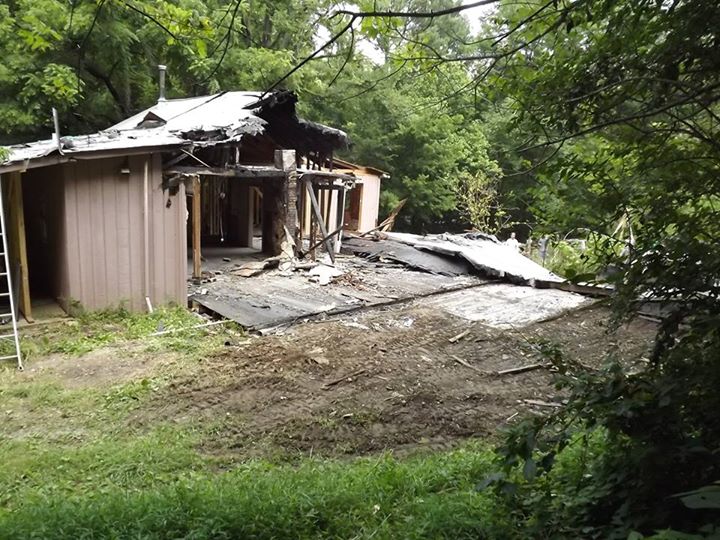 The above photo was taken after some of the demolition, but before the basement and crawlspace were exposed. The chimney is partially down.
My daughter visited before the initial cleanup, and took some hauntingly beautiful photographs.You can view these at
http://www.flickr.com/photos/lydia_comer/
These photos really tell the story of what it is like to be in a freshly burned home.
SEE THE UPDATES SECTION ON THIS CAMPAIGN FOR GOODIES WE ARE OFFERING AT CERTAIN DONATION LEVELS!
+ Read More