Hope Haven Childrens Home in Belize
$30,861
of $50,000 goal
Raised by
139
people in 18 months
Update: November 11, 2017
On November 4, 2017, donors and supporters gathered at the site of Hope Haven to attend a ribbon cutting ceremony for the official launch of the community center (SHINE Center on the ground floor).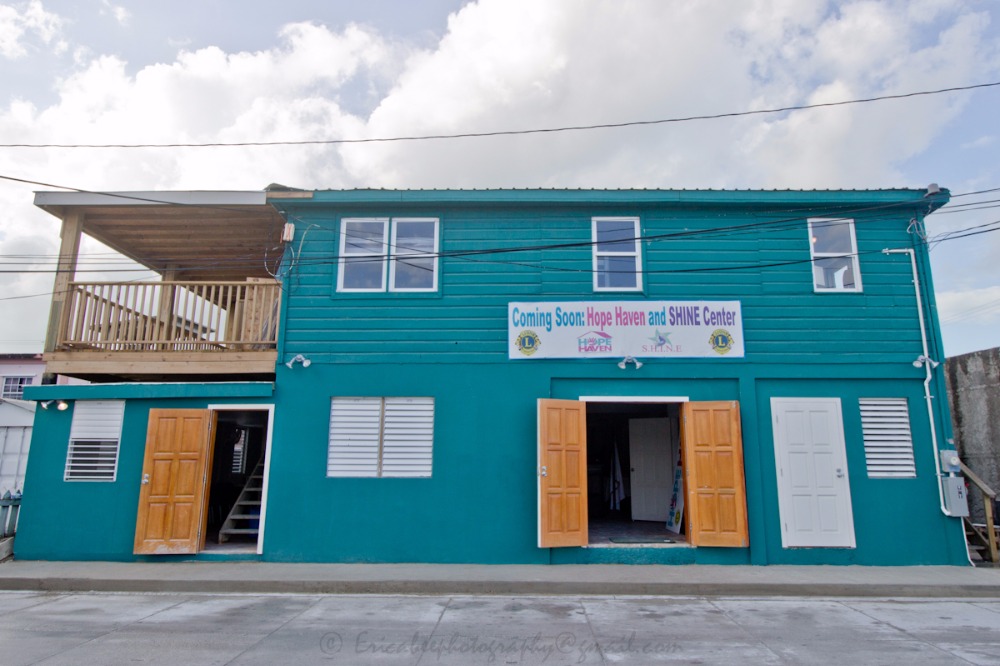 The SHINE Center is the new home for Colleen's Kitchen (San Pedro Food Bank), along with artisan craft days and the SHINE program. The SHINE Center will also provide children's play therapy, adult counseling services, and will host community events such as seminars and training programs.
The second floor is near completion, and will officially open its doors to serve as a children's home as soon as January. We are currently applying the finishing touches and require just a bit more to make sure that we pass our inspection by the Belize Department of Human Development.
We have just a few items left on our wishlist, and will require ongoing expenses to keep the home and community cenater operational.
We are very excited to have launched the SHINE Center with all of your support, so thank you very much!! We could not have done this without you!
If you find it in your hearts to help us achieve our final touches for Hope Haven, please feel free to share this page with your friends and family.
For a full list of what we still require to complete the center for inspection, please message us on our facebook page at
www.fb.me/raisemeupbelize
Again, we thank each and every one of your for your support, and would love to invite you for a tour of our facility. Please let us know when you're available so we can walk you through it! We love and appreciate you!
===============
Update: July 7, 2017
It is with a heavy heart that our board shares the news of the senseless death of a minor. 13-year old Faye Lin Cannon was found unresponsive, and was pronounced dead at the scene of the crime. A post-mortem later showed that she had been the victim of sexual and physical abuse. This was more-than-likely an ongoing situation.
WE NEED OUR SHELTER NOW. We need a safe haven for children on the island. We need counseling services. We need children's therapy. And we will have it soon. But how can we help protect children if there is nowhere for them to go?
We are working as fast as our funds allow us to, but building a shelter for the country comes at a cost. Your donations could help, and every single dollar that you donate will go towards the launch of Hope Haven, the island's first children's shelter. So now is the time to step up. If you've been thinking about donating money, materials, or time, please reach out to us.
Let's help prevent senseless deaths like this from happening in the future. We need you, and we need you now.
Please help.
**Please note as we can only withdraw go fund me into a US account we use Eric Beymer's account and he gives the money to us (without taking any fees)
=======================================
On the island of Ambergris Caye, Belize, host to nearly 25,000 residents, foster care services are desperately needed. This project,
Hope Haven
, will be the first children's home on the island, and we are currently raising funds for completion of the first phase of this project, which is the renovation and construction of the building that was generously donated by San Pedro Lions Club.
Won't you please consider making a donation to this cause? Every amount makes a difference. If a monetary donation is not possible for you, please read below on how you can volunteer your services and time.
To provide full transparency, and to reassure you that Raise Me Up is a reputable organization, we have released our financial report for 2016, which can be viewed or downloaded here: 
https://drive.google.com/file/d/0B3itWUZot6gXdlpkc3RiWWNlV00/view
Hope Haven is a joint venture between
Raise Me Up
 (NGO, Belize),
San Pedro Lions Club
 and
S.H.I.N.E.


The children's shelter will reside on the second story of the building, while the ground floor will offer community service, including emergency placement and outpatient counseling for domestic abuse victims, a food bank, mental health services, and play therapy and educational services for the fostered children. In addition, Hope Haven will house the SHINE Center, which will focus on the empowerment of at-risk youths.
Construction began officially in February of 2017, and the infrastructure and framing of the children's shelter (upstairs) has been completed!
Volunteers are always welcomed, and the building is available to view for progress from Monday through Saturday, 8am to 6pm. To volunteer, please send a message to Brittney via our
Facebook page
. 
Raise Me Up (RMU) is a registered NGO in Belize (2015), located in San Pedro Town on Ambergris Caye.  Originally a group who excelled at helping organize fundraisers and putting on events, the founders of RMU realized the need and the ability for a small non-profit to be formed that could efficiently and effectively meet needs in the community.
Raise Me Up board members:
Dee Regis, Kaitlin McWhorter, Brittney O'Daniel and Jodie Bowen.
SHINE board members:
Britney Travis and Michelle Nunez.
Hope Haven additional board members:
Melanie Paz, Flora Acona and Marlene Houghton.
Raise Me Up's other current projects include:
San Pedro Food Bank
: Offers weekly food distribution to (on average) of 40 families as well as plans to move to the shelter and offer a daily feeding program at several elementary schools for qualified students.
Literacy Program:
 20 volunteers are organized to give one-on-one tutoring, anywhere from 1-3 hours per student, for 60+ children with reading difficulties at Holy Cross Elementary School.
San Pedro Kids Club:
 With over 3,600 school aged children on the island and very little availability of after school programs, in October of 2016, SPKC began offering free sports, crafts and tutoring Mondays-Thursdays during the school term.
+ Read More
Say hello to my friends Laji Nunez Jr. and Sr.!
+ Read More