Chesty Puller House - Veterans
$33,619
of $100,000 goal
Raised by
304
people in 43 months
THE NEED:

Did you know that 22 veterans are committing suicide EVERY DAY in America?  

Lewis Burwell "Chesty" Puller was a United States Marine Corps lieutenant general and one of the most decorated members of the Marine Corps. Puller is the only Marine and one of two US servicemen to ever be awarded five Navy Crosses.

Some do not know that Chesty's Puller's son, Lewis Burwell Puller, Jr. (generally known as Lewis Puller), served as a Marine lieutenant in the Vietnam War. While serving with 2nd Battalion, 1st Marines (2/1), Lewis Jr. was severely wounded by a mine explosion, losing both legs and parts of his hands.

Chesty Puller broke down sobbing at seeing his son for the first time in the hospital.  

On May 11, 1994 Puller Jr. died due to a self-inflicted gunshot wound.  He was buried with full military honors at Arlington National Cemetery.  The Vietnam-wounded son of a WWII hero - Chesty, a man still revered today - his son killed himself.  We like to think that we have better support systems in place today, but the truth is, we have a long way to go.

Serious issues continue to this day - the bureaucracy within the VA and the backlog of injured vets contributes to the high number of servicemen and servicewomen who just cannot take it anymore.  

THE PLAN:

It just so happens that the current owners of Chesty Puller's house are selling it.  That's right - CHESTY'S HOUSE IS FOR SALE on a lovely 3.37 acres of Virginia greenery.

We want to make the Chesty Puller Home a place of refuge for those who are in need of help.

WHO WE ARE:

Our non-profit group, 3000+ strong USMC Family, is negotiating to purchase this house and make it a place for veterans to stay for short periods of time to get back on their feet.  We have spoken with the local realtor, zoning board, and have gotten clearance to make this a reality.   Now comes the hard part - getting the money.  We are looking into loans as well as fundraising, but we have little time to get things put together as the attention given to this house has exploded since it went viral on the interwebs.  

Our group specializes in doing all we can to prevent veteran suicide.  This will be our flagship undertaking.  All donations received will be placed into a trust - no one individual will benefit from this effort.  Should we fail to raise the money for this, every cent of money raised will be donated to Injured Marines Semper Fi Fund  and  Fisher House Foundation (both of which have A or A+ listings at charitywatch.org).

  https://www.charitywatch.org/ratingsandmetrics.php?charity_id=536

https://www.charitywatch.org/ratings-and-metrics/fisher-house-foundation/531


HOW WE WILL KEEP IT RUNNING:

Our plans to continue funding the home after it is purchased include keeping one of the rooms open for rental from anyone - meaning you could sleep under the same ceiling as Chesty did!  This probably means a lot more to you if you were a Marine or related to a Marine or just love the military, but we believe this is a great source of continued funding. 

Also, we would rent the grounds of the Puller home for weddings, reunions, and other events.  The property would be occupied by veterans who refrained from drug and alcohol use during their short term tenancy.  Help to find counseling, patient advocacy, and a friendly ear will be things that veterans can find during their stay at the Puller House.  

The sky is the limit, and Chesty would want it this way.  Owned by Marines, managed by Marines, and FOR Marines.  (Other veterans will not be excluded).  

More details to come - we will be transparent with the funds and the plans for the home.  This is a home FOR VETS BY VETS.  Chesty's House 
COSTS:

The home is for sale now for $395K.  We are (ASAP) turning in a cash offer on this house and land with a 30 day contingency - meaning if we don't have the cash in hand in 30 days we lose the contract and it goes to the next buyer.   We have local Marines on site who are visiting the house to ensure the worth is correct and that our offer is proper.  

Additional money here is needed to establish simple yet nice furnishings, develop the website and materials, as well as low budget marketing to places like MCL, VA, and other Veteran organizations to ensure awareness is raised that veterans have this option.  No one will get paid from the money raised here.  All of it will go into making the house and the various activities needed to establish the house a reality.

Lastly, I have contacted GoFundMe to ask for a discount on the commission they take from each donation so that donors get more bang for their buck.  I am not expecting a miracle, but I am going to try.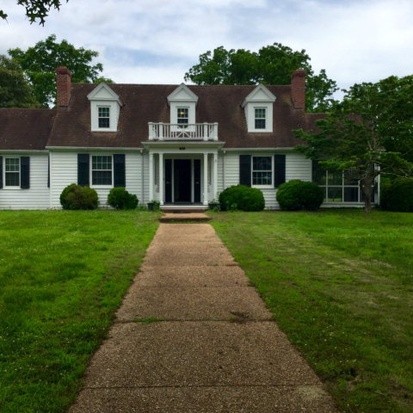 HOW YOU CAN HELP:

WE ARE SHORT ON TIME.  We need to raise the money for this in 30 days.  SPREAD THE WORD - OOH RAH!!!

If you cannot donate, that's fine!  Maybe just share our campaign to your social media accounts, or to friends and family that might be interested. 

Another great way to help is to click the little red heart at the top of this campaign.  That helps this fundraiser gain popularity within GoFundMe and helps more eyeballs see it.  

Please help our organization purchase this home.  We served our country as Marines, and now as Veterans we have no plans to stop serving.  I am pleading with you to share this fundraiser with your friends and family, especially those with ties to the military.
+ Read More